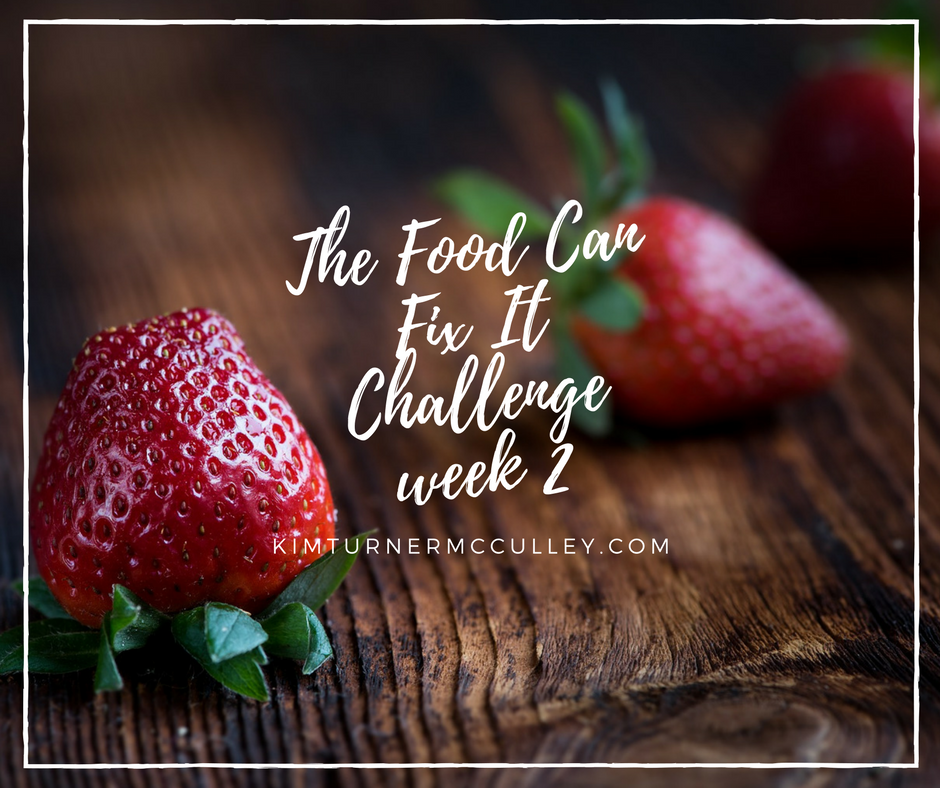 This post contains affiliate links. Purchases made through affiliate links help finance my blog without added cost to you. Thank you for your support.
The Food Can Fix It Challenge | Week 2
Whew! I've successfully completed week 1 of the Food Can Fix It Challenge. Give the woman a cookie…oh, never mind.
I want a cookie!
Just keeping it real here. I've never so desperately wanted to bake a batch of cookies.
Let's talk about the Pros and Cons of Week One of this experiment. First, the bad news.
The Cons About the Food Can Fix It Plan
The most challenging thing for me has been this crazy, overwhelming desire to bake and eat chocolate chip cookies. The struggle is real. When the weather turns cool, my thoughts turn to baking.
The plan requires a great deal of planning and prep. I have to think ahead if I'm going to be out of the house. It's tempting to grab something quick and easy (and not so healthy). One night it got late and I was sorely tempted to ask Joe to stop at Taco Bell or somewhere similar. The knowledge that I had to write and Facebook Live about my week is the only thing that kept me on the straight and narrow. Thank you for the accountability!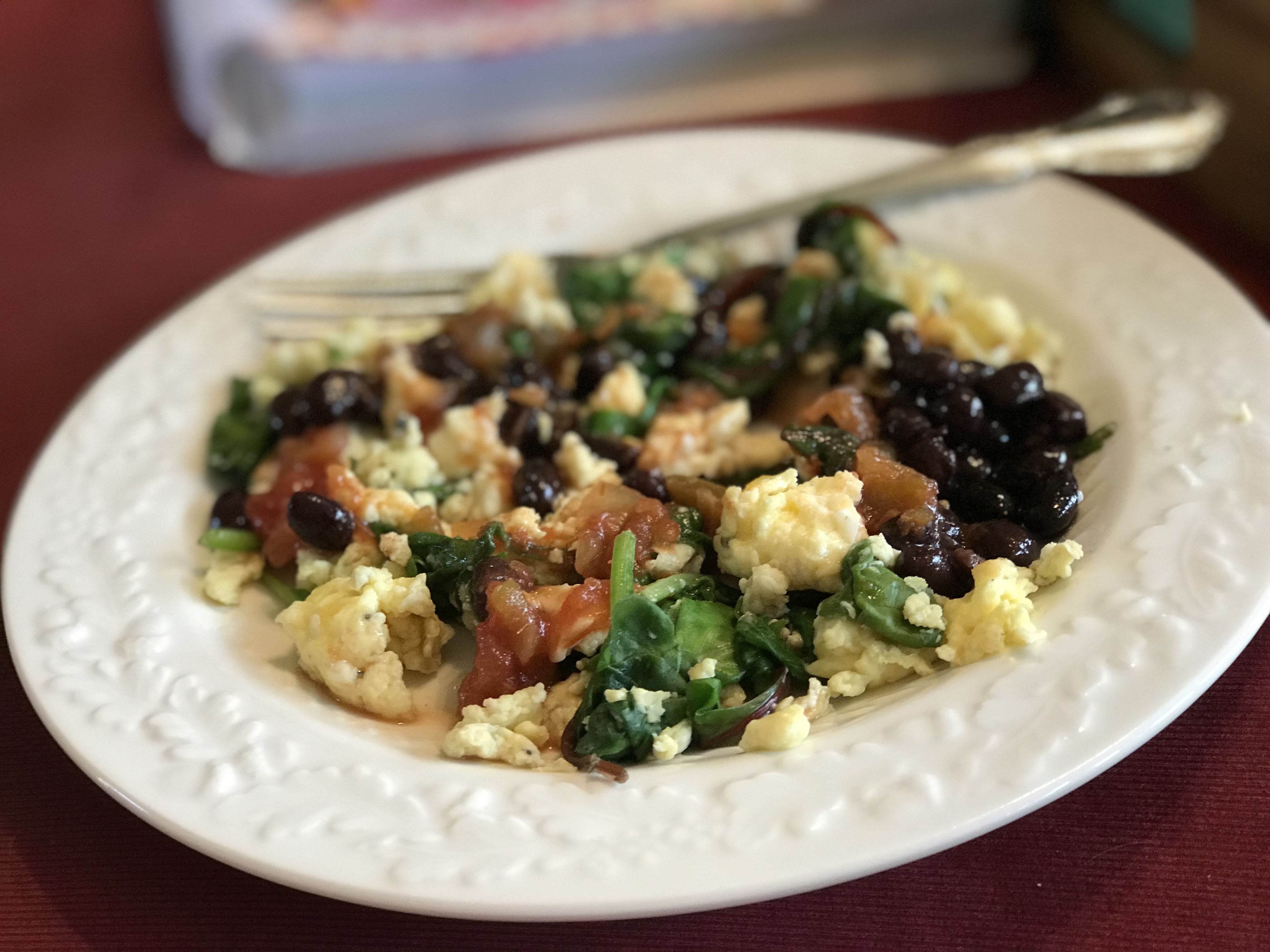 Scrambled eggs with Black Beans and Salsa. This dish will be on my menu forever and ever!
The Pros About the Food Can Fix It Plan
I've lost FIVE pounds this week! 
I'm excited about that success. I know some of that is water weight, but I'm still pleased; this is a great start.
The Food is Good.
It's been fun to try new recipes. My husband and son have been good sports and haven't complained about any of the food, and have in fact complimented several dishes. I've added photos of some of my favorites.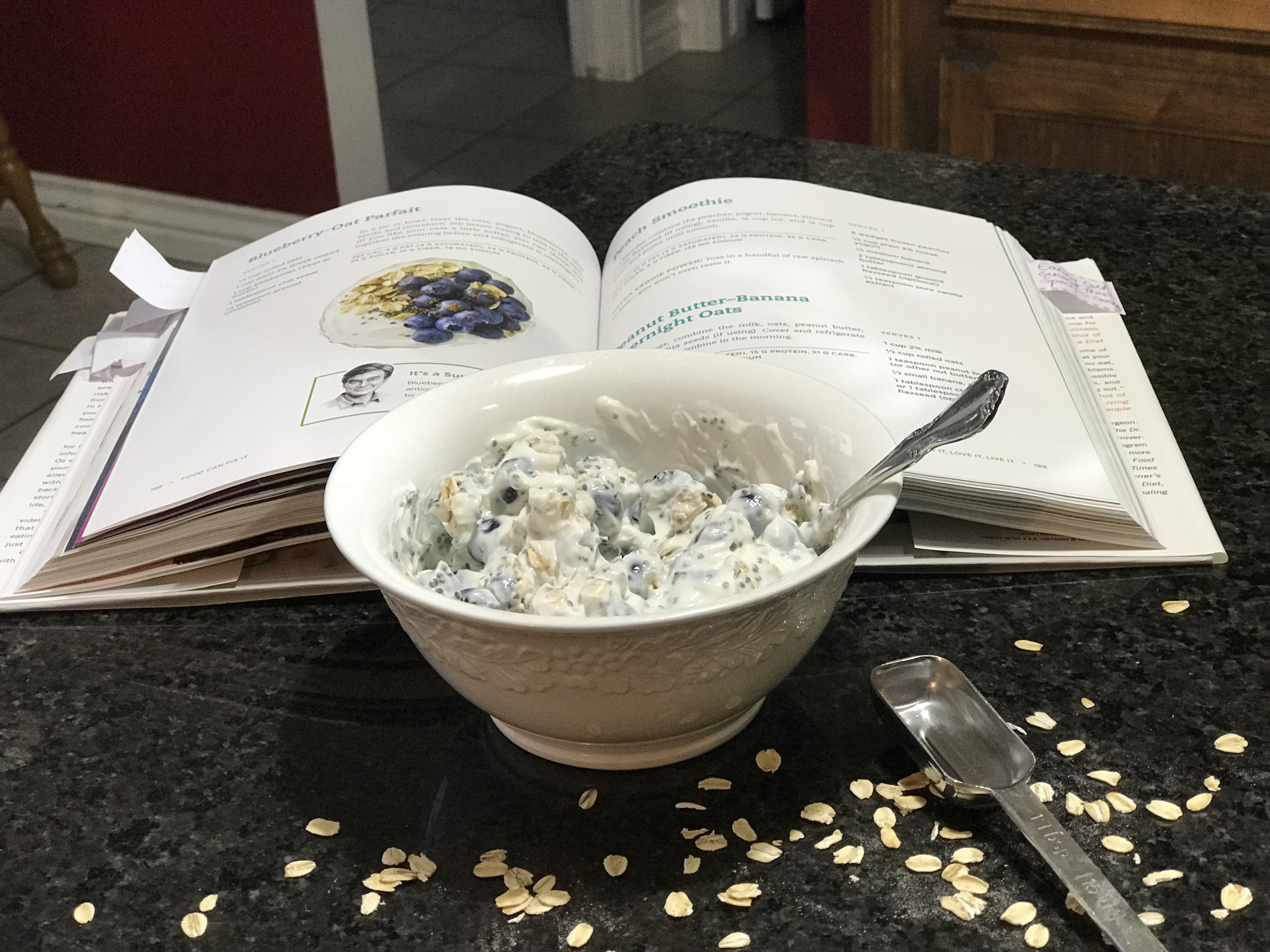 Blueberry Oat Parfait. Delicious.
I Haven't Been Too Hungry.
The two snacks per day are substantial enough that I feel I'm eating a lot of food. The meals are jammed with vegetables, so I'm getting plenty of bulk and feel full.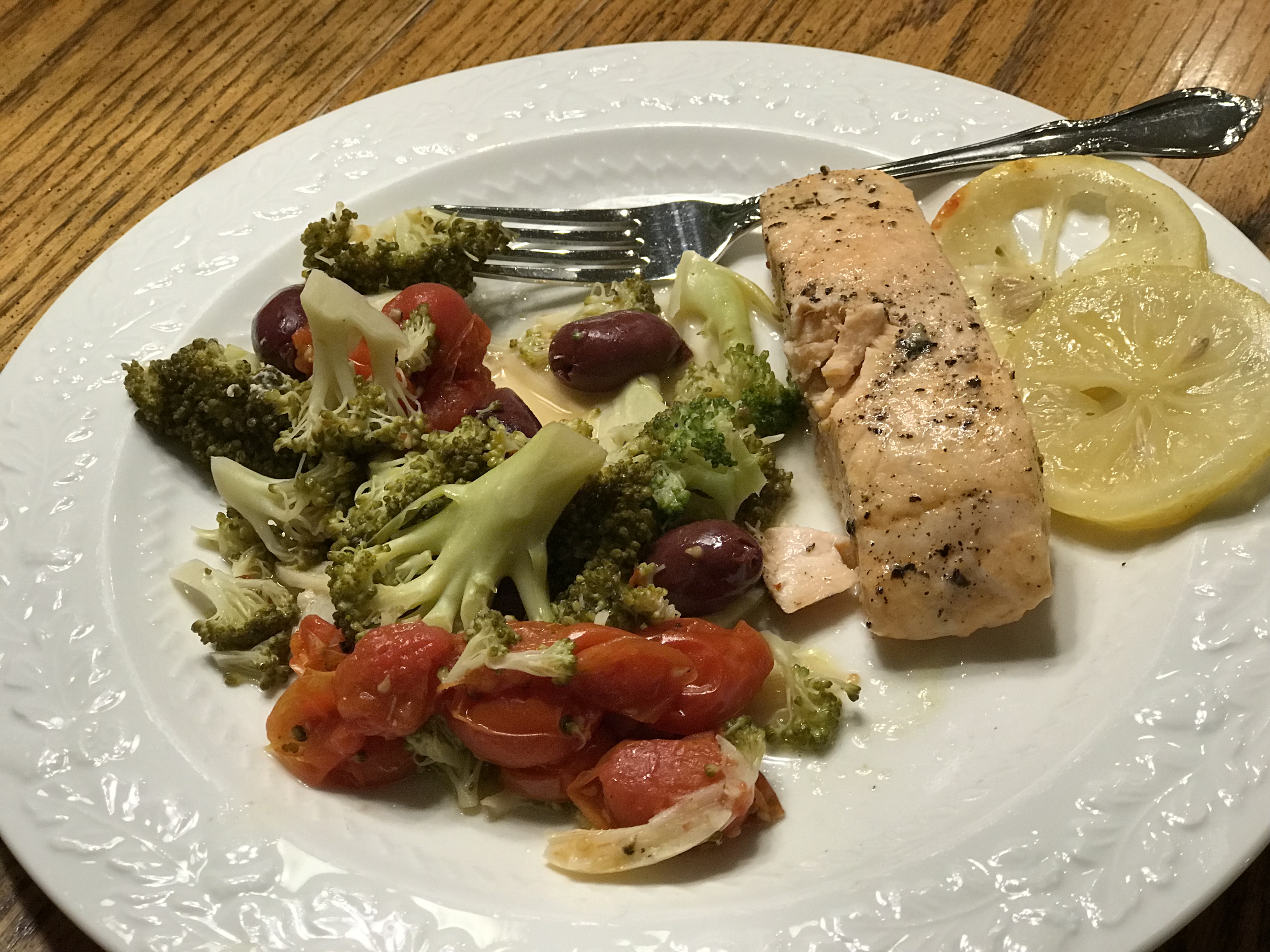 Lemony Salmon with Broccoli and Tomatoes. Very tasty. I love the zing added by the Greek Olives.
I Feel Healthy.
I like that I haven't been bloated or over full; my GERD is well under control. My digestive system is working well; all that fiber keeps a person regular.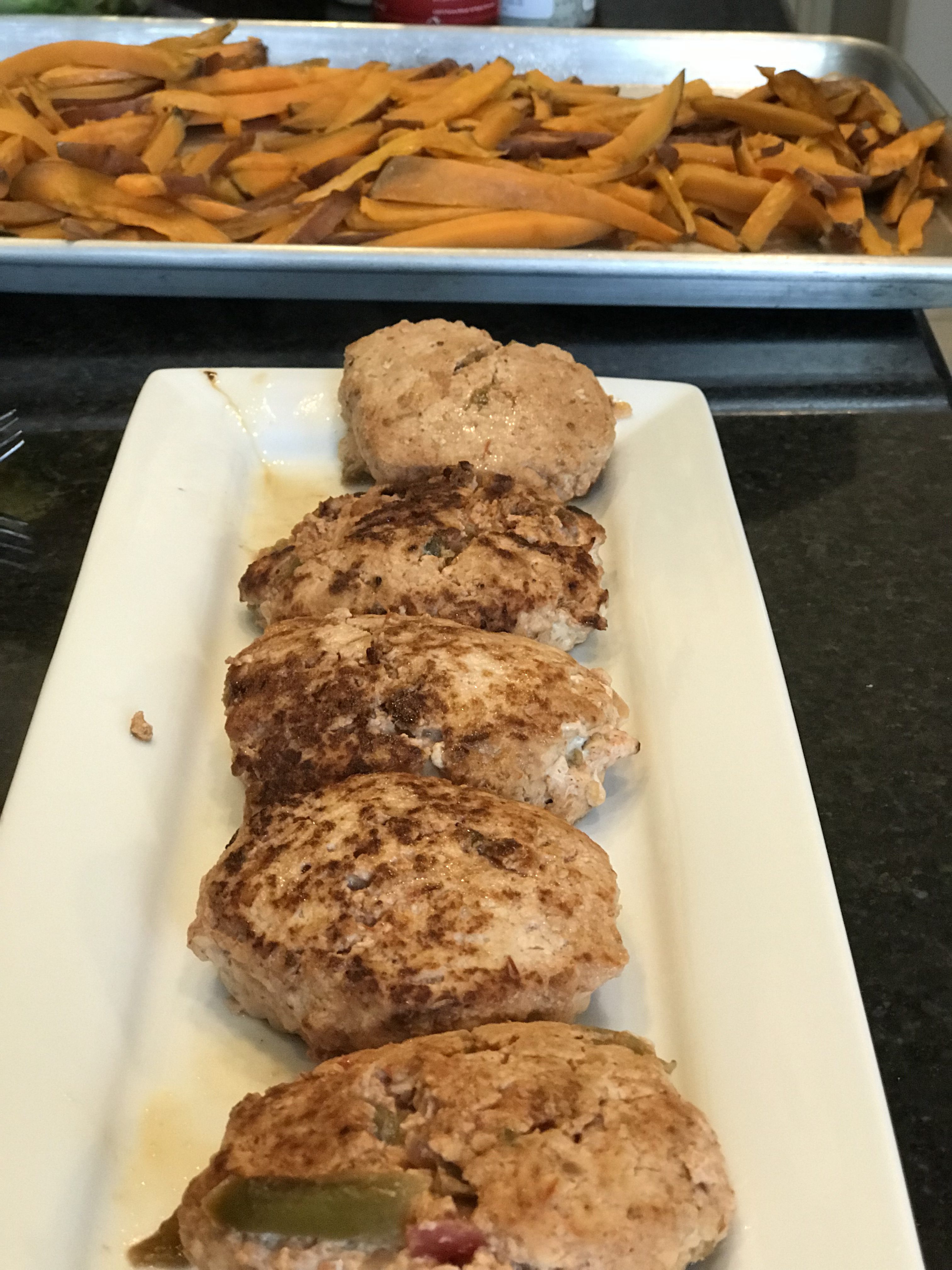 Salsa Turkey Burgers with Baked Sweet Potato Fries. I didn't eat the burgers, but my family liked them, and I loved the sweet potato fries!
The Water Challenge
My bonus challenge this week was to drink more water. I did well for a few days, and then tapered off and did not so well. I'll be continuing to challenge myself in this area, as well as working on the new challenge for the week, which I'll unveil on my Facebook Live at noon central. If you can't view the live video, it will be posted on my page for future watching.
If you've missed anything, here are the links you need to get all caught up!
Food Can Fix It Challenge Intro post and Food Can Fix It Challenge Intro Facebook Live
Food Can Fix It Challenge Week One post and Food Can Fix It Challenge Week One Facebook Live
Food Can Fix It Challenge Week Two Facebook Live
 Sign up here to join my email list! You'll receive every post in your inbox and won't miss out on any fun!