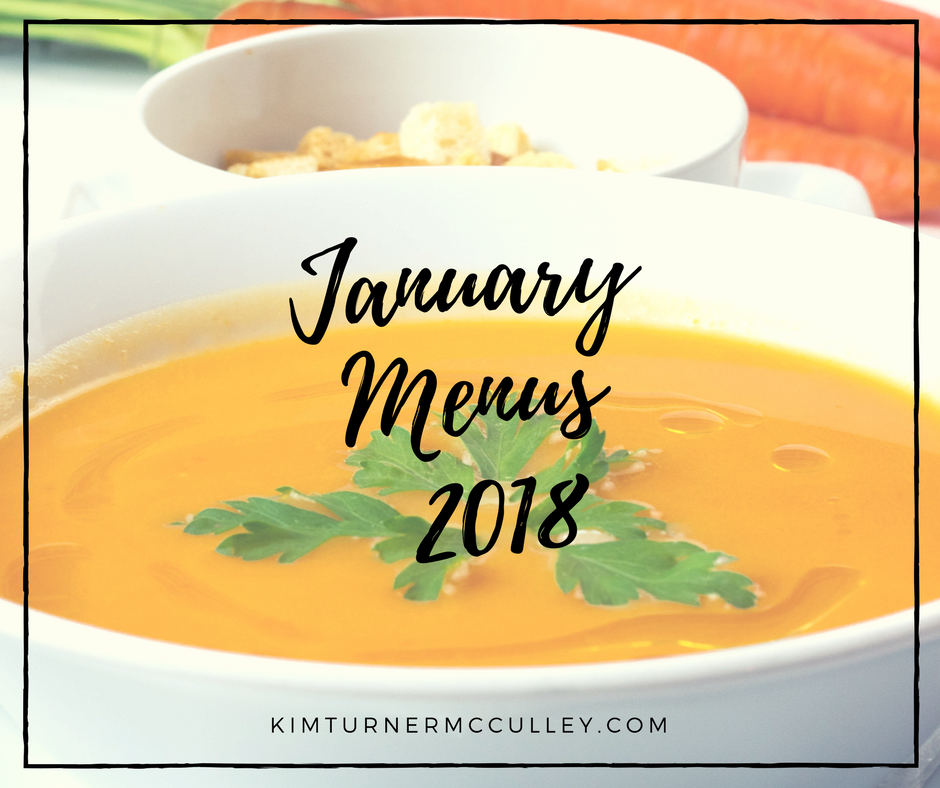 I'm technically taking a blogging break for the holidays, but I don't want to begin 2018 unprepared, so I worked ahead to prepare the January Menu plan. I'm relying heavily on my pantry and freezer stock this month. You'll notice the food is simple and mostly frugal; we'll talk more about that next week when I reveal the 2018 Word of the Year and its January application. (Aren't you curious?) 
January 1–Ham, black eyed peas and cornbread. Of course.
January 2–Holiday leftovers. Use them up!
January 3–Roasted salmon and vegetables
January 4—Breakfast for dinner: eggs, grits, fruit, toast
January 5–Ground turkey tacos
January 6—New Years Eve: The Sequel! Family party at our house with pot luck finger foods. I have cheese board supplies and will make Buffalo Wings.
January 7–Waffles & Sausage or bacon (whichever is on sale)
January 8–Alphabet Soup (The Prudent Homemaker's Recipe)
January 9–Chicken & vegetable stir fry
January 10–Baked tilapia and roasted vegetables
January 11–Breakfast for dinner: pancakes
January 12–Refried bean tostadas
January 13–Chili & Quinoa Chili (freeze leftovers for next month)
January 14—Pioneer Woman's Spicy Dr. Pepper Pulled Pork
January 15—The Prudent Homemaker's Barley Soup
January 16—Spaghetti
January 17–Salmon patties, roasted vegetables
January 18–Breakfast for dinner: Eggs, grits, toast
January 19–Blackened Tilapia Tacos
January 20–Red beans and rice
January 21–Chicken cacciatore
January 22–Split pea soup
January 23–Beef stew
January 24–Roasted tilapia and vegetables
January 25–Breakfast for dinner: waffles
January 26–Chicken tacos
January 27—Skinnytaste Crockpot Minestrone
January 28–Pinto beans, corn bread
January 29–Potato soup
January 30–Bean burritos (using leftover beans from January 28)
January 31–Baked salmon, roasted vegetables