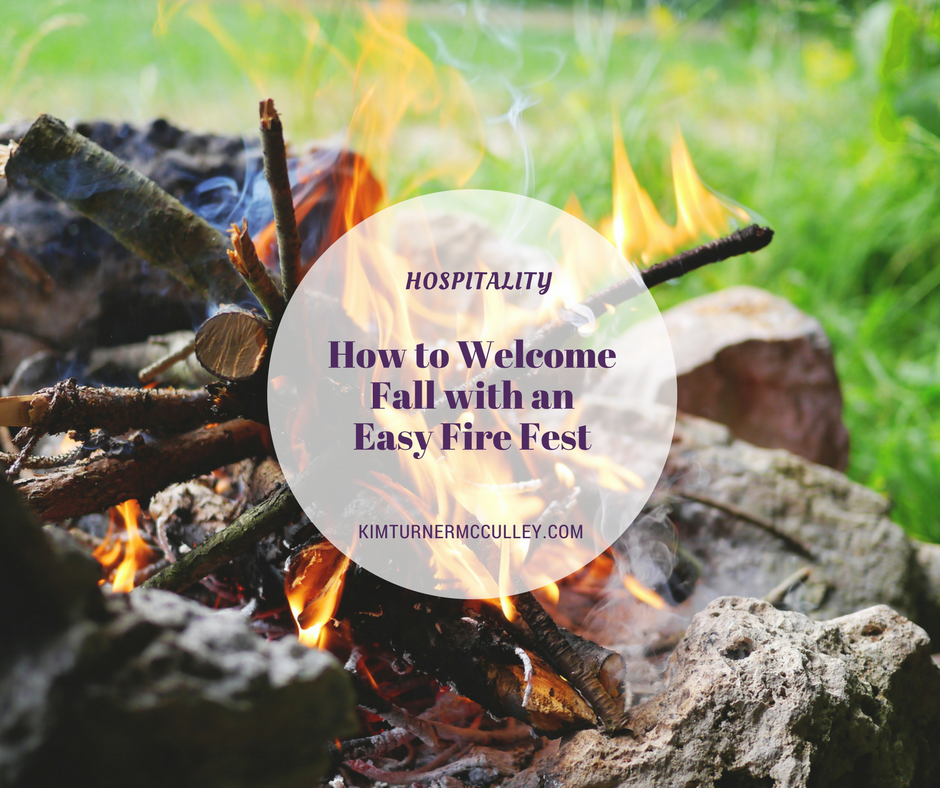 How to Welcome Fall with an Easy Fire Fest
This post contains affiliate links. When you make a purchase through a link, I receive a small percentage at no extra cost to you. Thank you for supporting my work.
Oh, Autumn, how I love thee!! Cooler temperatures, colorful leaves, cooler temperatures, crispy crunchy leaves, cooler temperatures, cozy fires and sweaters and…did I mention cooler temperatures?!
I confess to you: I don't prefer Oklahoma summers. The sweltering heat, the oppressive humidity: it's all I can do to refrain from whining for three months. Really, I make a resolution every summer that I will not complain. I will not complain. I will not complain….
Anyhow. Fall, I salute you! You are welcome here!
Autumn really marks the beginning of outdoor season around these parts, at least for me. It's finally cool enough to enjoy al fresco dinners on the patio, long meandering walks, lounging outdoors with a good book. It's much easier to entice my husband to fire up the grill when it's not 109 degrees in the shade! (For some strange reason…I don't know why!)
For the past several years, I always hosted Grammy's Pumpkin Patch at the end of October. I'd plop pumpkins down in the yard and let the grands and my nephews choose and carve a pumpkin. We'd build a fire and grill hot dogs and marshmallows. We even had a pinata! Oh, it was fun. Of course, the grands have all moved away now, so I wasn't sure I was in the mood for the party. Then one of my adult kids asked when we were going to build a fire again, and I realized I was being silly and mopey. So, I planned a party–minus the pumpkin patch and pinata–but we still had fun!
Fun Family Fire with Food!
I sent out Facebook invites and got busy. I think we often tend to overcomplicate the whole having-guests-over-for-dinner thing. When I say we, I mean me! I've been working on my perfectionism problem over the years. Hospitality doesn't have to be fancy or expensive or exhausting. We planned to do some yardwork the day before the party. It didn't happen. You know what? It really didn't matter a bit.
We ended up with the whole local crew: my husband, the two sons who still live in the area, our daughter-in-love, my parents, my sister, brother-in-law, and two nephews. I invited a friend and her family, too, but they were unable to make it, so it was All in the Family. I love having a houseful of people! Or in this case, I suppose it was a yardful of people.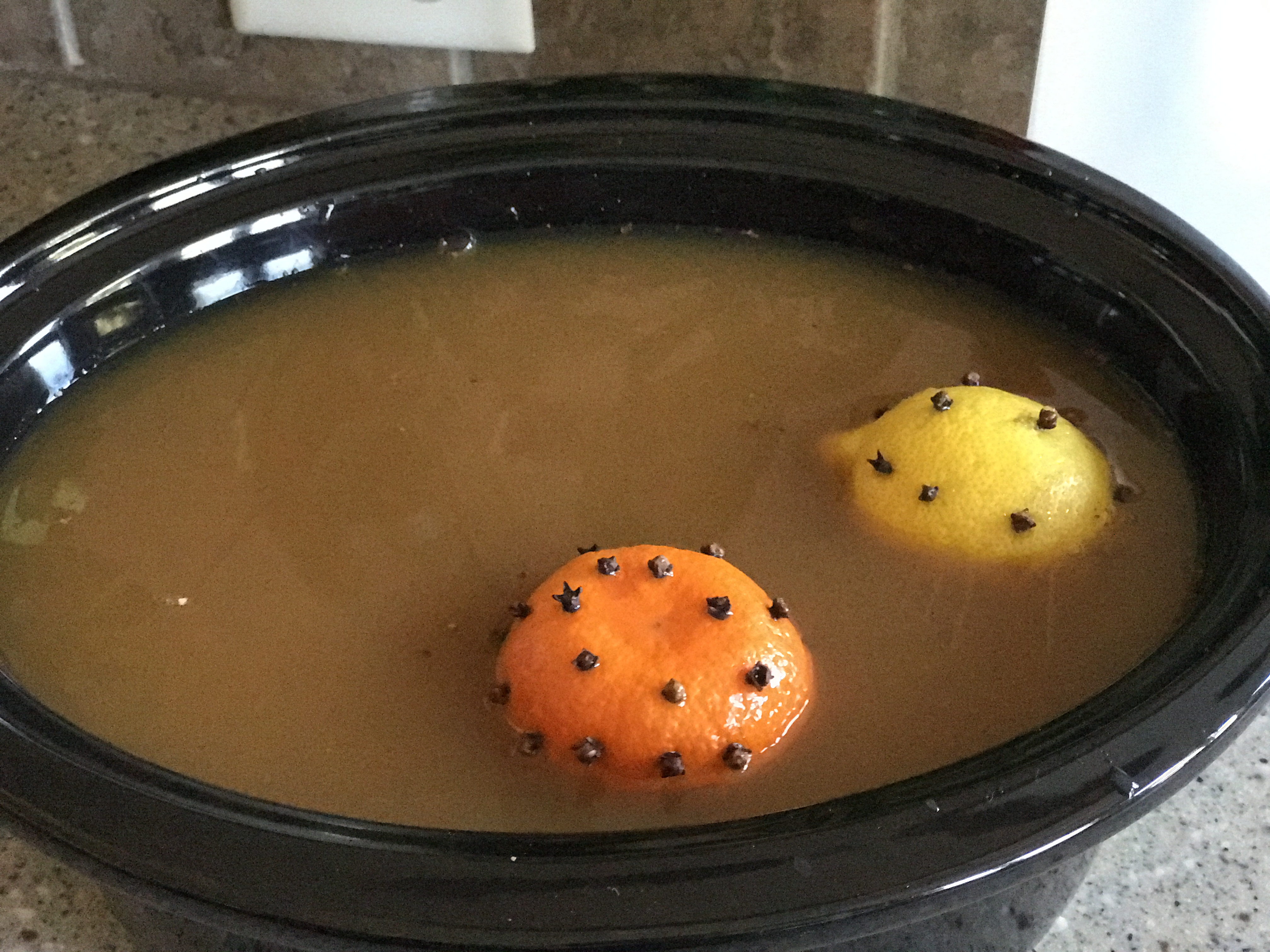 Beverages
Early in the afternoon, I poured a gallon of cider into my crockpot. I studded a lemon and an orange with whole cloves and floated them in the cider. I also tossed in two whole cinnamon sticks. These simmered away for several hours, scenting the house very nicely. When I sampled the cider, I thought it needed a little something, so I squeezed in the juice of another lemon. I'm trying to limit unnecessary sugar use, but this is also yummy with a bag of cinnamon candies such as red hots or a smidge of brown sugar melted in. I also like the addition of pineapple juice or cranberry juice.
I chilled a dozen water bottles so people could have cold or hot options, and my husband made a pot of coffee later in the evening. That was it for beverages! Simple.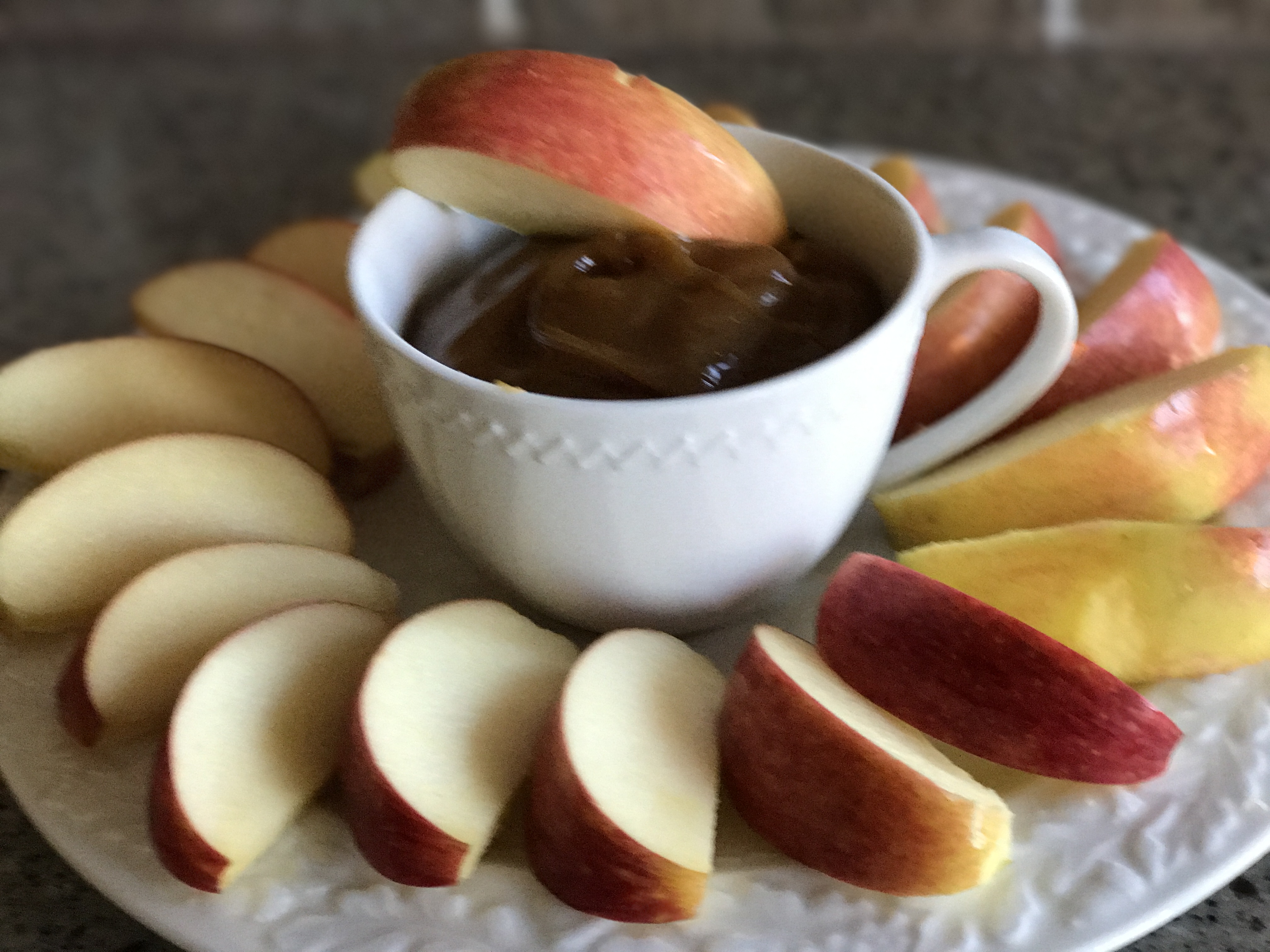 Apple-tizer
When my husband and I ran into Sam's Club to pick up a few things, they were offering samples of Marzetti Old Fashioned Caramel Dip.  Into the shopping cart it went! It's delicious. And simple, since you don't do anything but open the carton and zap it in the microwave for a few seconds. It was a big hit. Every apple I sliced disappeared.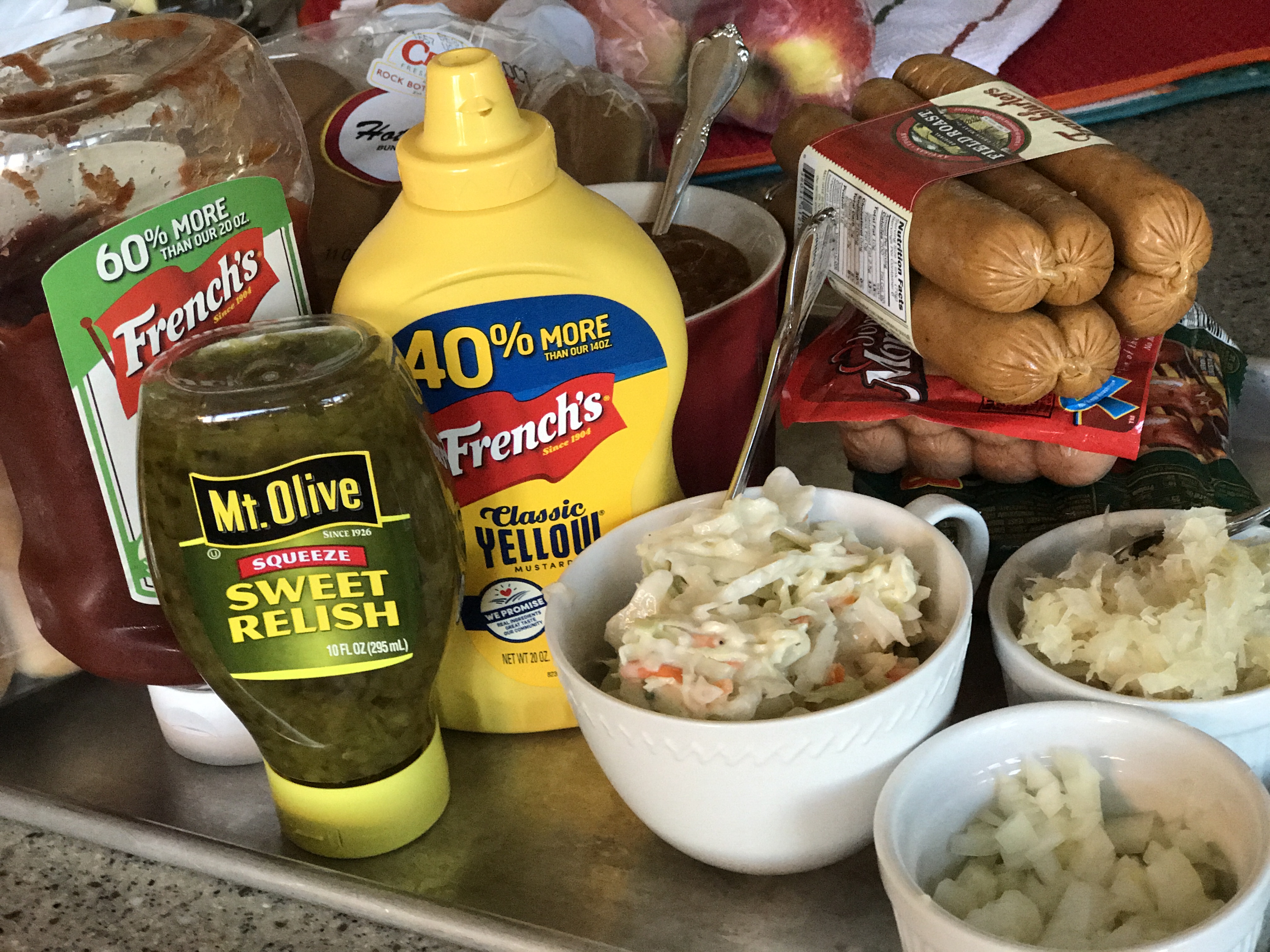 Help-Yourself Hot Dog Bar
There's nothing easier or more fun than inviting your guests to cook their own food! I prepared a tray with all the fixin's: ketchup, mustard, relish, canned Wolf's chili, homemade coleslaw, sauerkraut, hot dogs, buns, and chopped onions. I learned something new: my husband thinks a hot dog is not complete without chopped onions. Ummm…we've been married for thirty-five years, and I did not know this.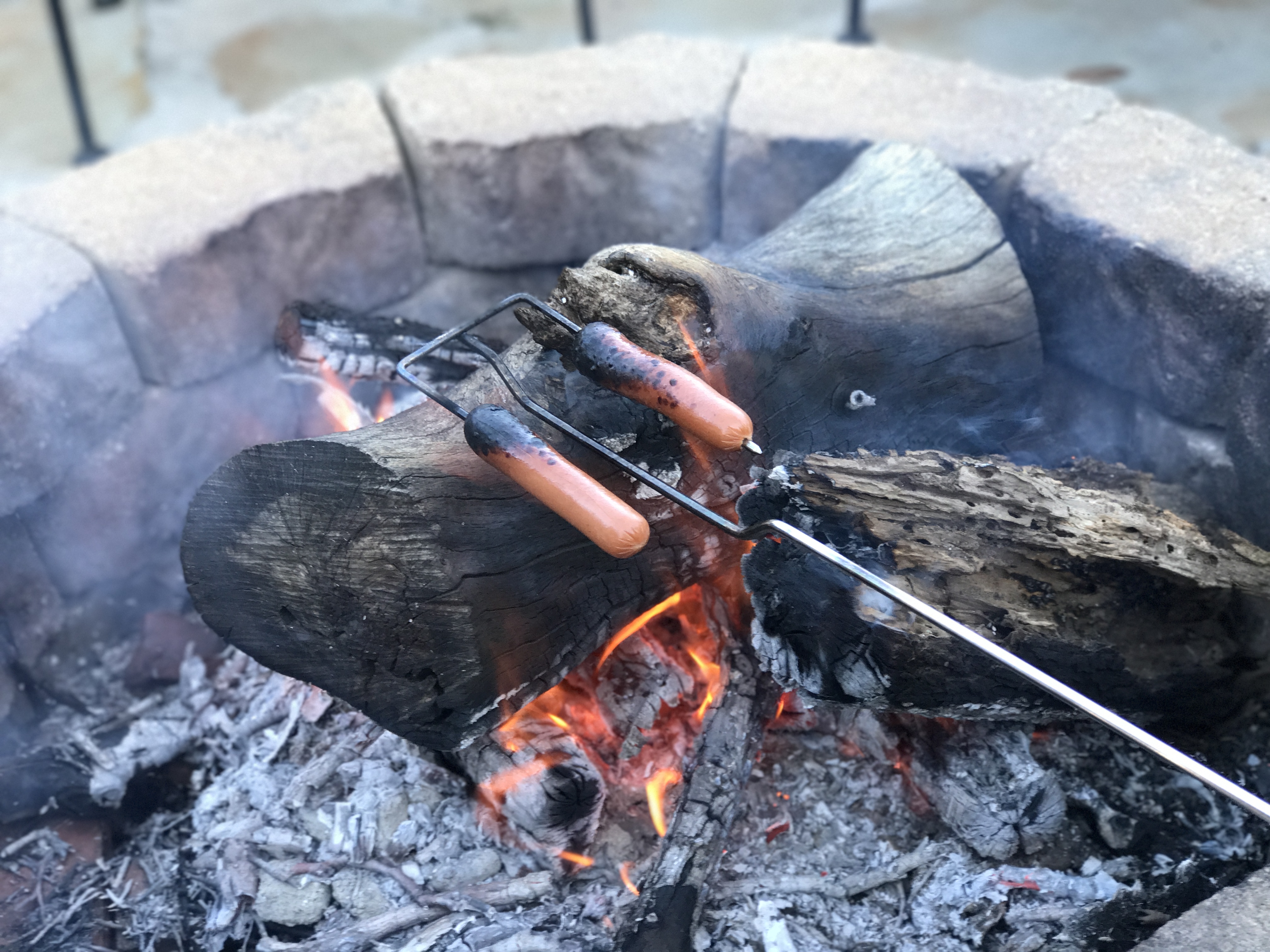 Burn, baby, burn! If you need some sturdy roasting sticks, you can find them here or here.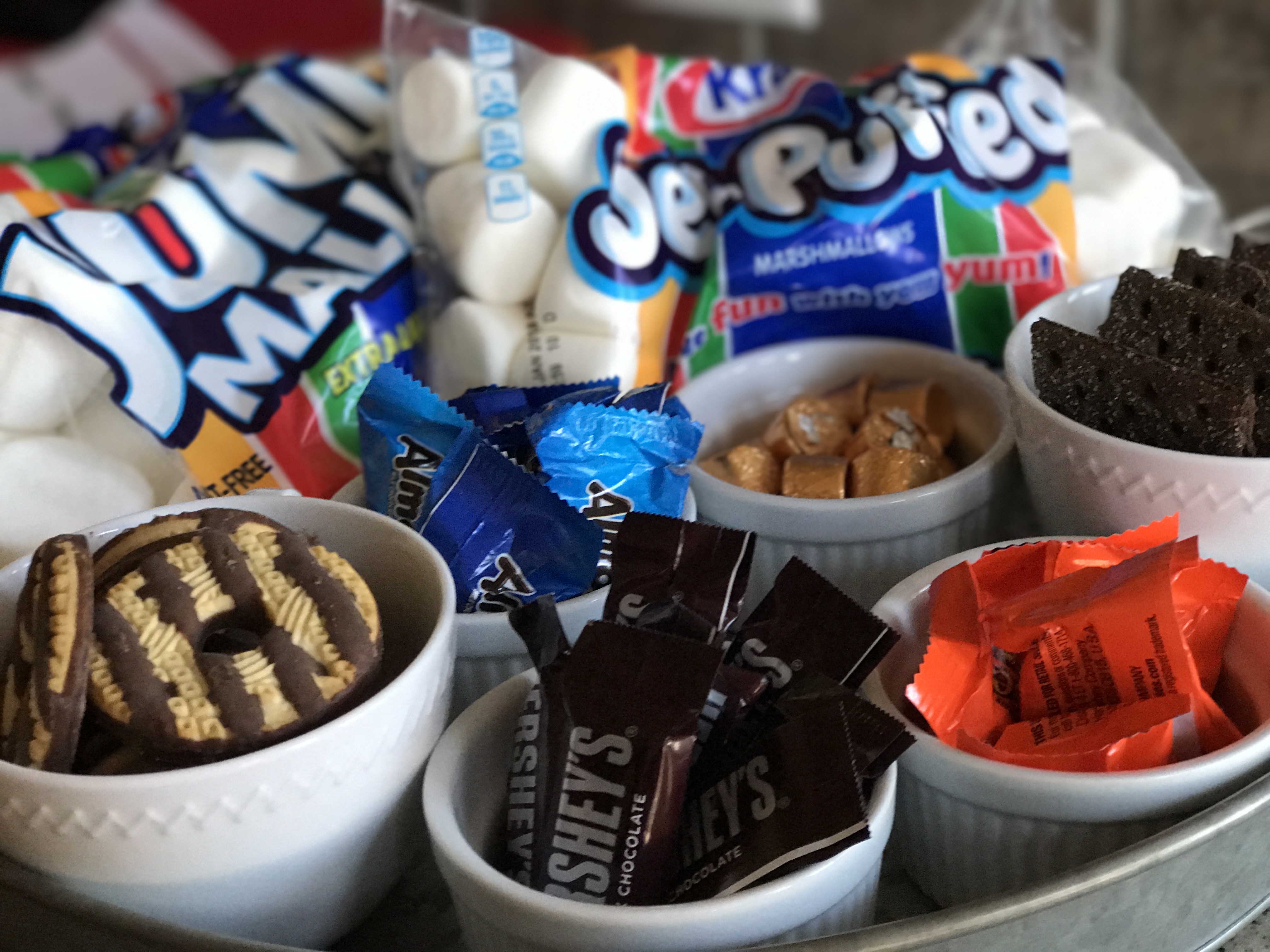 S'mores Bar!
Let's be honest, shall we? The main purpose for building a fire is so one can have S'mores. Am I right or am I right? A fire without a S'mores opportunity is simply a travesty, a waste of perfectly good wood.
I went all out with the S'mores bar. We had graham crackers, chocolate graham crackers (does anyone else love these like I do?), and Fudge Stripe cookies. There was an assortment of chocolate choices: Hershey bars, Reese's, Rolos, and Almond Joy. I offered two sizes of marshmallows. The candy was all eaten up, just in case you were wondering.
Don't forget the paper plates and a package of wet wipes to clean up sticky-marshmallowy fingers.
It was good. It was very good. Don't you wish you'd joined us?
Eventually, we ended up back inside where we played two highly competitive games of Apples to Apples. We're big game players around here, especially when a large group of us gather. We also play a lot of Taboo and Guesstures. However, our current favorite game is Telestrations, which gets everyone laughing so hard they can barely breathe (note: Telestrations come in different versions. You can order for 6 players, 8 players, or 12. We originally had the 8 player set, but replaced it with the 12 player version so we can all play. Everyone loves this game, including kids and people who don't usually like games!). I could go on and on here. You should see our ridiculously huge game collection! Hmm…I should do a post about family games! Who thinks that's a good idea?
The party was a sizzling success! I hope you're inspired to put together your own Fall Fire Fest! If you do, I want to hear all about it. Please comment below in the comments section, or on my Facebook page! I would love to hear from you.