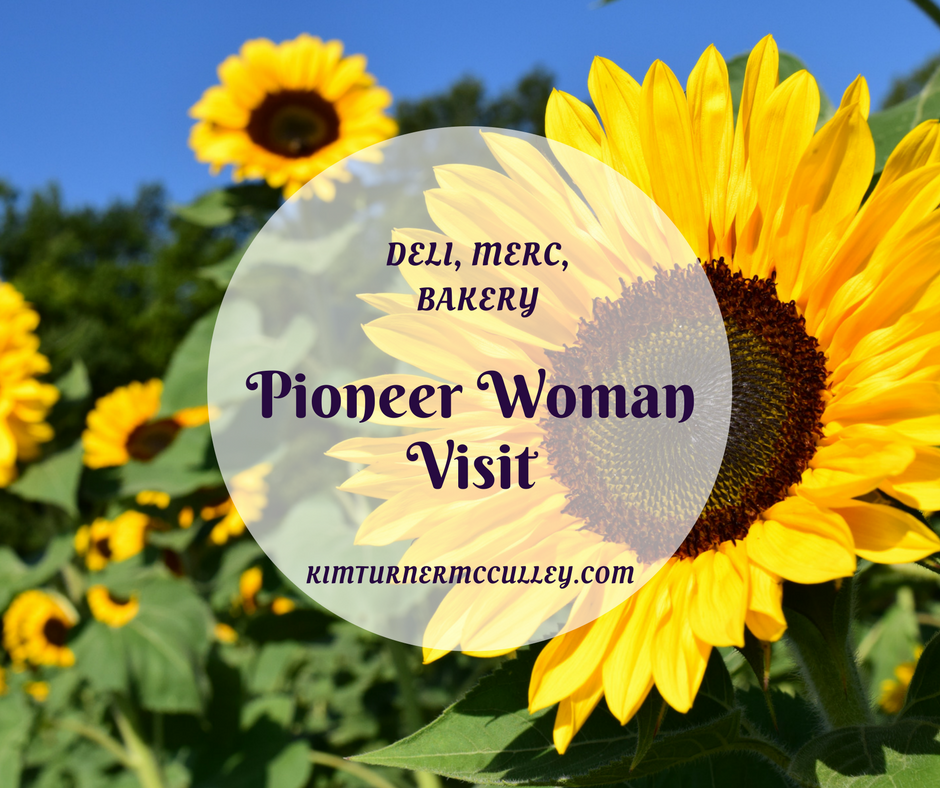 This post contains affiliate links.
PIONEER WOMAN VISITS
Bakery, Deli, and "Merc"
We all want to visit Pioneer Woman's Mercantile, right? I set my heart on a visit as soon as I found out it was coming. Since I live only a couple hours from Pawhuska, Oklahoma, it wasn't too big of a stretch to cross this off the Bucket List. In fact, I've visited twice: once with my husband for our Valentine's Day anniversary, and once with my sister and mom to celebrate my birthday. Here's the scoop!
Anniversary Trip
My husband and I drove through charming rural countryside (translation: country roads and not much else!) and arrived in Pawhuska the evening before our visit to the Mercantile. We stayed at the Historic Whiting Bed & Bath, which appears to be above-store apartments converted into motel rooms. Each room is decorated with its own theme. Our room was the "Urban Room" and was nicely appointed with bed, sitting area, full kitchenette, and tiny bathroom with claw-footed tub. We were pleasantly surprised by this small-town offering, especially considering that Pawhuska was only recently promoted to the ranks of "tourist town".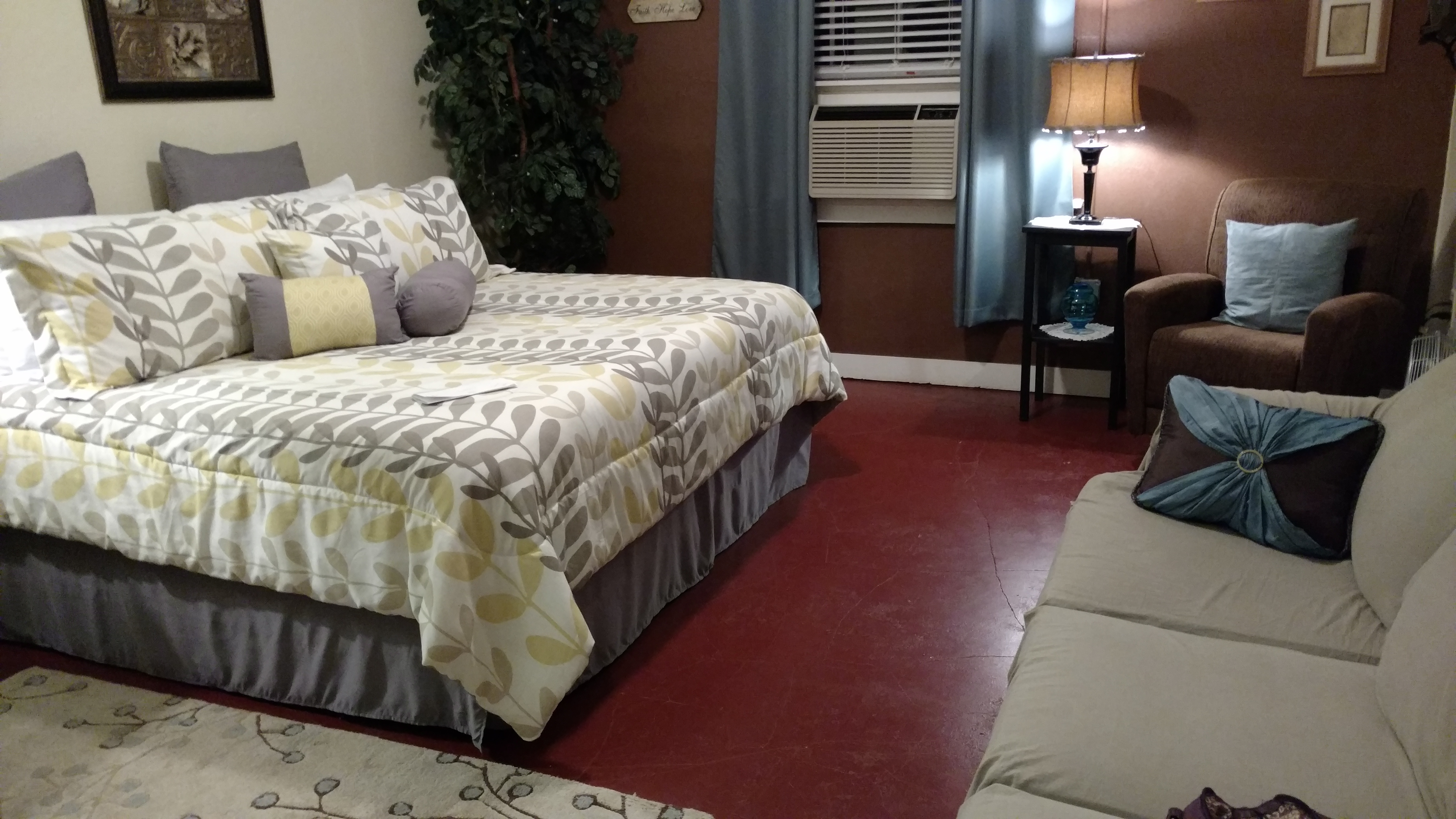 I was anxious to see the main attraction, so we were up early the next morning and had only a 10-15 minute wait before we were seated in the Deli.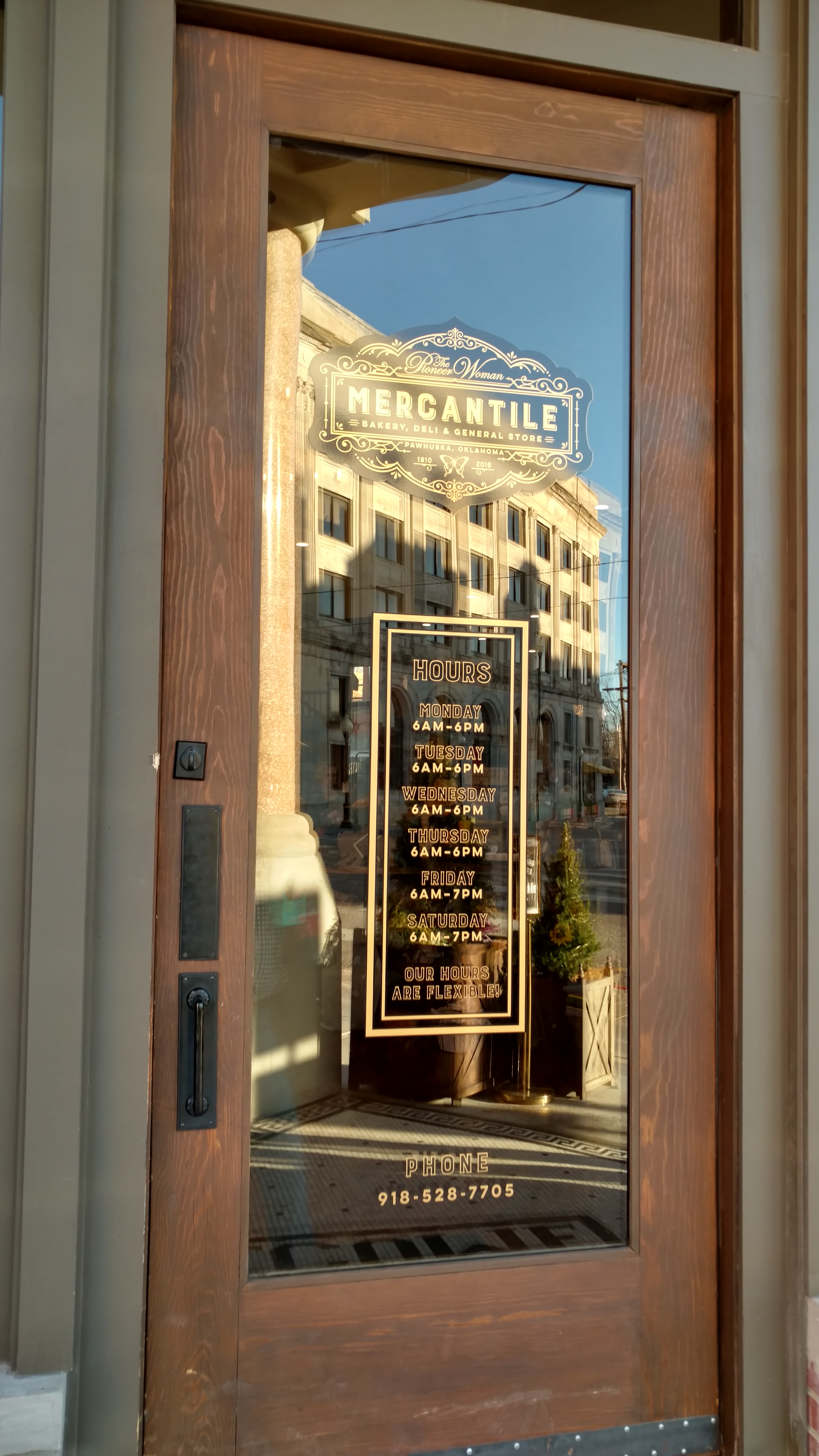 When the door opened we were surprised at the size of the restaurant; we had assumed it would be much larger. Instead, it has the size and atmosphere of a small-town cafe.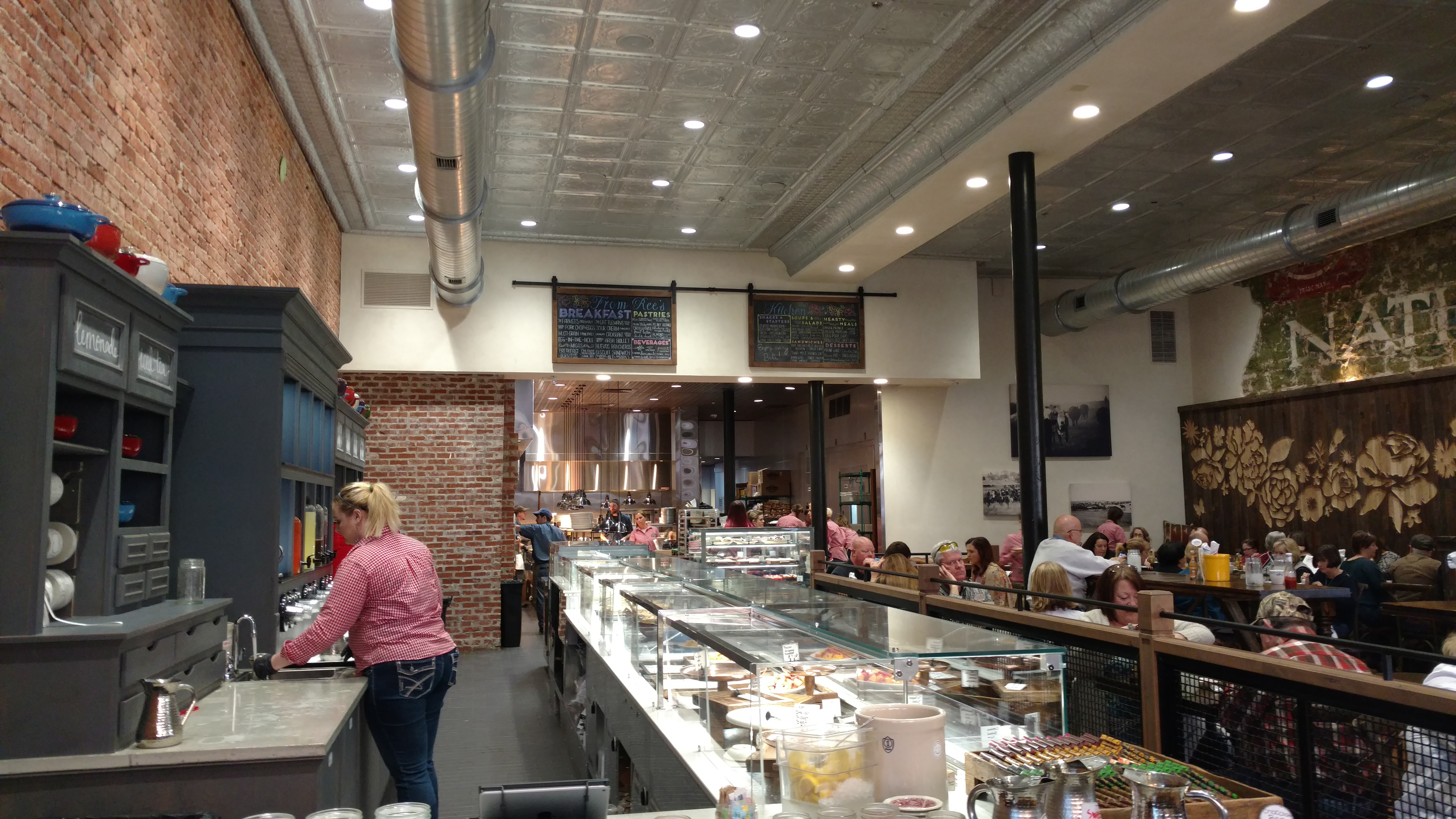 The view upon entering the restaurant door.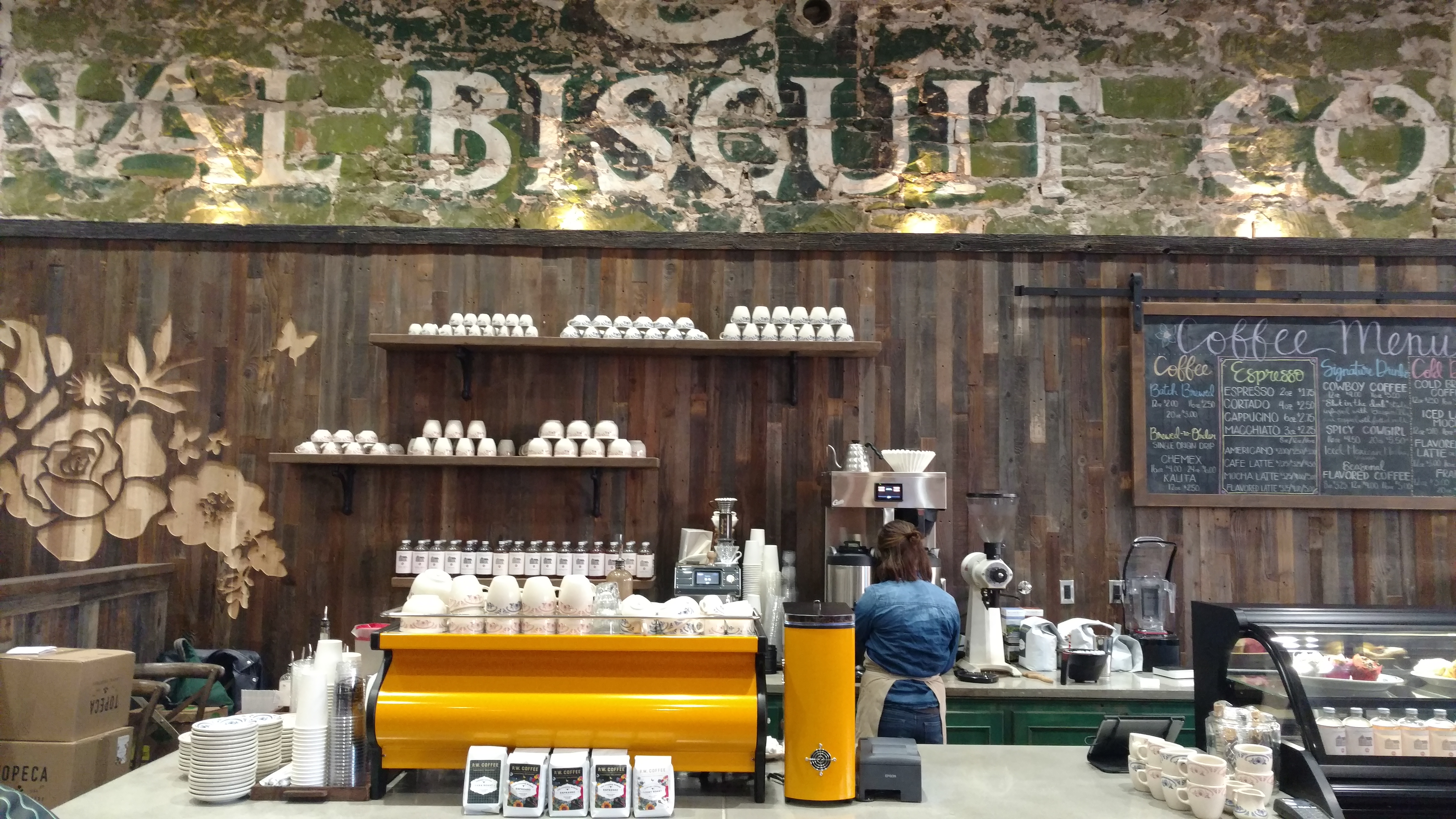 Coffee shop area under original advertising mural uncovered during renovation.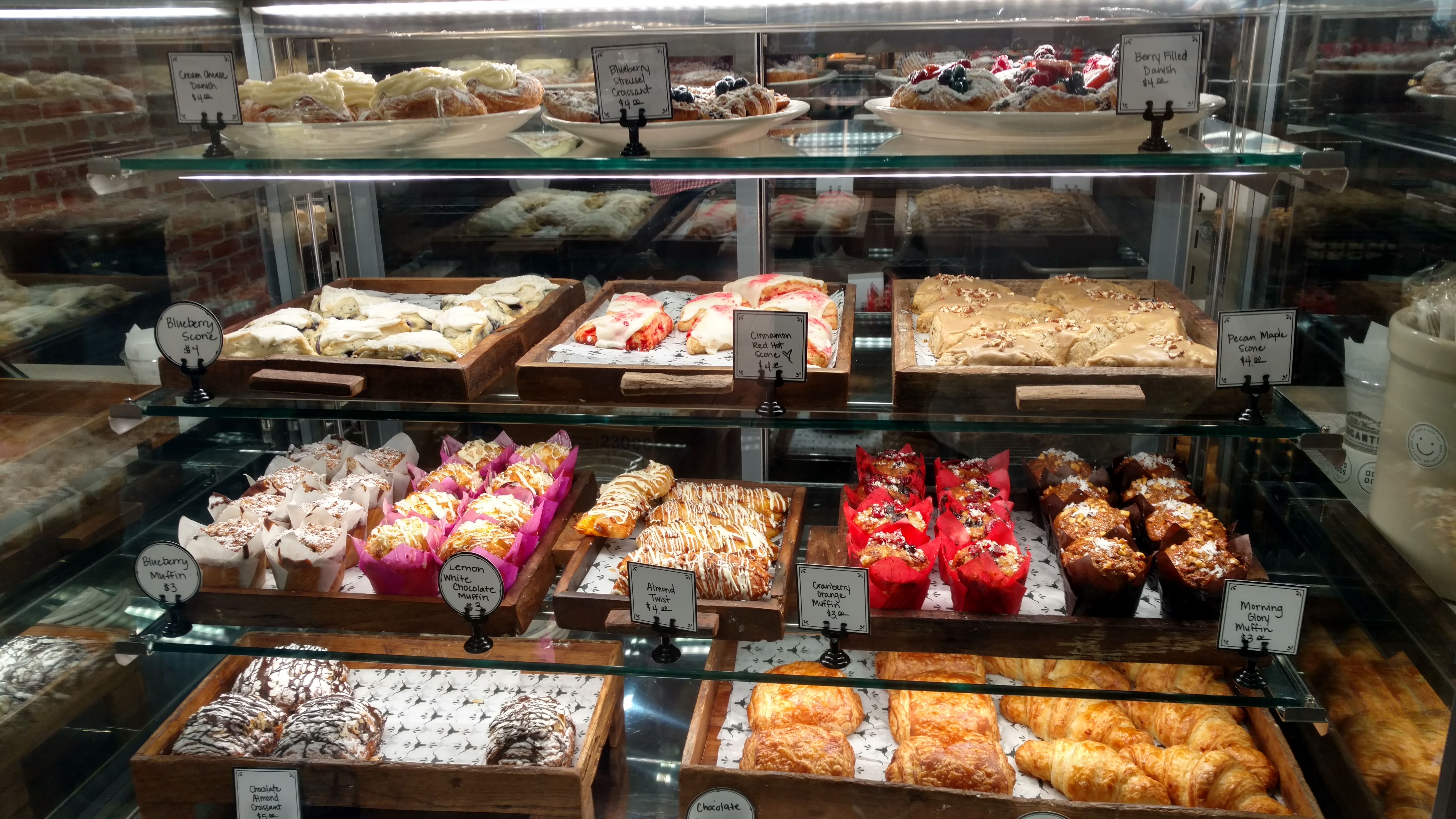 Baked goods prepared on-site. I can personally vouch for the chocolate croissants!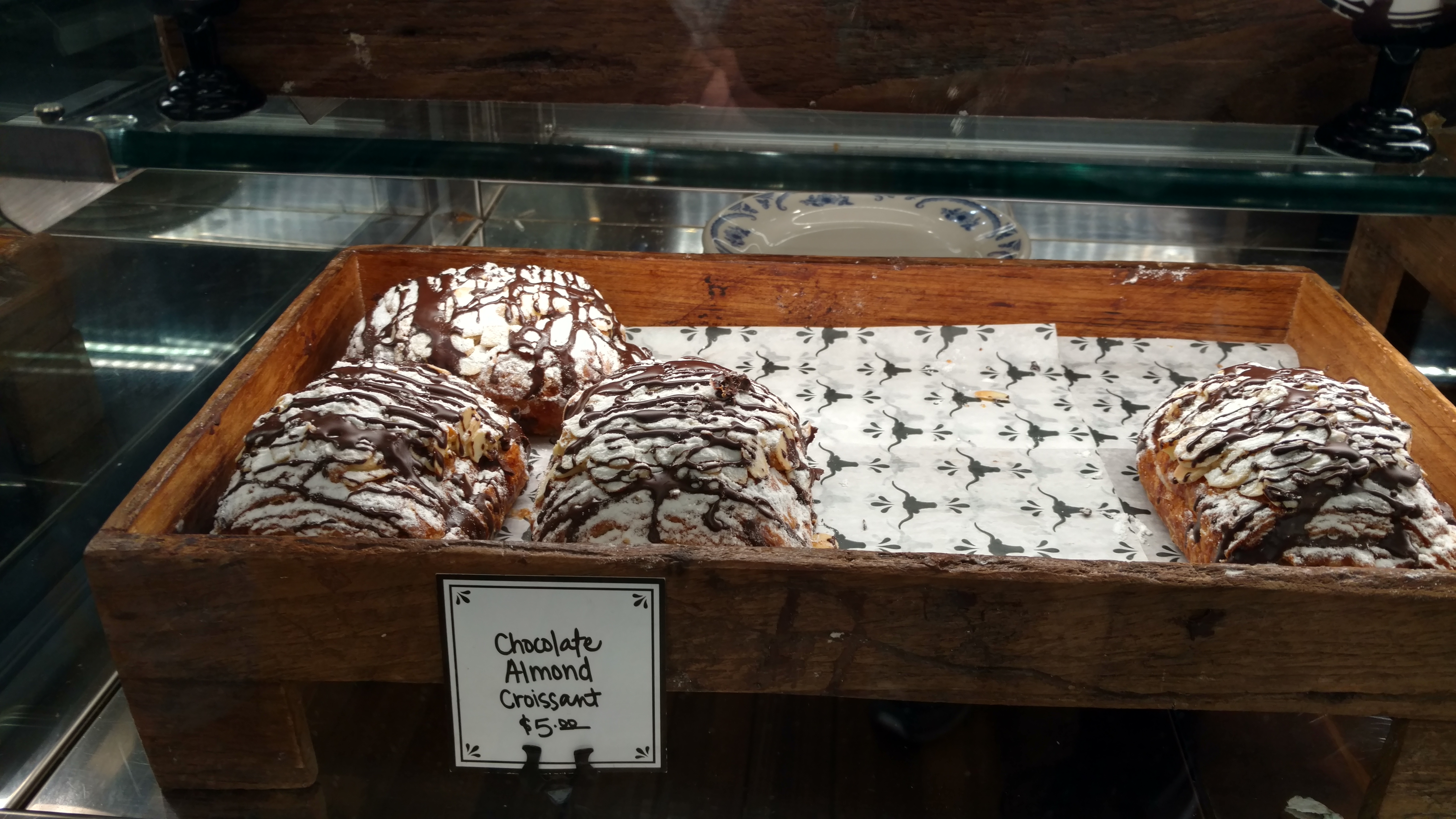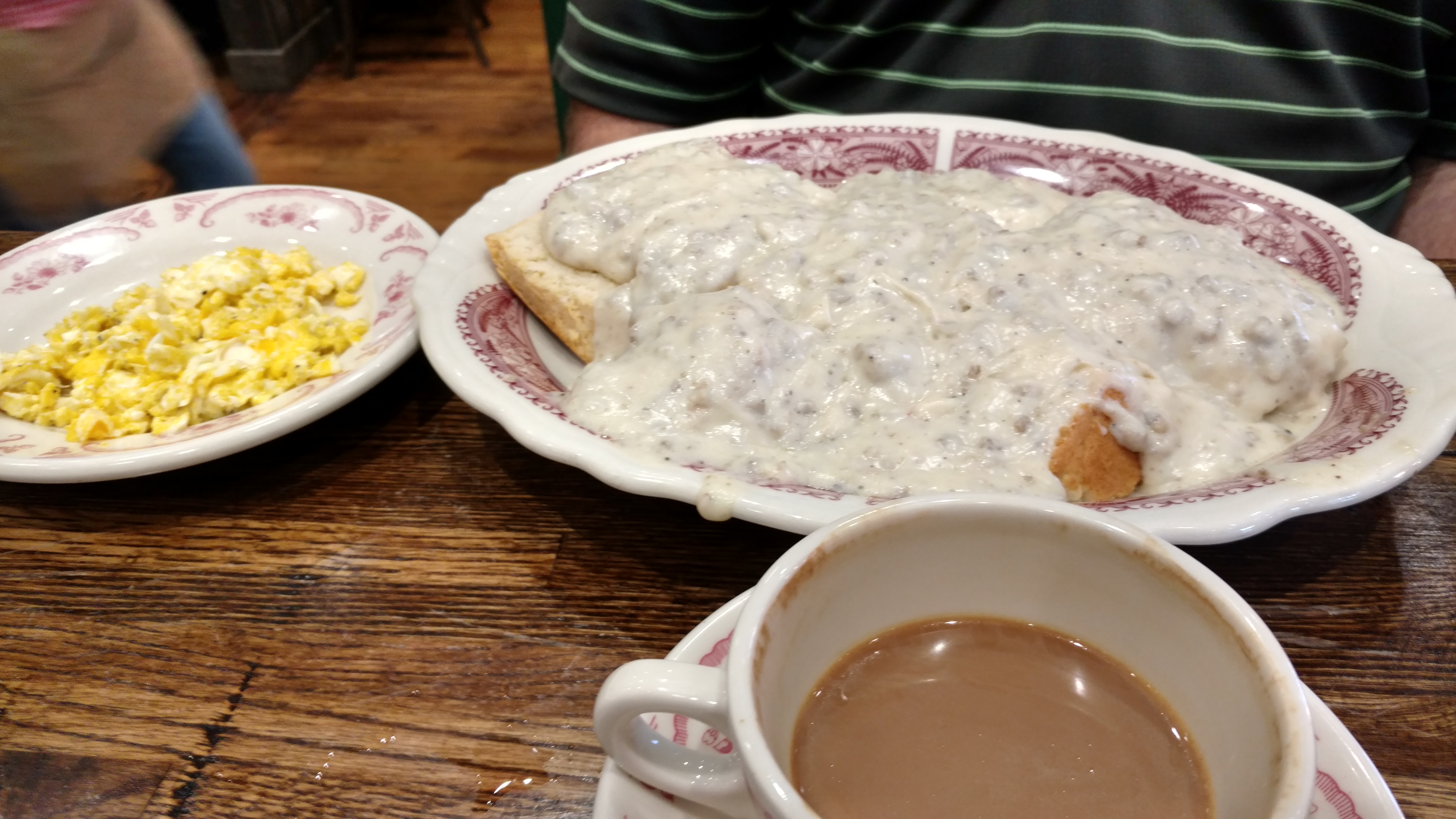 My husband enjoyed a generous helping of biscuits and gravy.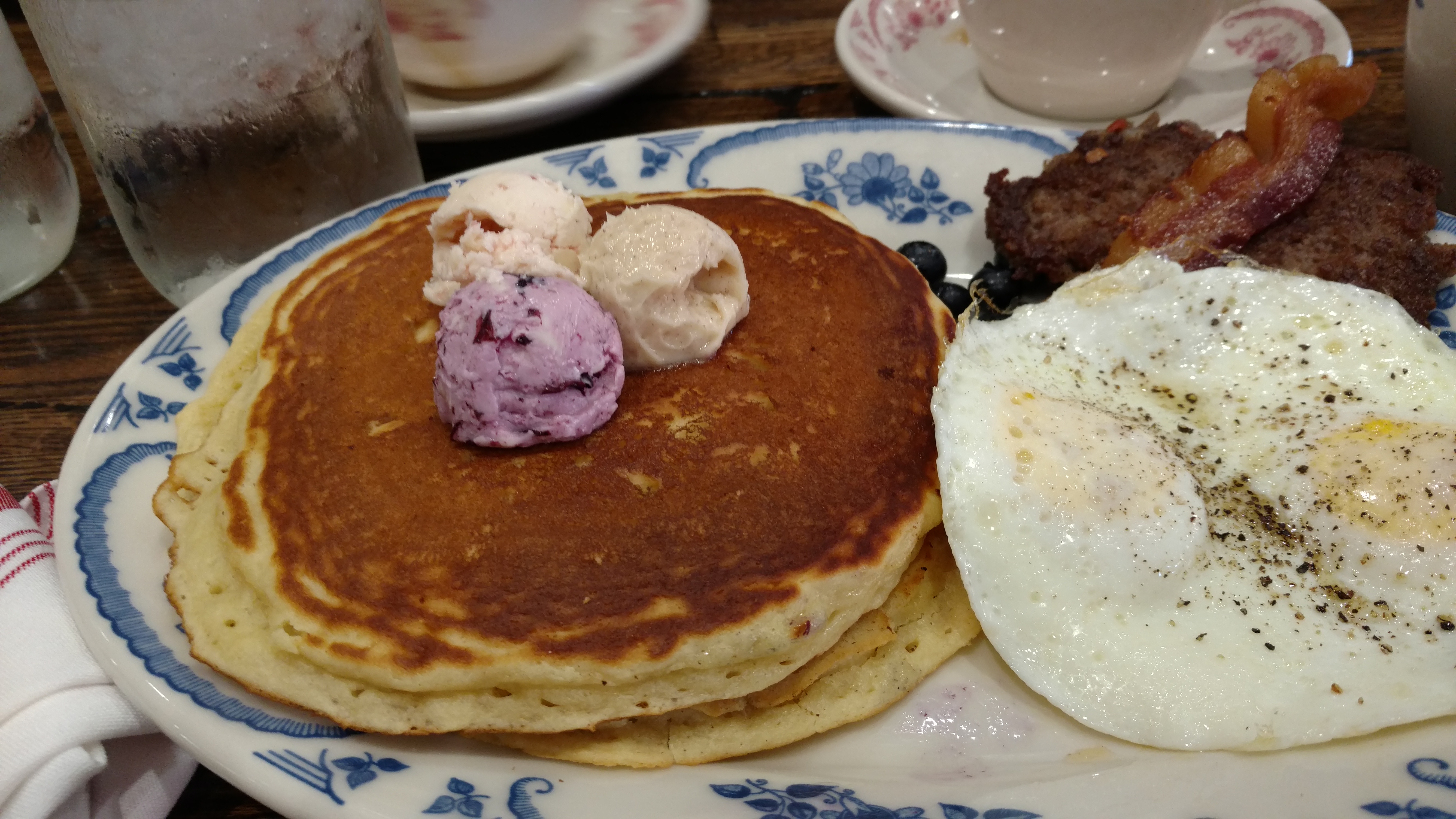 Edna Mae's Pancake Platter
Having grown up on from-scratch homemade pancakes every Saturday, I'm not typically a fan of restaurant pancakes, but I decided to risk it. I was glad I did, since these pancakes were delicious! I ate every single bite and came home to make Edna Mae's pancakes from my Pioneer Woman Cooks cookbook the following Saturday. If you are a lover of delicious homemade pancakes, you'll want to give Edna Mae's recipe a try.
Of course, I was hoping for a little visit with the Pioneer Woman, but Ree Drummond was nowhere to be found. She obviously missed the memo that I was due to arrive. However, we did have a celebrity sighting…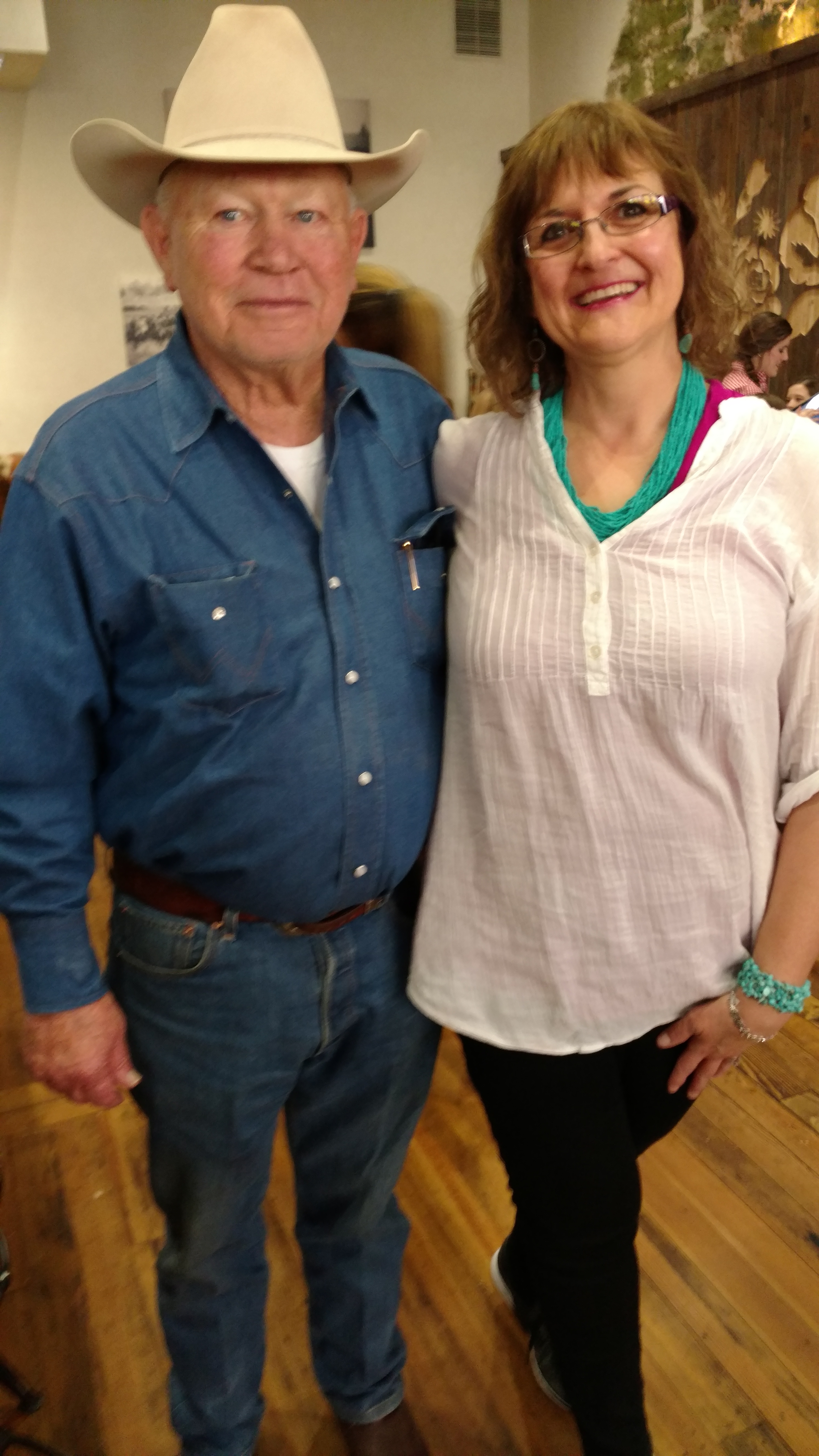 Hanging out with Papa Drummond. He enjoys chatting with the customers!
After checking out the bakery and sitting area upstairs and scrutinizing the eclectic and inviting array of merchandise, we headed back to our car. We stopped at a small store just around the corner that specialized in Native American jewelry and art; it was beautiful. We spent about half an hour chatting with the owner about her culture and heritage. When she recommended we drive through the Tallgrass Prairie Preserve and view the buffalo, we followed her recommendation and were glad we did! The views were spectacular and the buffalo were numerous. Always listen to the locals when they recommend the do-not-miss attractions! The locals know.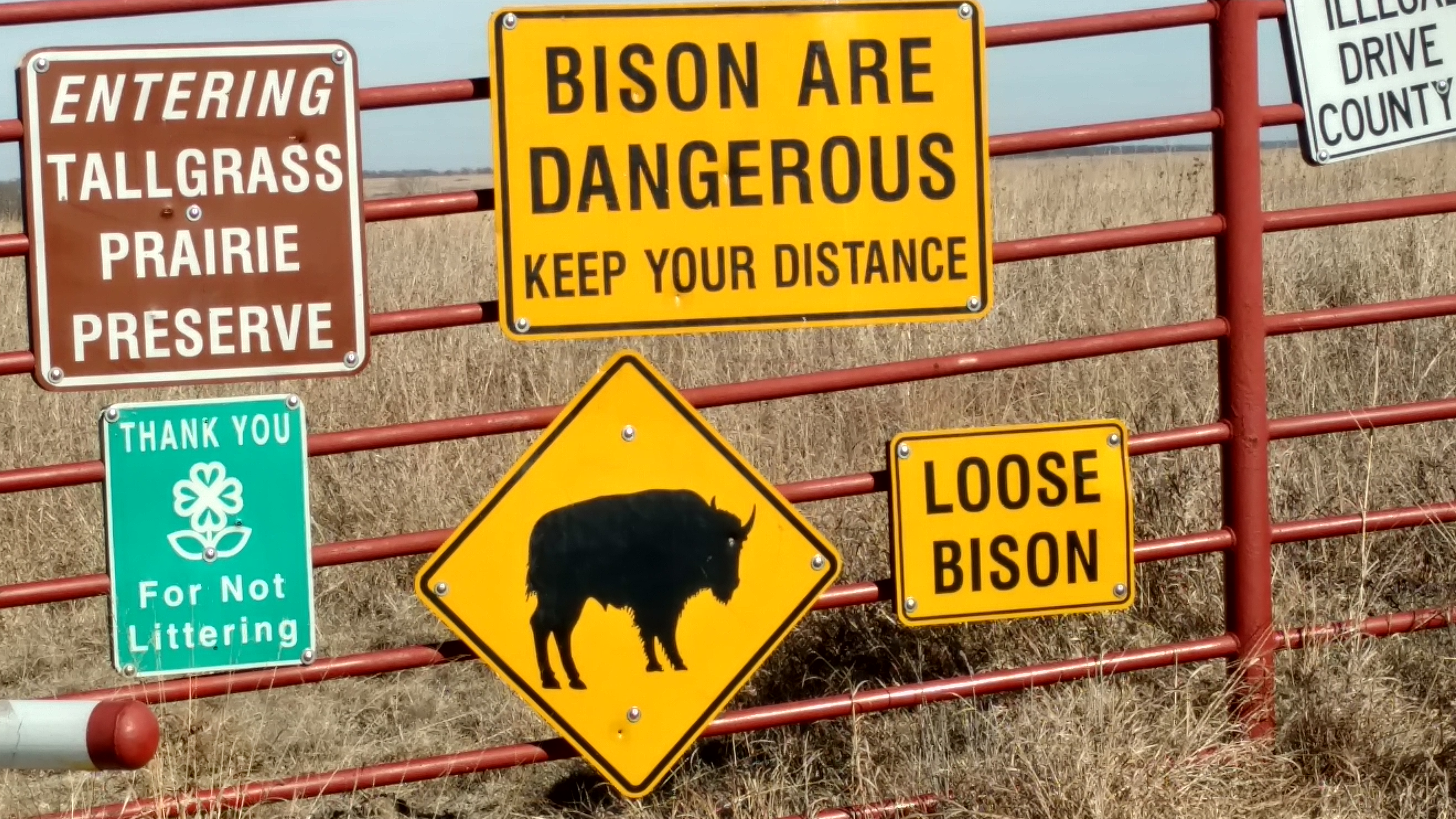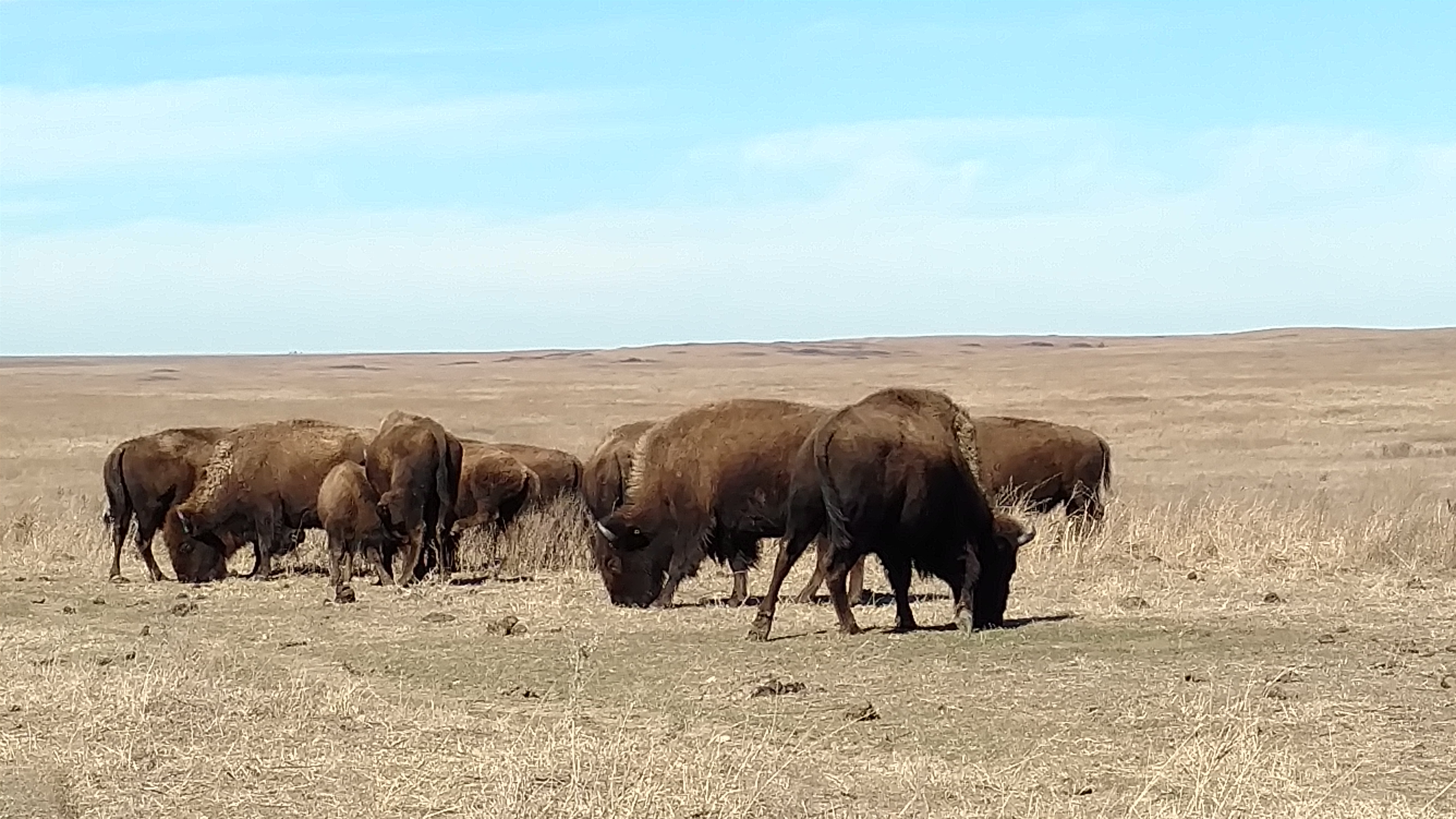 I was thrilled with our anniversary trip to "The Merc". I know it wasn't the top of my husband's wish list, but I appreciated him giving me a gift he knew I'd enjoy. He had a good time, too, but wasn't quite as overjoyed as I was.
MOTHER-DAUGHTERS VISIT
So, since I enjoyed my first visit so much, my mom thought it would be fun to do a Mother-Daughters Visit for my birthday lunch. We lived away from my family for the first twenty-seven years of my marriage. Far away. So, since we moved to Oklahoma we've been celebrating birthdays with Mother-Daughter lunches. We usually visit a local tearoom, which is always a treat, but decided to mix it up this year. I decided to come armed with my real camera for this trip and get some great photos for the blog. However, due to a…erm…kerfuffle with the camera, I ended up with a camera body and no lenses. Yeah, that just happened. So, I only took a few photos with my phone. At any rate, Pioneer Woman Visit, Take 2.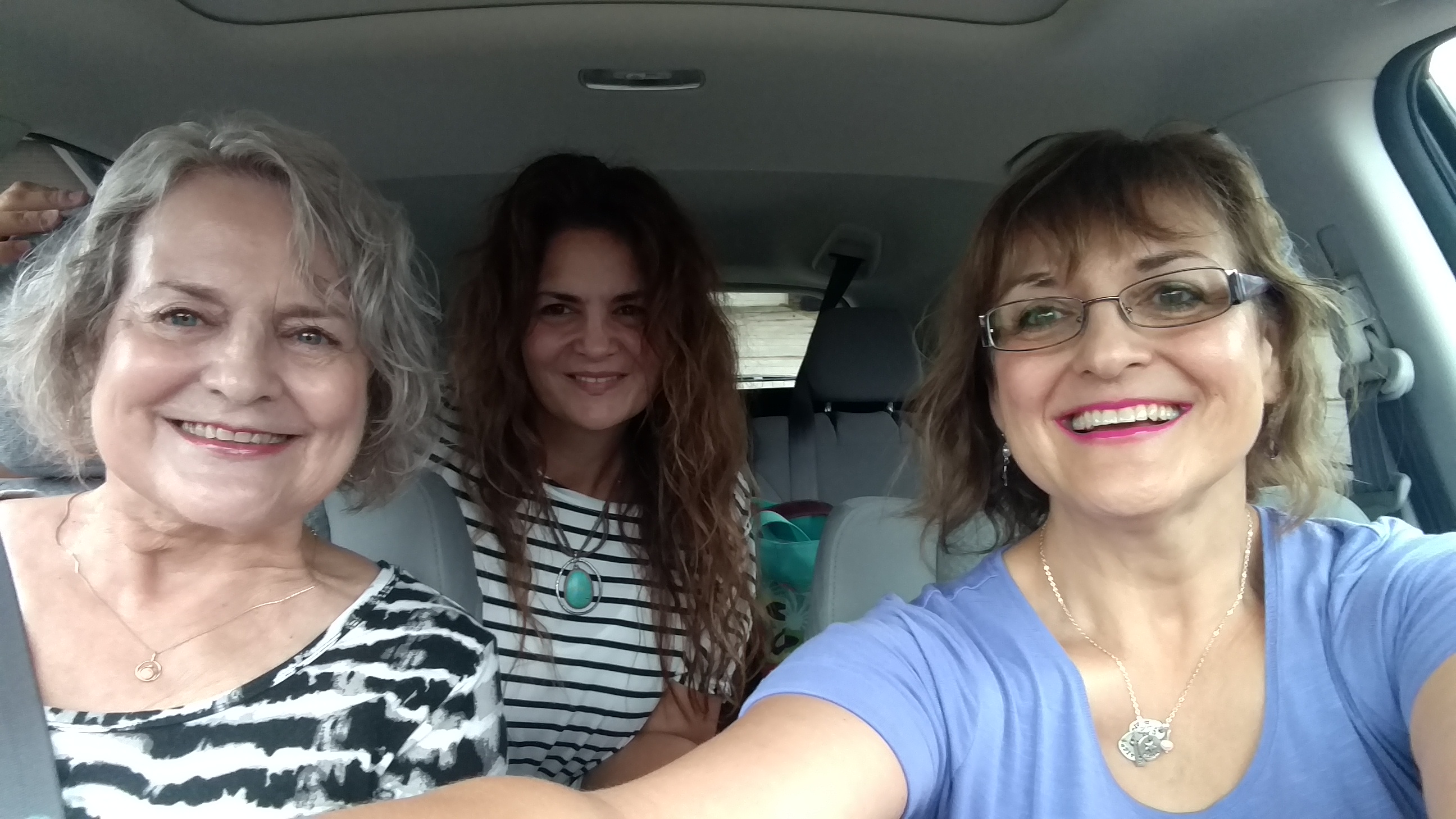 We arrived on a sizzling Friday in July. Friends, there was a line. They told us there would be a THREE HOUR wait. In the Oklahoma July sun. For diner food. This perhaps was not logical, but we're stubborn people. We didn't drive two and a half hours to be turned away at the door, so we waited. Along with half the population of Osage County.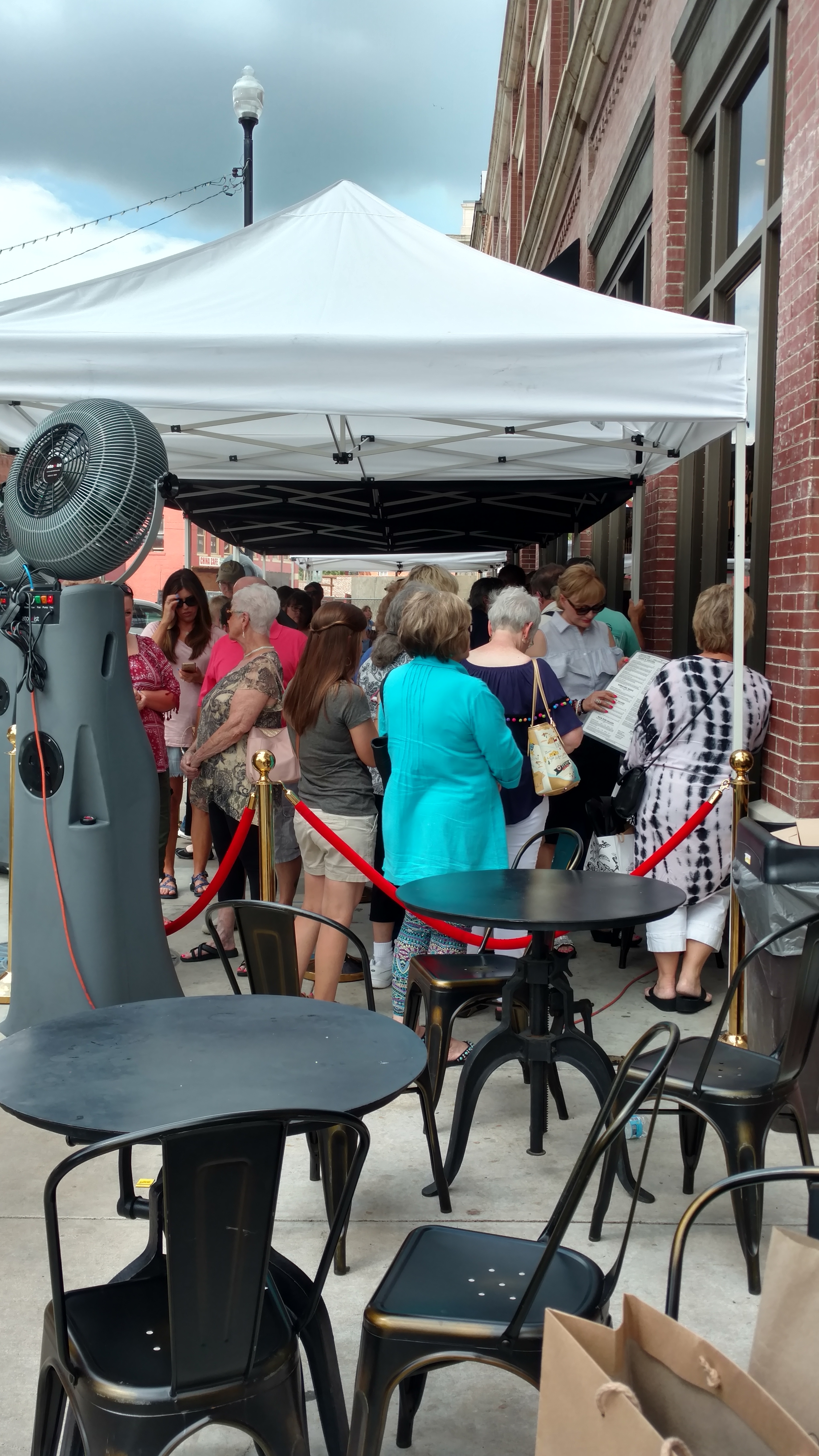 and waited…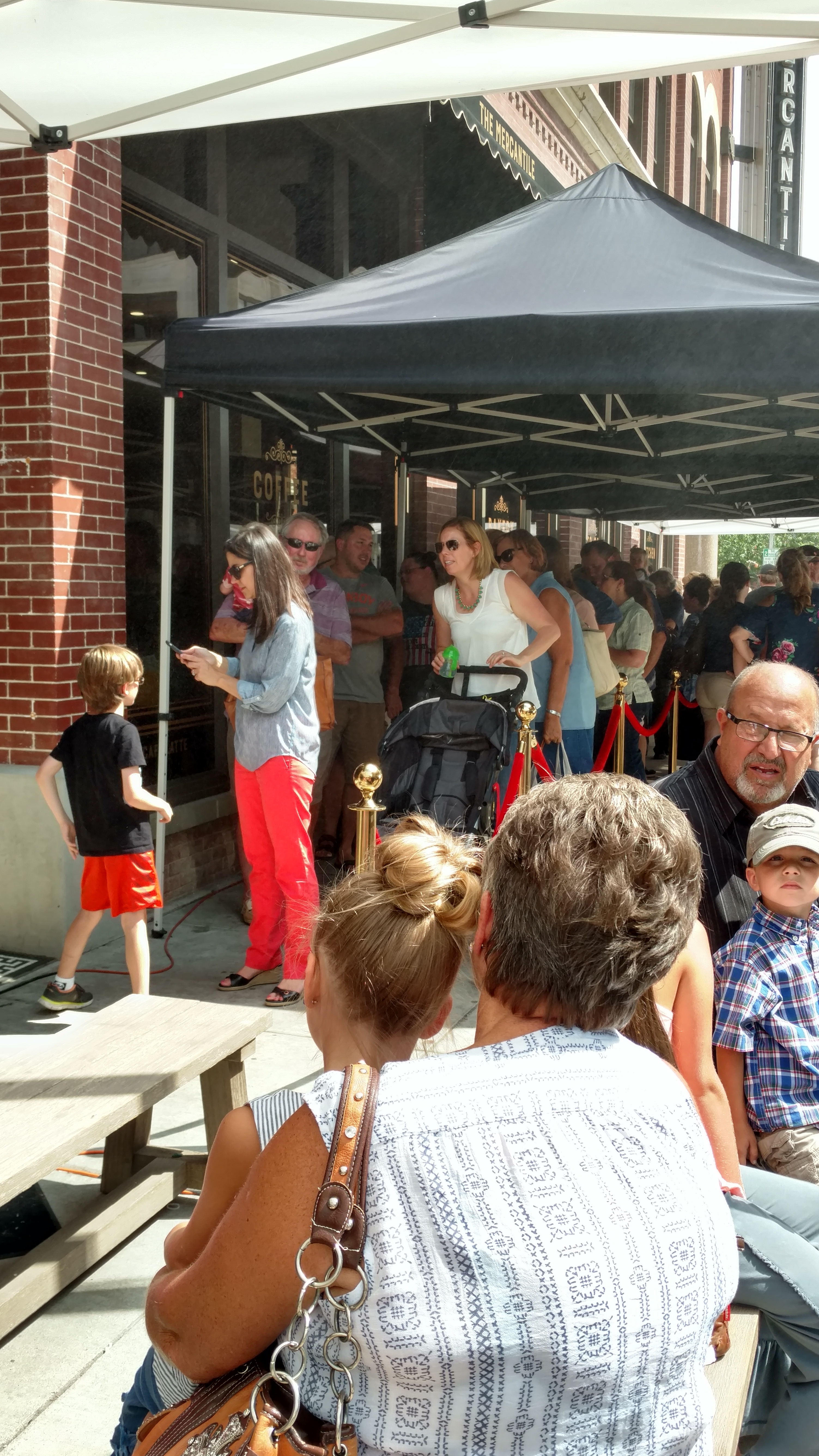 and waited!
I was highly impressed at the level of customer care offered during this wait. We stood under canopies while misting fans wafted highly coveted spritzes of cool spray onto us. There were benches for part of the wait. Employees regularly came through the line to offer complimentary bottles of ice water, ice pops, and samples from the bakery. There were baskets of sunscreen available for the use of patrons. The whole waiting experience was carefully orchestrated for customer comfort.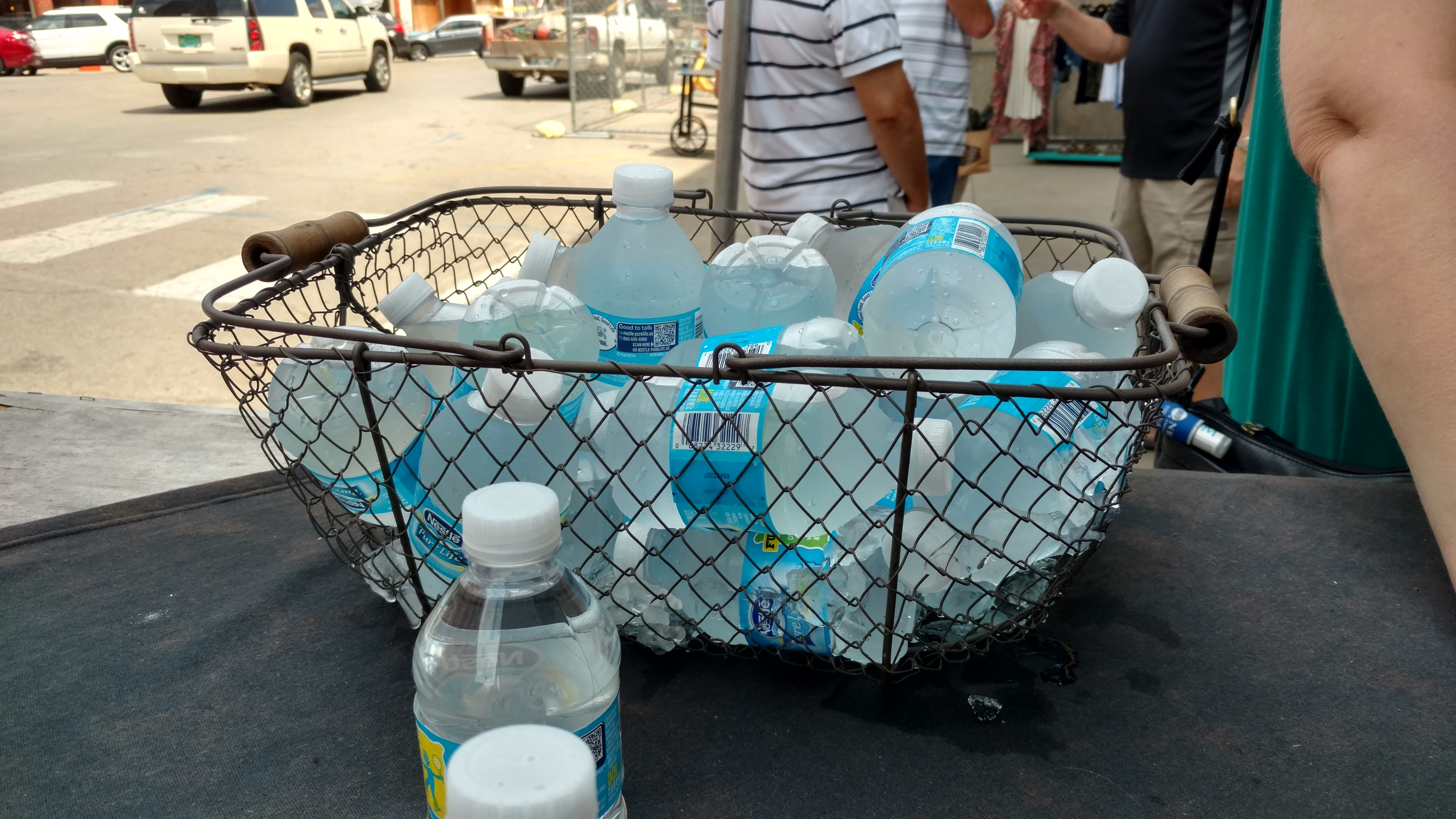 Complimentary ice cold water bottles.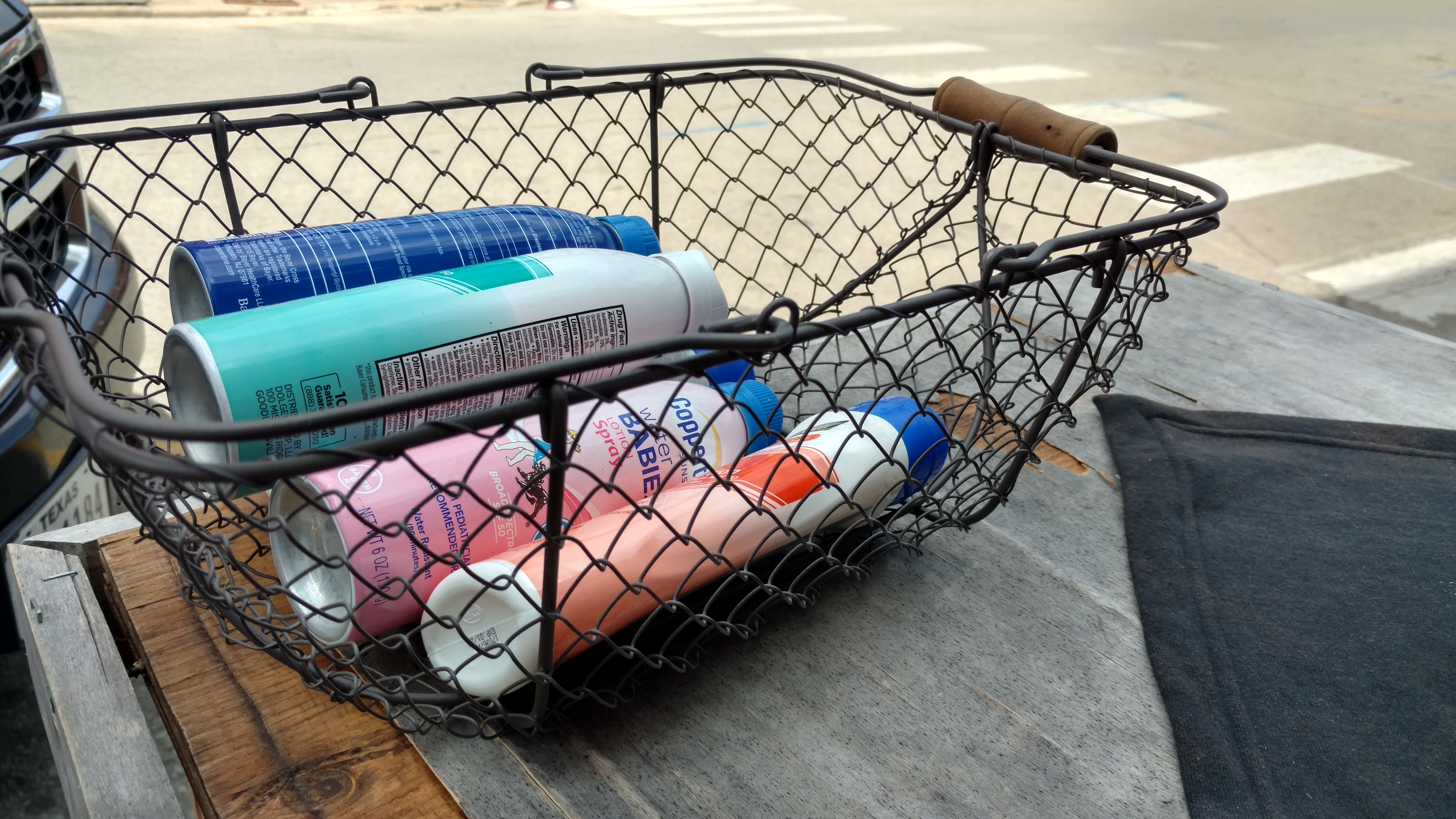 Sunscreen for the use of fair-complected line-waiters.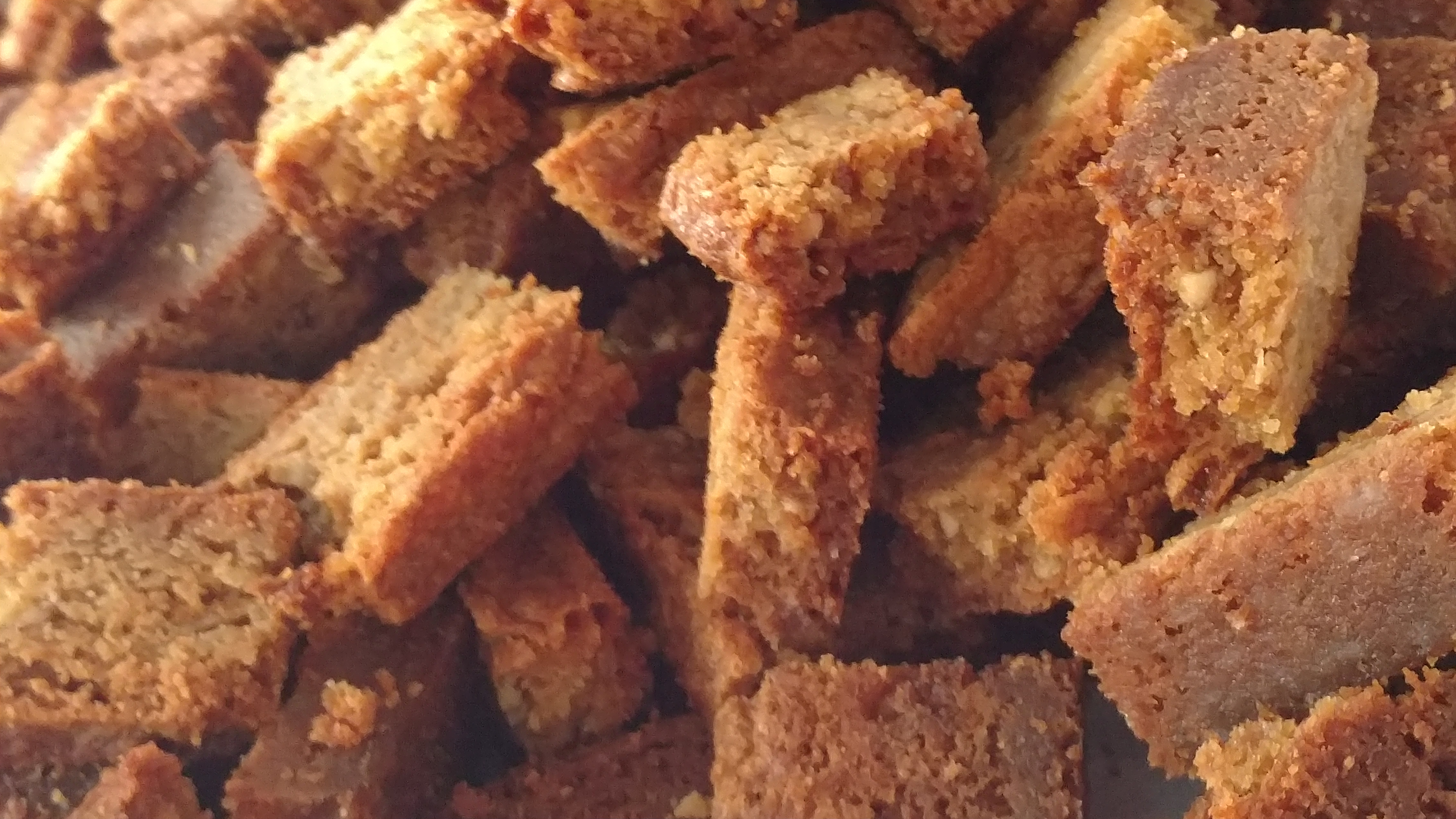 "Would anyone care for a Blondie sample?" Yes. The only logical answer is "yes"!
We actually only waited for two hours and forty minutes. It's a strange situation where you're excited you only had to wait two hours and forty minutes, but there you have it. We were IN!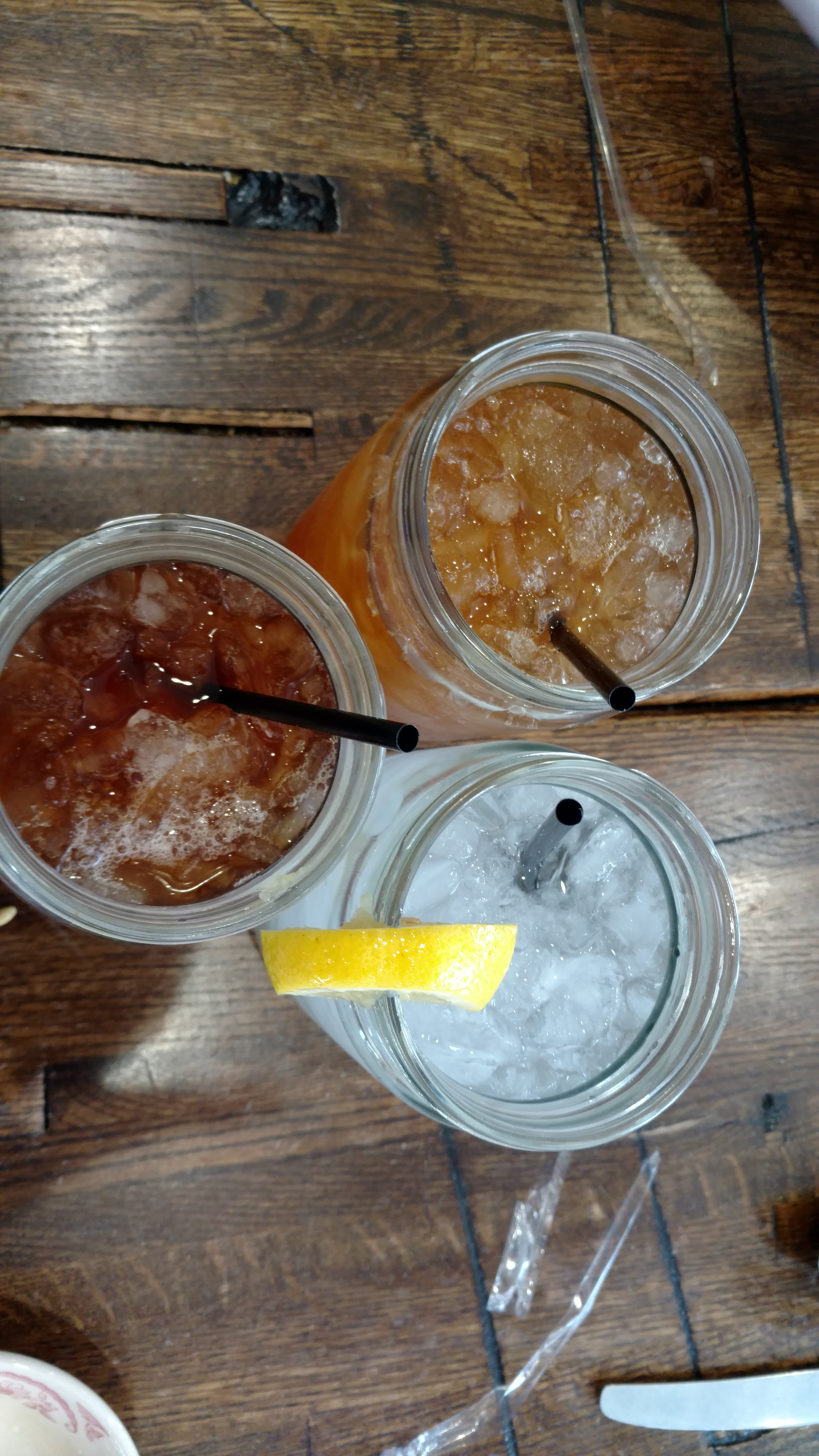 I've actually been a vegetarian since February, after an unfortunate viewing of a random video on Facebook. We won't even go there. At any rate, I'm currently a vegetarian (more precisely, a pescatarian, since I still eat seafood). Anyhow, despite my meatless state, I was seized by an overwhelming desire to sample the chicken fried steak. So I did.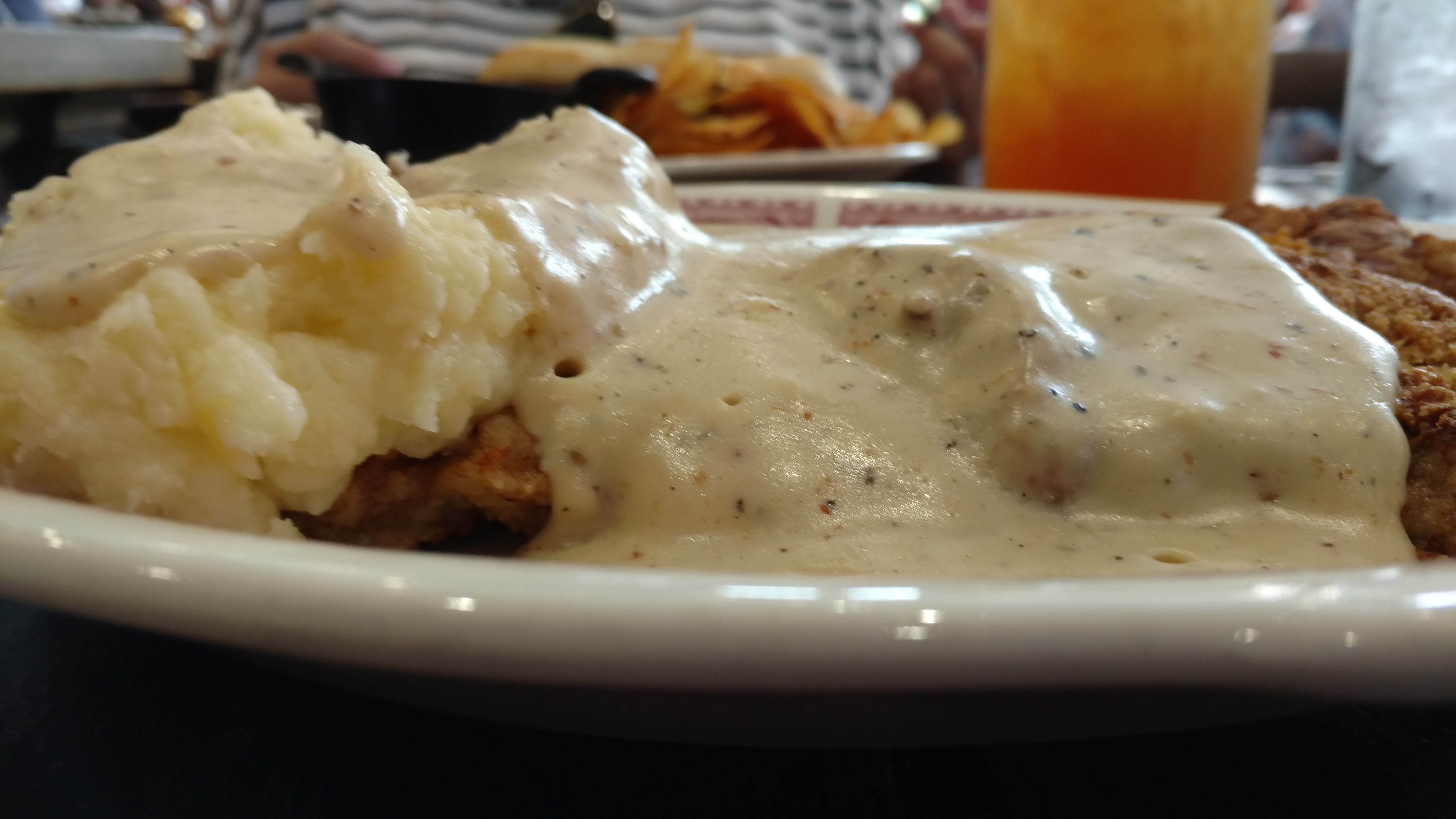 I can recommend the Chicken Fried Steak with mashed potatoes and gravy. I brought over half of it home. I needed to save room.
Because dessert.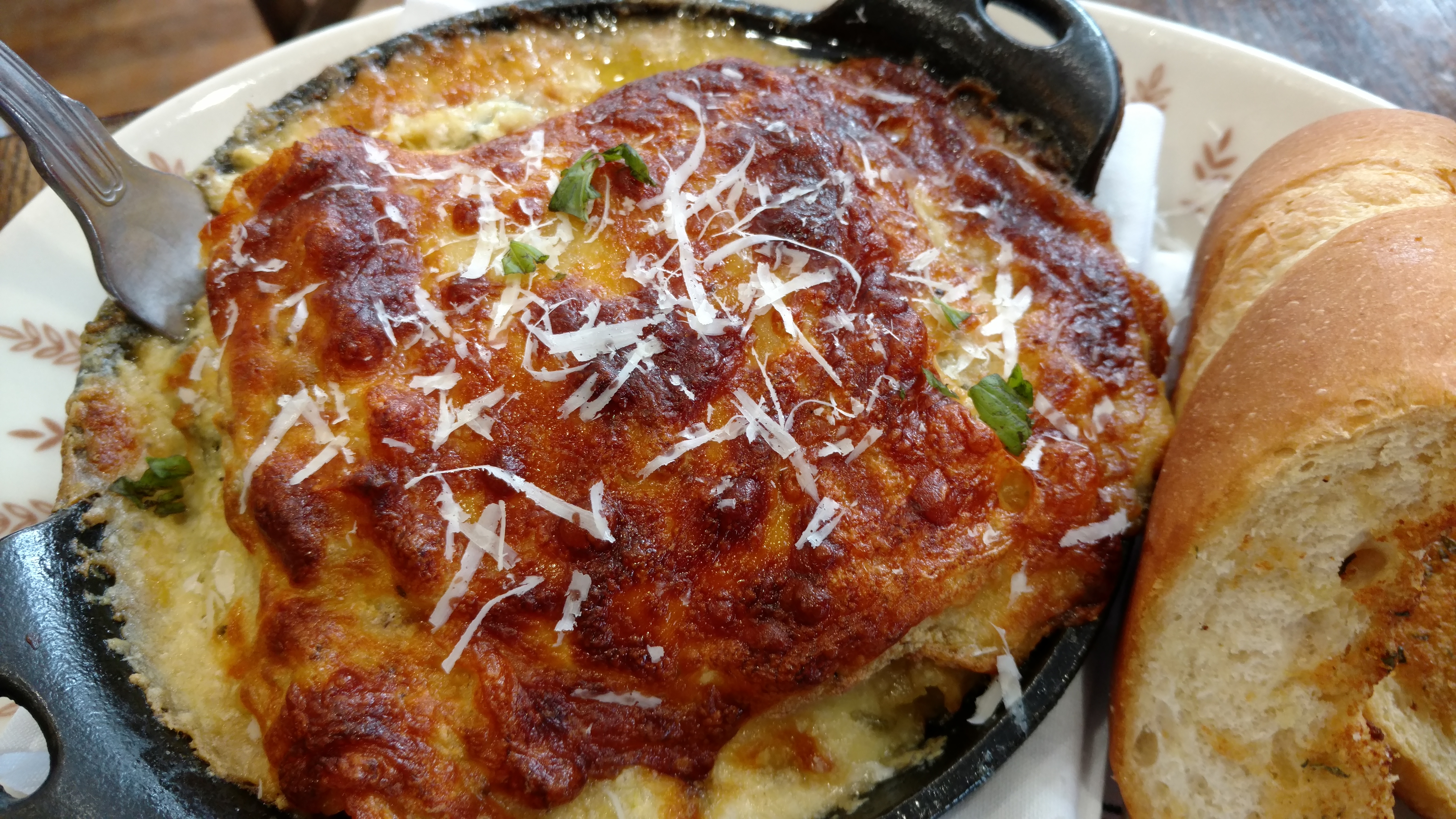 Five Cheese Vegetarian Lasagna.
My mom ordered the Cheese Lasagna, because she's an Actual Real Vegetarian who is not wooed to the Dark Side by chicken fried steak. Her lasagna came bubbling merrily in its own little adorable cast iron skillet. It looked delicious, smelled like dreams of Heaven, and tasted like the nectar of the gods. We can recommend this dish, but only if you are in favor of scrumptiousness.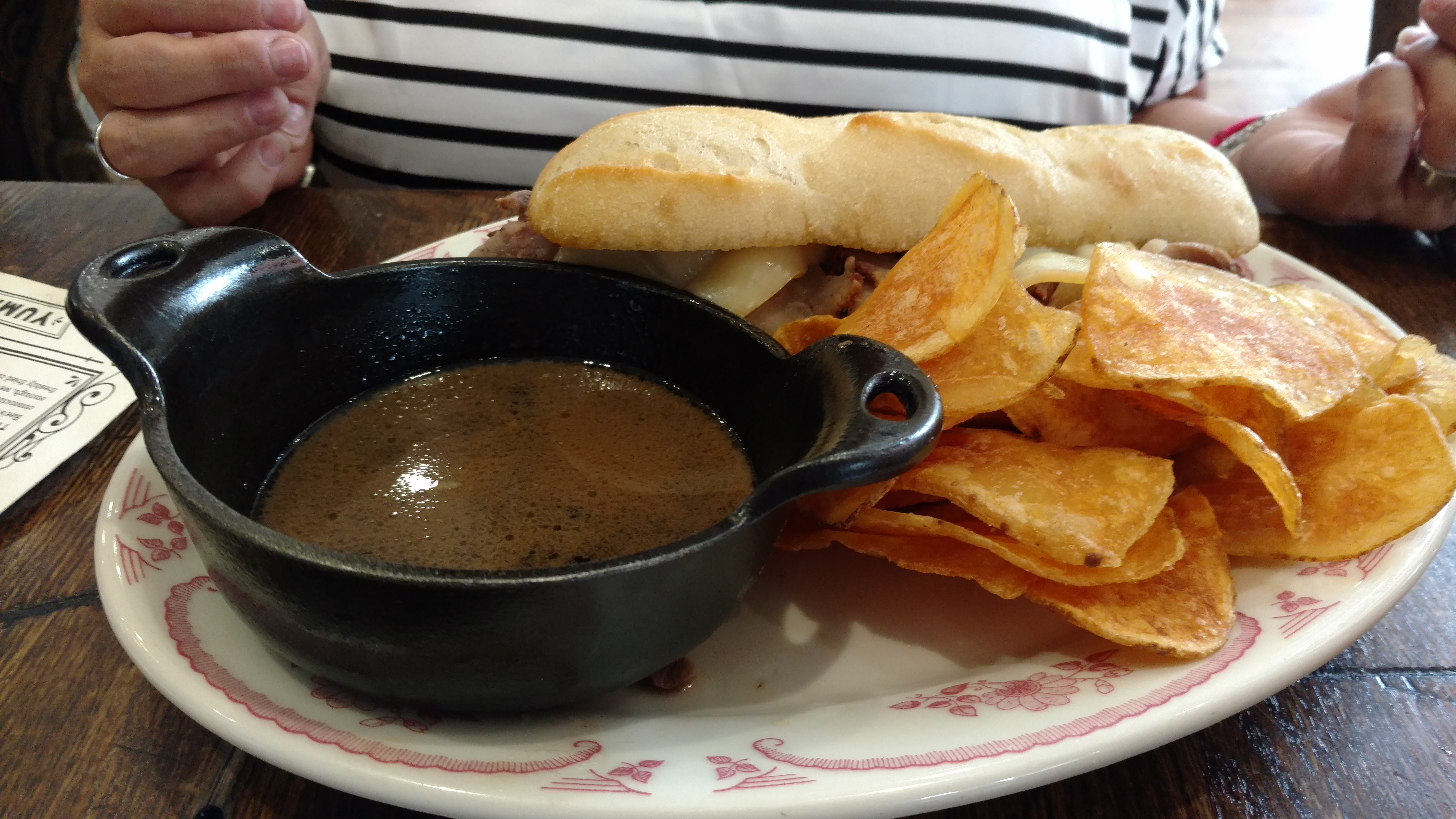 French Dip
My sister ordered a French Dip sandwich, which we unfortunately cannot recommend. While the roll was tasty, the meat was extremely fatty to the degree that any normal human would find it inedible. However, her dog enjoyed it very much. The waitress informed the kitchen of the dilemma, and I'm optimistic that the problem will be resolved in the future. The restaurant comped my sister's dessert, and since we all know that it's really all about the dessert, that was an acceptable solution. 
Now…on to the good stuff. And let me tell you, it was good.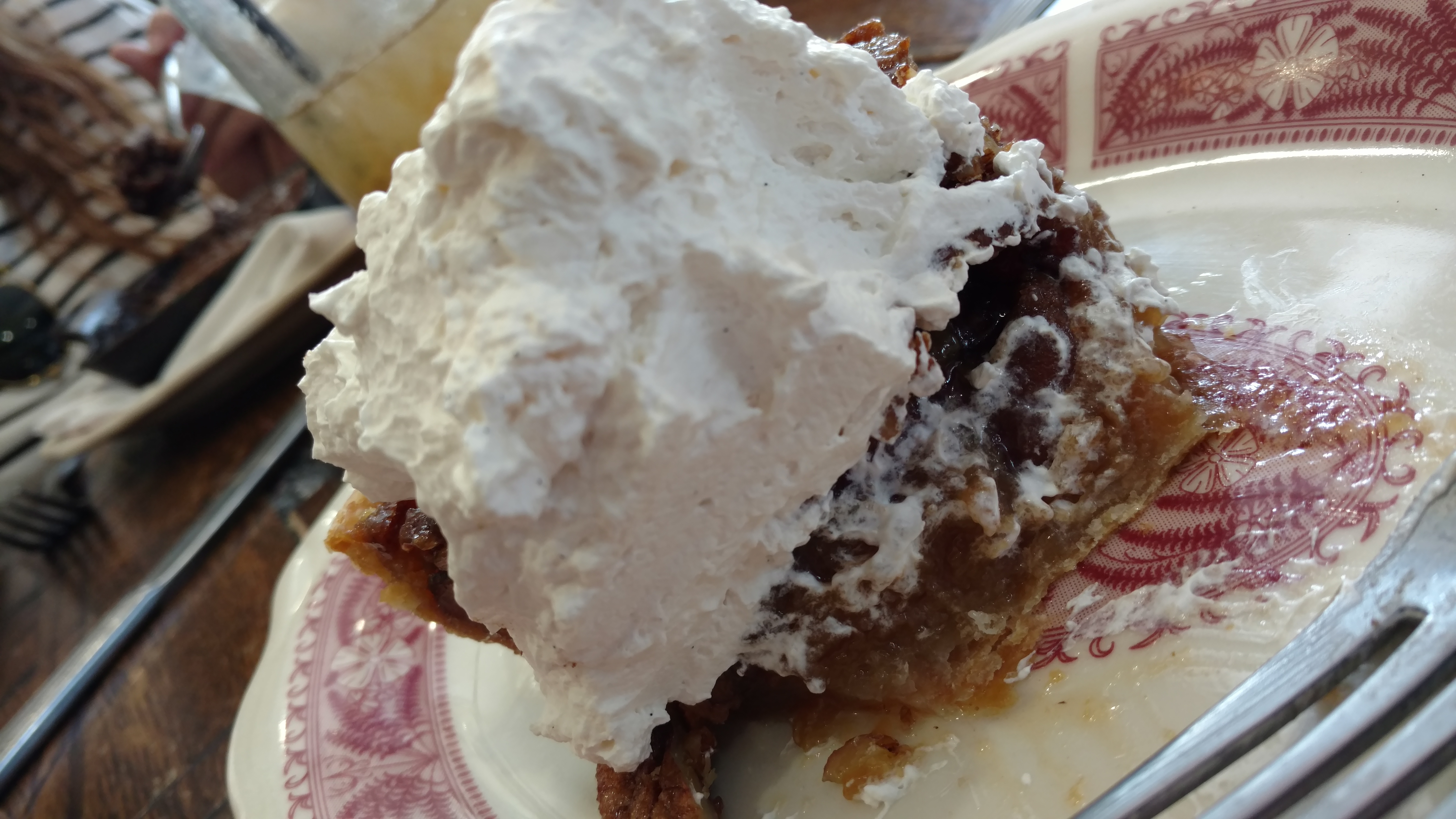 Pecan pie with real whipped cream.
This pie was just the right amount of sweet crunchy gooeyness encased in a properly flakey crust. I'm an extremely picky pie connoisseur as the result of being surrounded throughout my childhood by women who flat out knew how to bake a pie. Pioneer Woman gets it, and that's a high compliment coming from a pie snob. I mean pie connoisseur.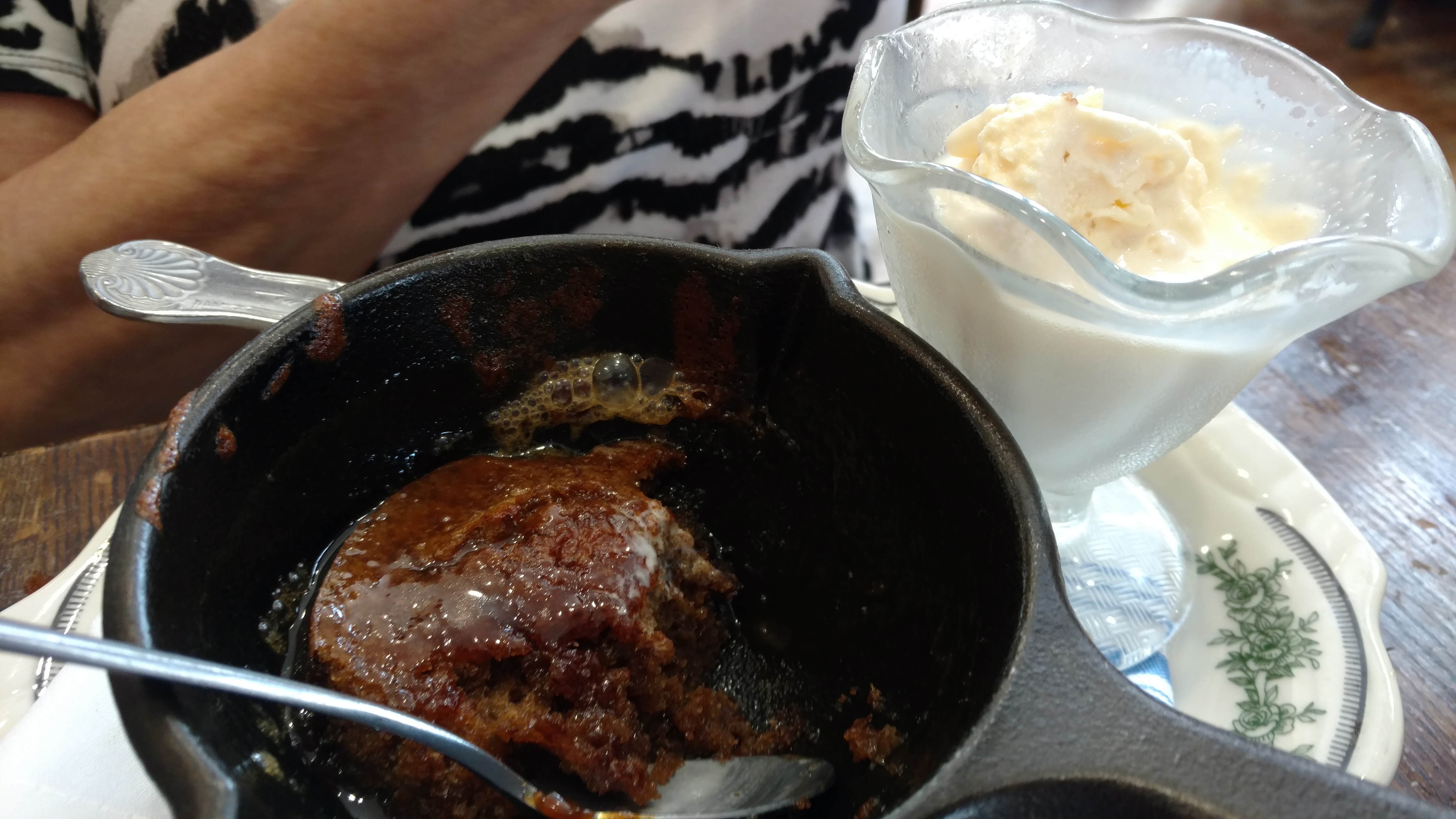 Prune cake with ice cream.
Yummmmmmmm. Whether you think you like prunes or not, I vote that everyone should taste this beautifully moist cake. It was perfection. Perfection.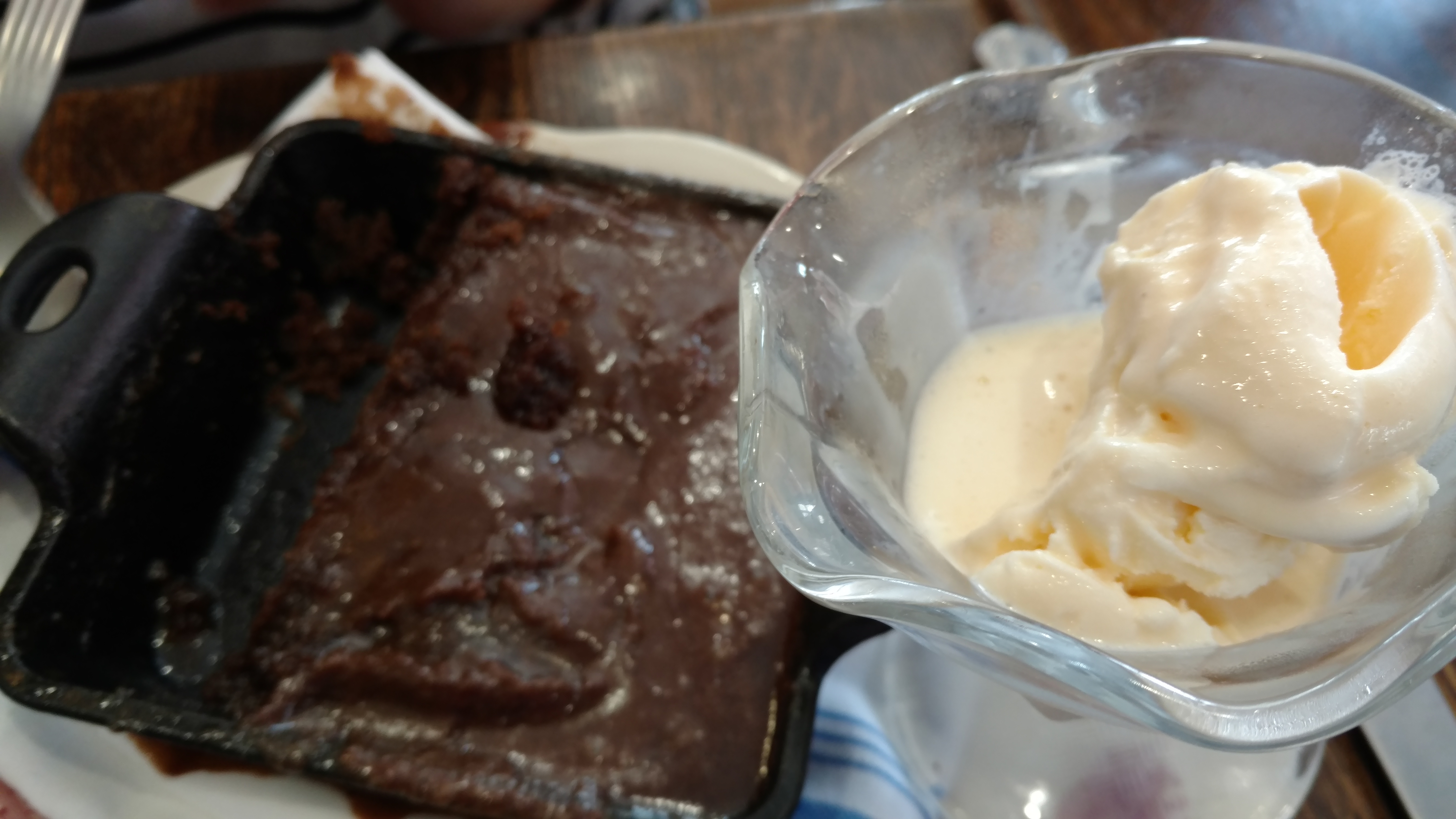 Chocolate Sheet Cake with Ice Cream.
Also baked in its own miniature cast iron skillet, this arrived at table piping hot and fresh-baked. It was a chocolate lover's dream. All three of us found it irresistible.
What a splendid Mother-Daughters Birthday Trip! We also enjoyed shopping in the Mercantile, although I didn't get any photos. That's a shame, because it's bright, cheery, eclectic, and charming. Drat. I guess I'll have to make another trip to Pioneer Woman's Mercantile so I can get blog photos of the Merc! If you make plans to visit, give me a call and maybe I'll hitch a ride.
Here are links to Pioneer Woman's Cookbooks, so you can try out some of her food to hold you until you can make a trip to her Mercantile!