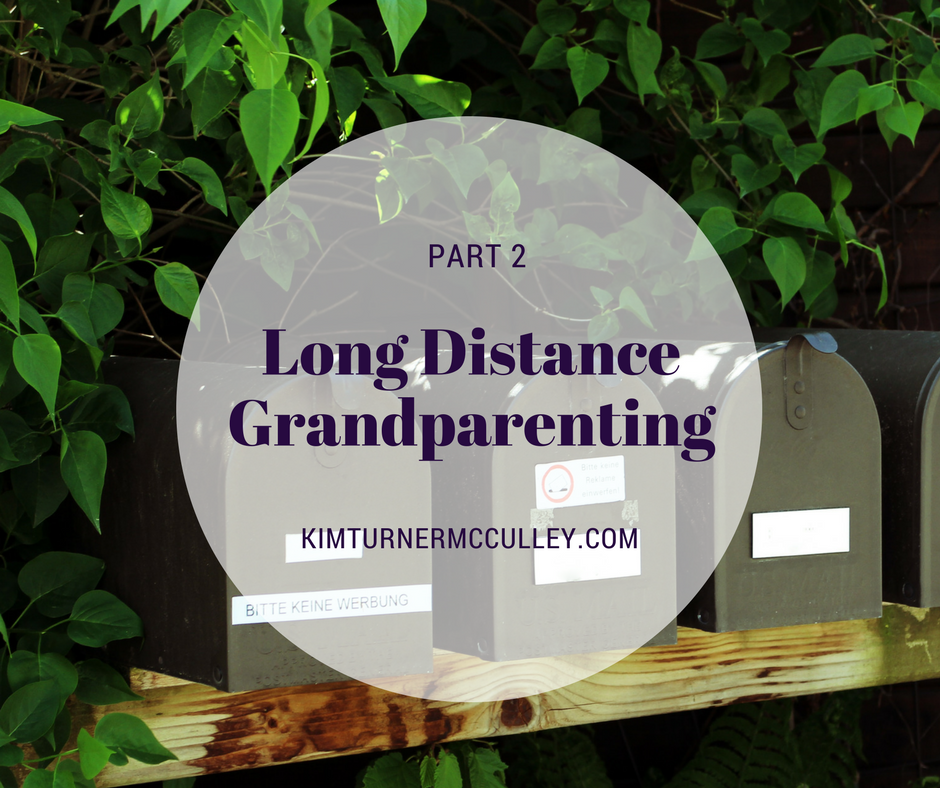 "Like cold water to a thirsty soul, so is good news from a far country." Proverbs 25:25
This is part 2 of the long distance Grandparenting series. Read part 1 here.
So…your grandchildren have moved away. What now? You've cried your tears and now you're ready to be the best long distance grandparent possible. Here are some of the ways I foster long distance connection.
One could shower grandchildren with gifts and money from afar, but that requires a certain degree of financial largesse and doesn't really accomplish the goal–connection. So, how can we build connection without spending much money?
When I was a child, I lived in the same small town with all four of my grandparents and most of my aunts and uncles. However, once a year we went to a family reunion where we gathered with extended family, and I forged strong ties with these relatives. My Great Grandma "Mom" Moore, and several of my great aunts faithfully corresponded with me for years, and I'll never forget the excitement of going to the mailbox and finding a letter just for me. I felt loved. So, the first thing I determined was to write regular letters to my grands.
Letter writing. My youngest wasn't even two when they moved away, but he still got excited by my letters. My goal is to write weekly, but I sometimes fall short. I send funny cards, pretty cards, and postcards I purchase whenever we travel. Everywhere I go, I'm on the lookout for great cards to mail. Inside, I like to place a sheet or two of stickers or occasionally a balloon, tattoo, a dollar, or a small gift certificate for an ice cream cone. On a whim, I started drawing stick figures of each child and myself the back of each envelope. I draw us doing things together: things we used to do (play games, bake, eat popcorn and watch movies, etc.), or things I wish we were doing together. I am the worst possible artist in the world, but all the kids love this! Now, when they write to me they also draw (much better) pictures of us together.
Texting. The three oldest have ipods, and first we used the Voxer app to text messages and photos to one another and also to send voice messages. When I upgraded my phone, I switched to an iPhone so we can text directly through the icloud, and hopefully enjoy Facetime. The youngest grand doesn't have a device, so I text him through his mommy. I take photos of anything that may be of interest. One child loves penguins, so when I found a display of penguin drawings I texted a photo. One grand is snake-obsessed, so I sent a photo of a snakeskin I found in the yard (ewwww). I send photos of all my artistic attempts to our artsy granddaughter, and she reciprocates with her masterpieces. I try to Skype regularly with the youngest; he loves for me to read picture books to him. I heard of a friend who has a weekly group Skype with all of her grandchildren for Story Hour, and I LOVE this idea. I think the best connections are made in those day-to-day ordinary moments.
I believe the most important thing about connecting–however you may choose to do it–is that it has to be regular and consistent. If I want to be part of their lives, I must have a consistent presence. A week long visit at Christmastime or in the summer is a treasure, but the constant everyday things are what build a relationship.
All these ideas are easily accomplished, even on a budget. Assuming you have a cell phone and an internet connection,  Skype/Facetime, Voxer, texting, and phone calls are free. Stamps are cheap; I pick up notecards and stickers for a dollar a package at Michaels, the Dollar Spot at Target, and Dollar Tree.
In my next installment, I'll be discussing a few of my favorite ideas for connecting. These require more financial outlay, but with a little creativity I think most people can find a way to implement them.
What about you? Please share your ideas for how you connect with your grandchildren!
You can follow along with my blog by subscribing to new posts by email, and by following me on Facebook, Instagram, Pinterest, or Twitter.
I hope you'll continue reading the final post of this series, Long Distance Grandparenting part 3.