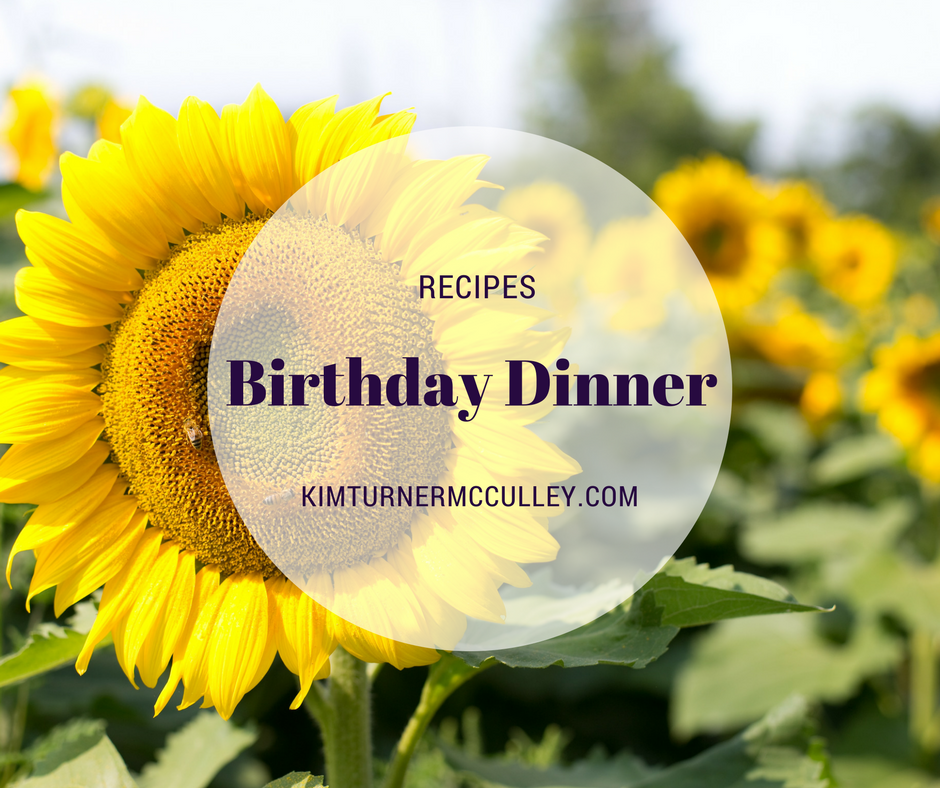 This post contains affiliate links.
Birthday Dinner
Feeding people. There are few things that bring me more joy than gathering my loved ones into my home and feeding them. Taking the time to create a beautiful and memorable meal feels to me like art, a celebration of life; it feels like love. This week all the local family gathered to celebrate two birthdays and my parents' 57th wedding anniversary. It was a day full of love, laughter, blessings, and favorite food. I want to share the joy, so I'm giving you a peek into two of our family's favorite recipes.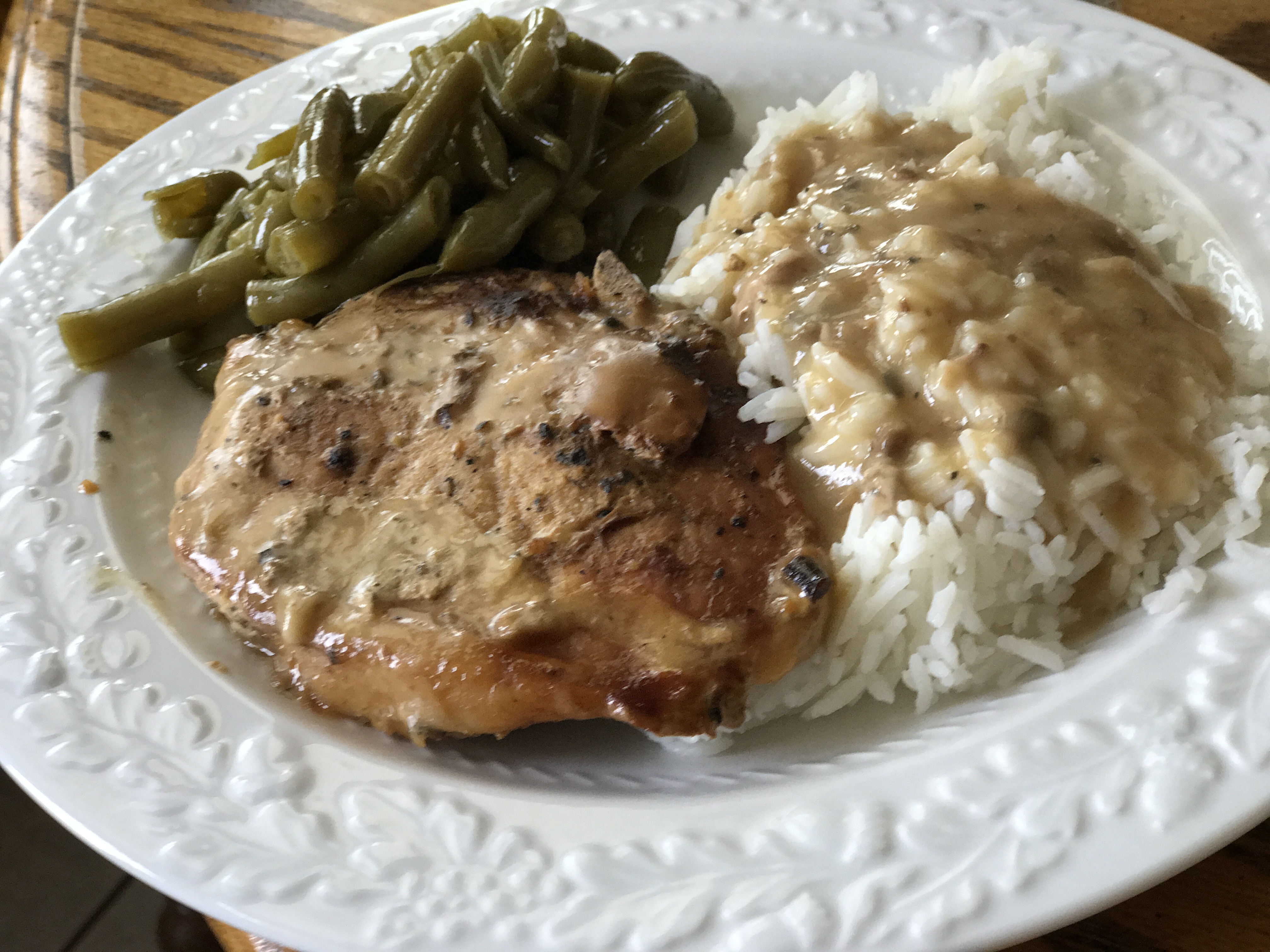 Crockpot Pork Chops in Mushroom Gravy
My mom made this regularly as I was growing up and it continues to be a family favorite. This recipe is simple and quick and has converted pork chop haters into pork chop lovers.
Salt and pepper pork chops to taste. Brown both sides. Place in crock pot. Pour over cream of mushroom soup. Cook on low 6-8 hours. Serve over cooked rice.
Strawberry Rhubarb Pie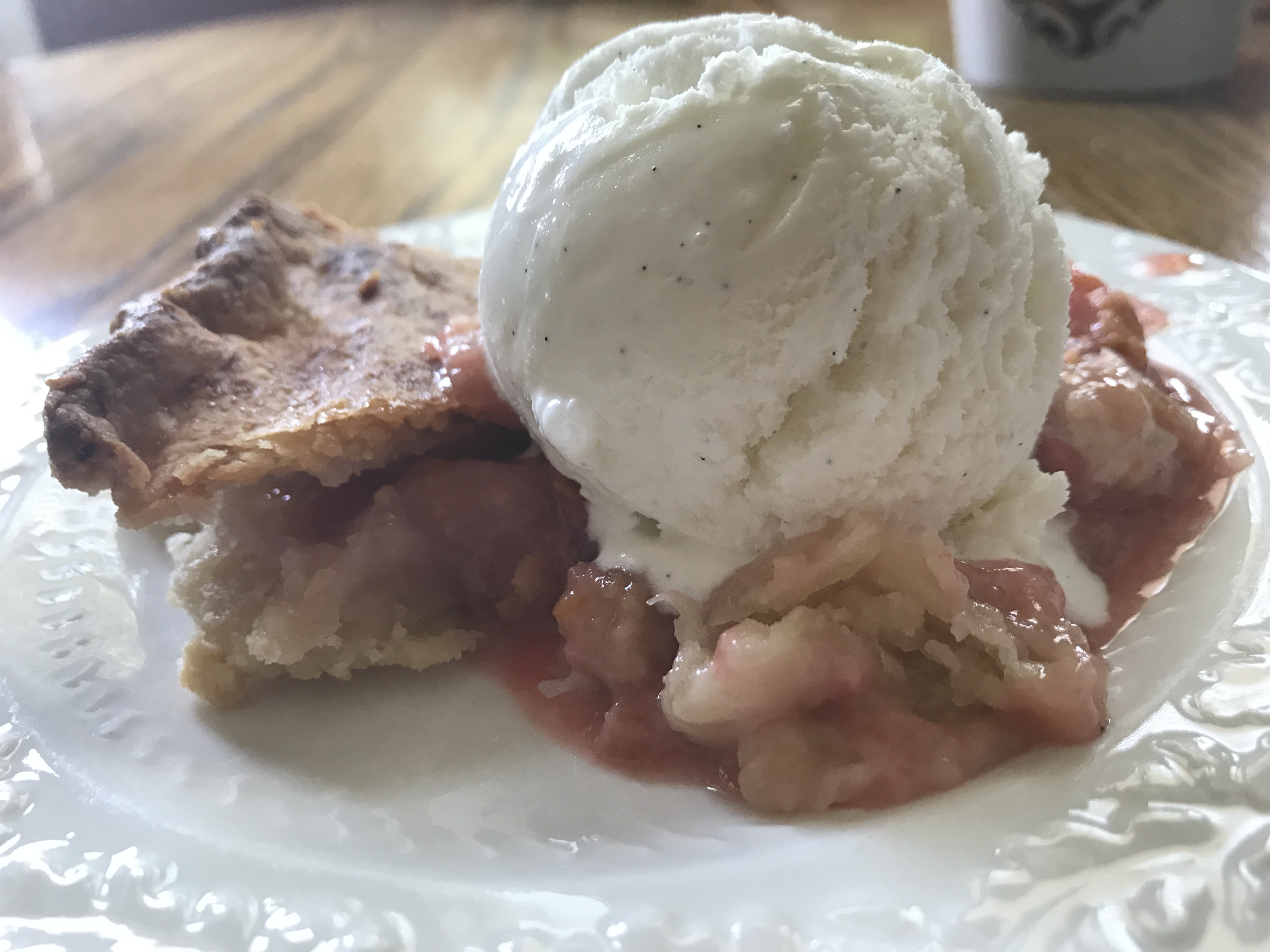 This pie is a huge hit in our house. It's a good thing I only make it once or twice a year, because I have no self control when this pie is on the premesis. (Eat pie for breakfast? I would never do that. I have no earthly idea why there's a strawberry rhubarb stain on my nightgown. How does that even happen?)
Pie Crust
In my opinion a homemade pie is an event, a work of art. It deserves a homemade pie crust. Always. Every single time. I've done a lot of experimenting with pie crust recipes, and my current favorite involves a mixture of butter and shortening. Real butter, no margarine PLEASE. This will be the assumed standard in my kitchen always and forever. I know shortening is full of trans-fats and is awful, but it's not like pie is health food. It's celebration food: a treat. I just can't get the proper pie crust flakiness without some shortening. So, butter for the rich flavor and shortening for the lovely flakiness. A full printable recipe follows my step-by-step instructions.
Gather up your ingredients.
Mix together the flour and salt.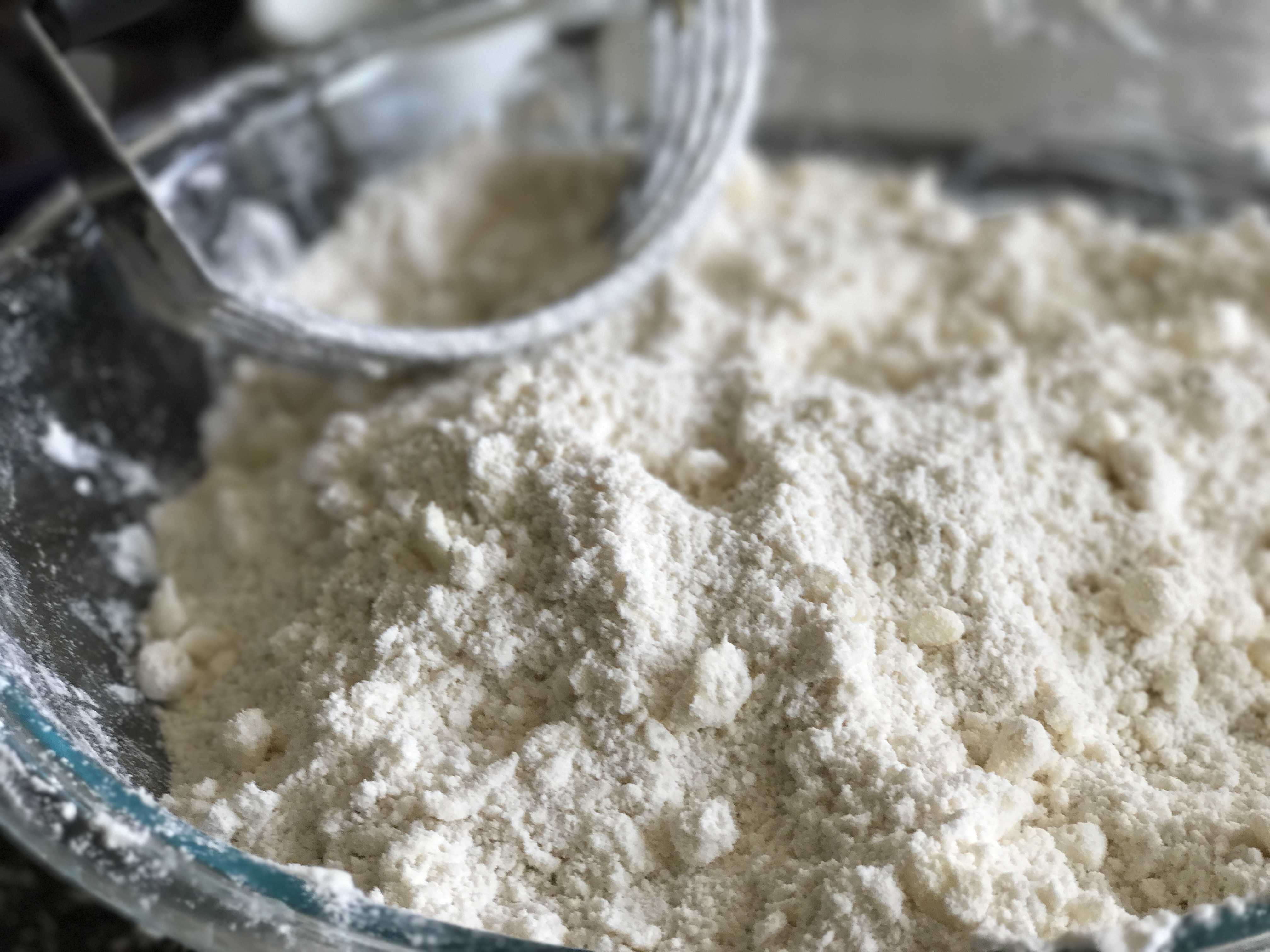 Cut your cold butter and chilled shortening into small pieces. Using a pastry cutter, two knives, or your hands, incorporate the fats into the flour mixture until they are the size of small peas. You want your fats to be in little lumps. These pockets of butter and shortening will create the flakiness.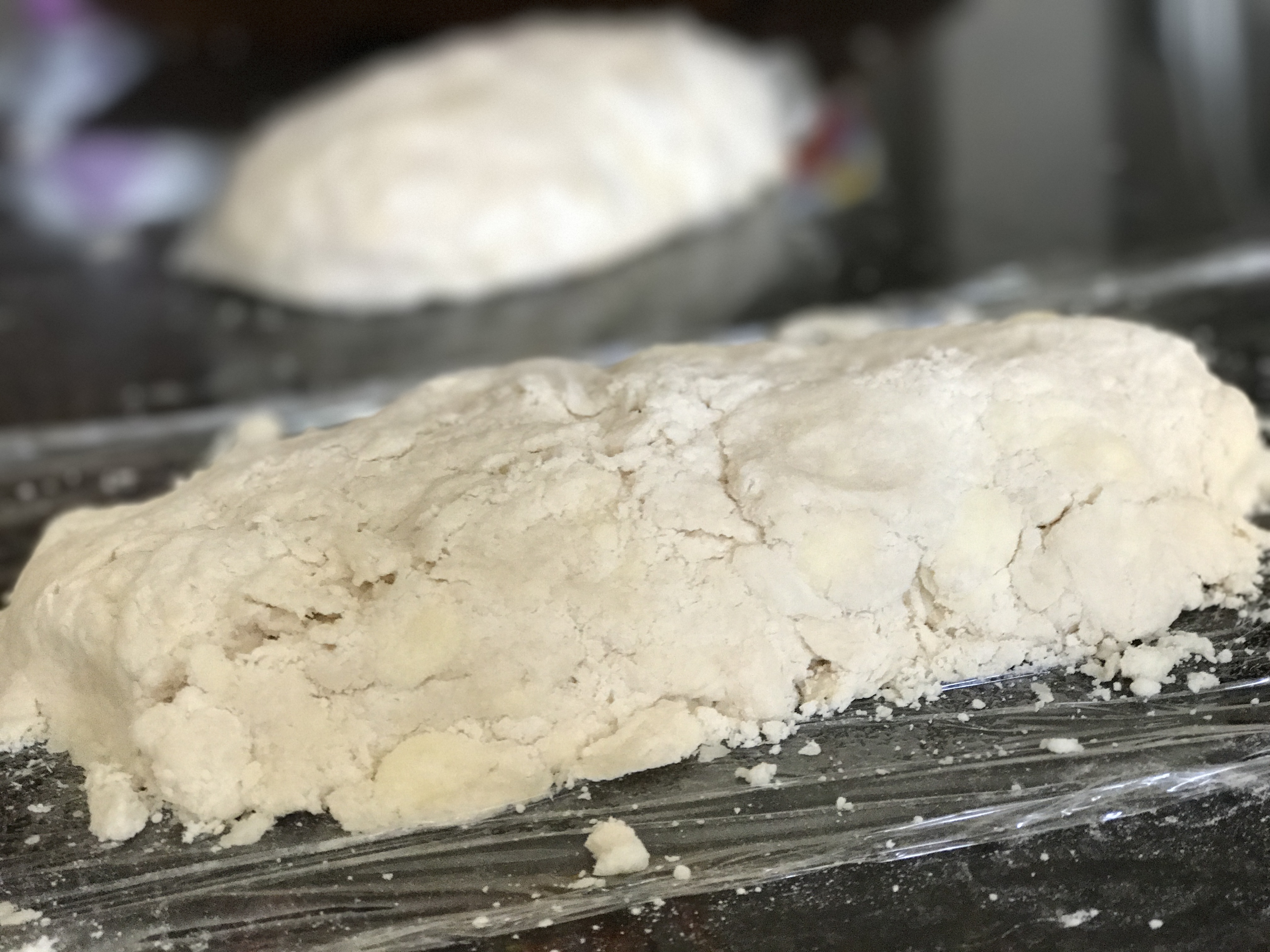 Add cold water a tablespoonful at a time while tossing mixture with a fork. If you have an extra pair of hands available, this is where you want to ask for help. I find it a challenge to pour water while tossing the mixture. You want the water incorporated without creating big wet soggy spots. Just do the best you can. Don't add too much water. As soon as the mixture will hold together, gather it into a cohesive ball and wrap with plastic wrap. Refrigerate for at least 30 minutes. Do you see how the shortening and butter are still visible in the mixture? You want those fats to remain as solid as possible until they get into the oven!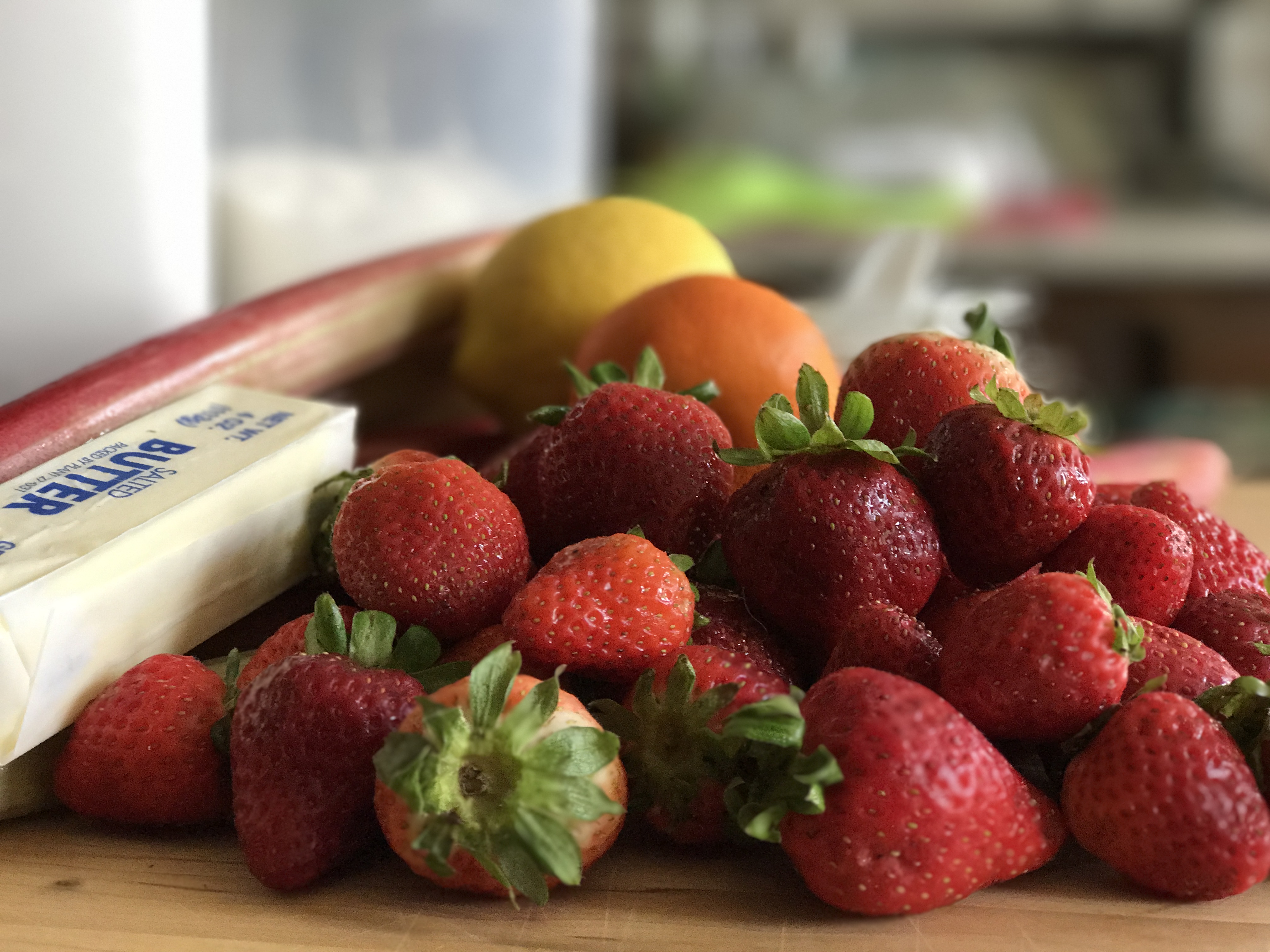 While your pie dough is chilling, gather your pie filling ingredients.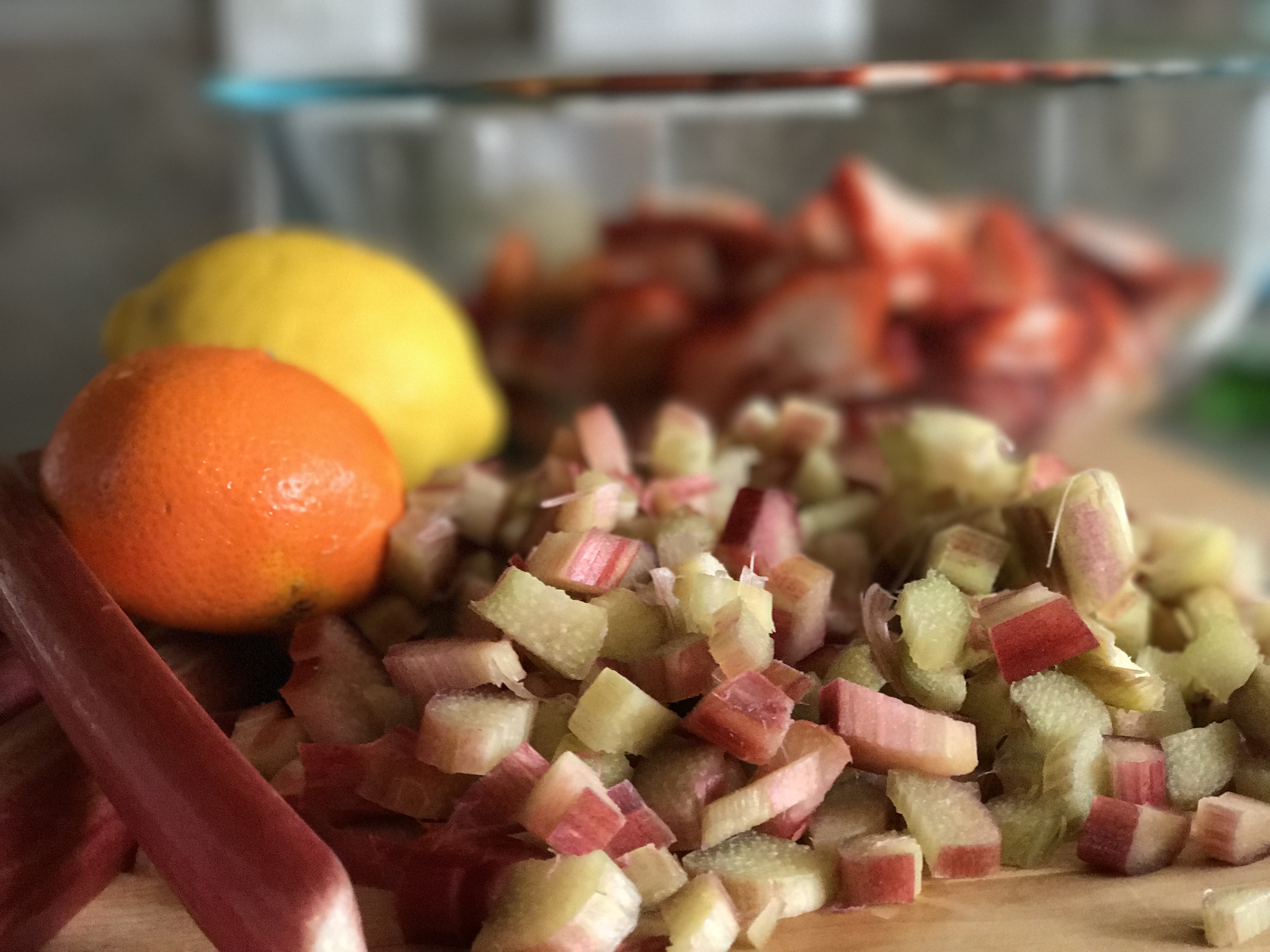 Wash all your fruit thoroughly. Hull and slice the strawberries. Slice rhubarb in half or fourths lengthwise, then cut in small pieces no larger than half an inch. Mix this fruit together.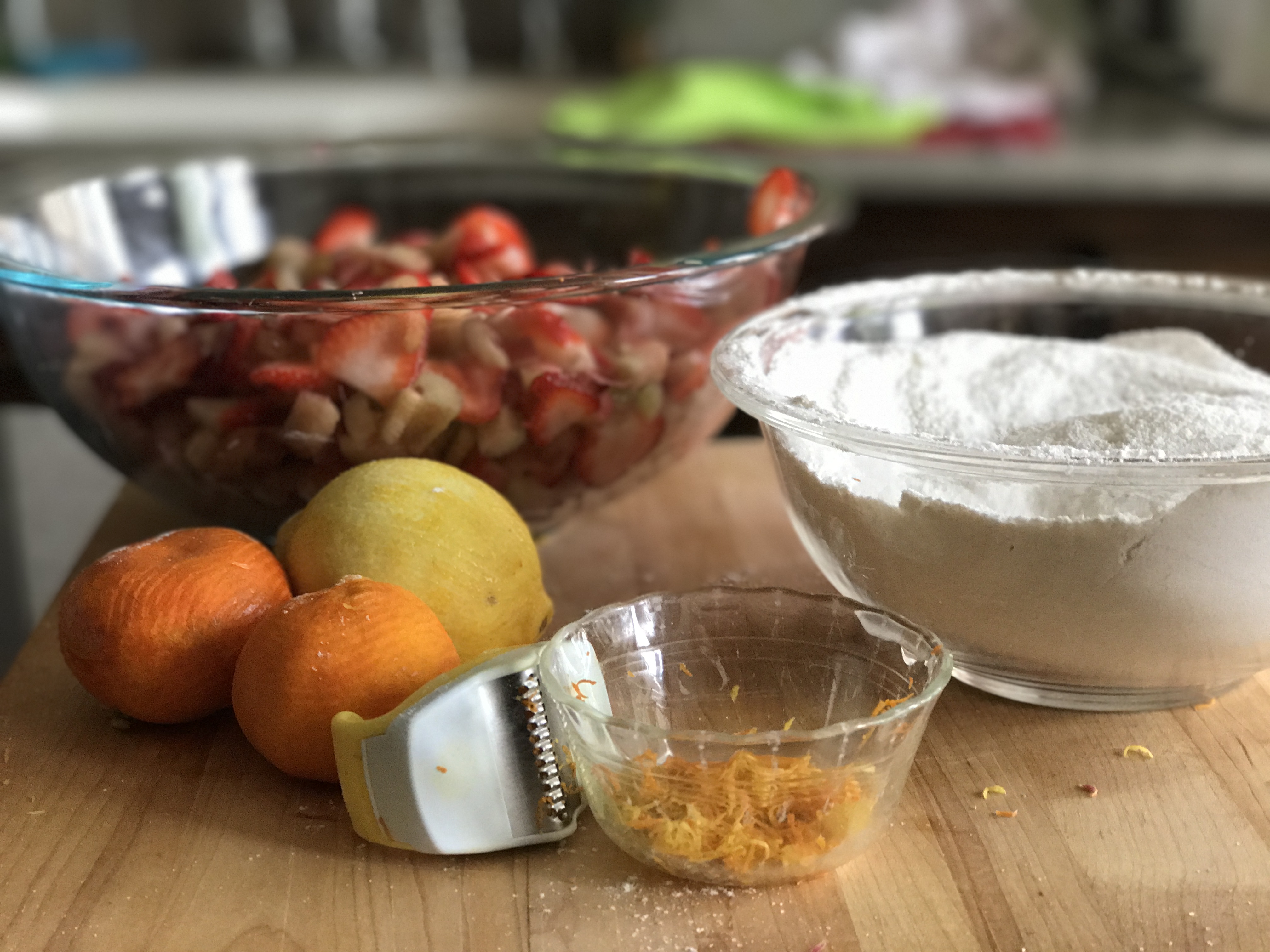 Thoroughly mix the dry ingredients. Zest a large orange and a lemon (or any comination of those citrus fruits; use what you have). Mix the zest into the DRY ingredients. Make sure the zest is evenly incorporated into the mixture. Now mix the dry ingredients into the fruit mixture. At this point I usually use my hands to really get it well incorporated. Your filling is prepared, so now it's time to remove the pastry dough from the refrigerator and line your pie pans.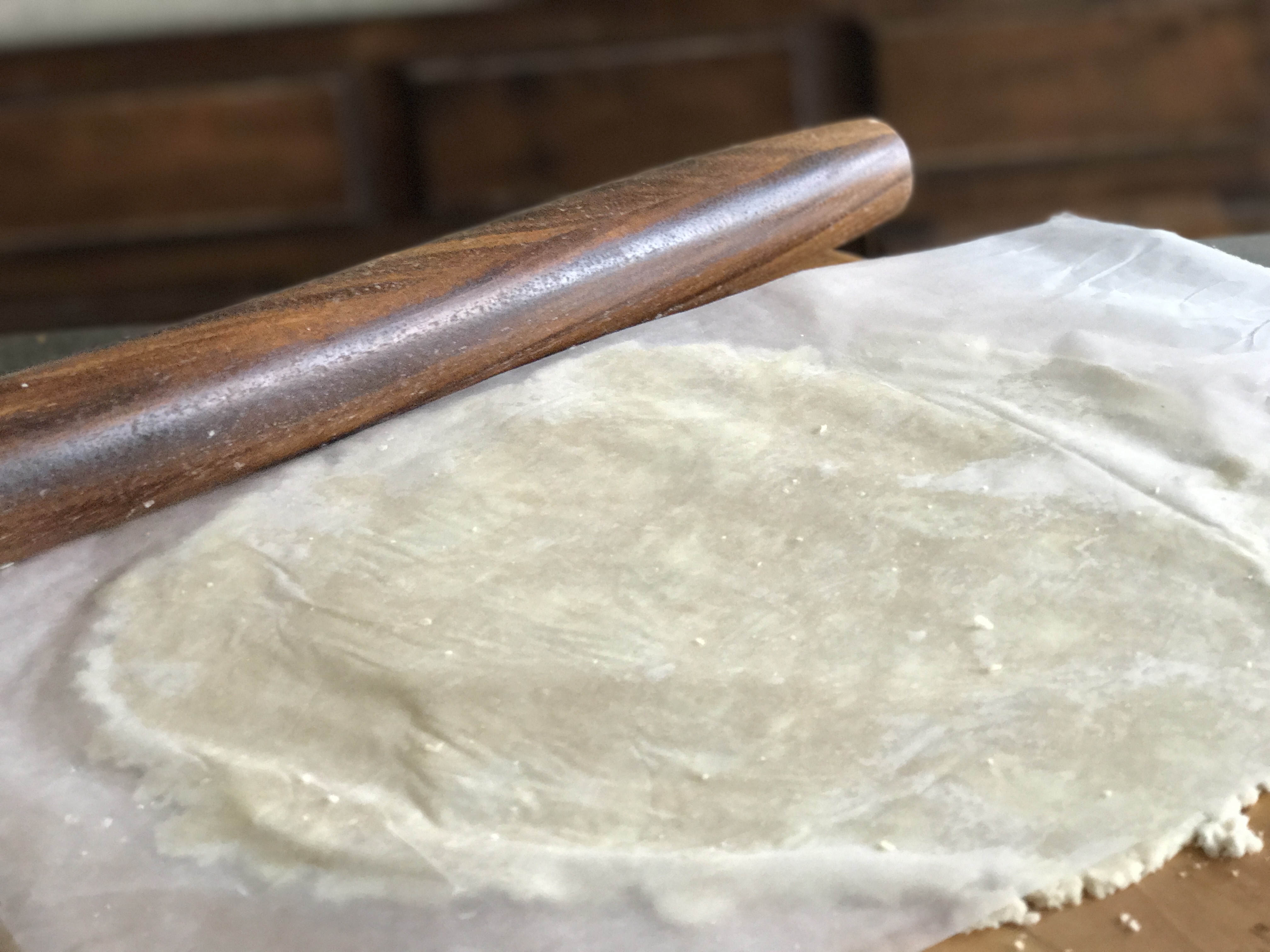 This is a double-crusted pie, so divide your pastry almost in half. The slightly larger portion will line the bottom of the pan. Place your ball of dough between two sheets of waxed paper. Believe me when I say that waxed paper is your friend when you're making crust. You will roll the pastry from the center toward the edges until you have a uniform pastry that is slightly larger than your pan. Peel the top waxed paper off, then gently peel the bottom and ease the crust evenly into your pie pan.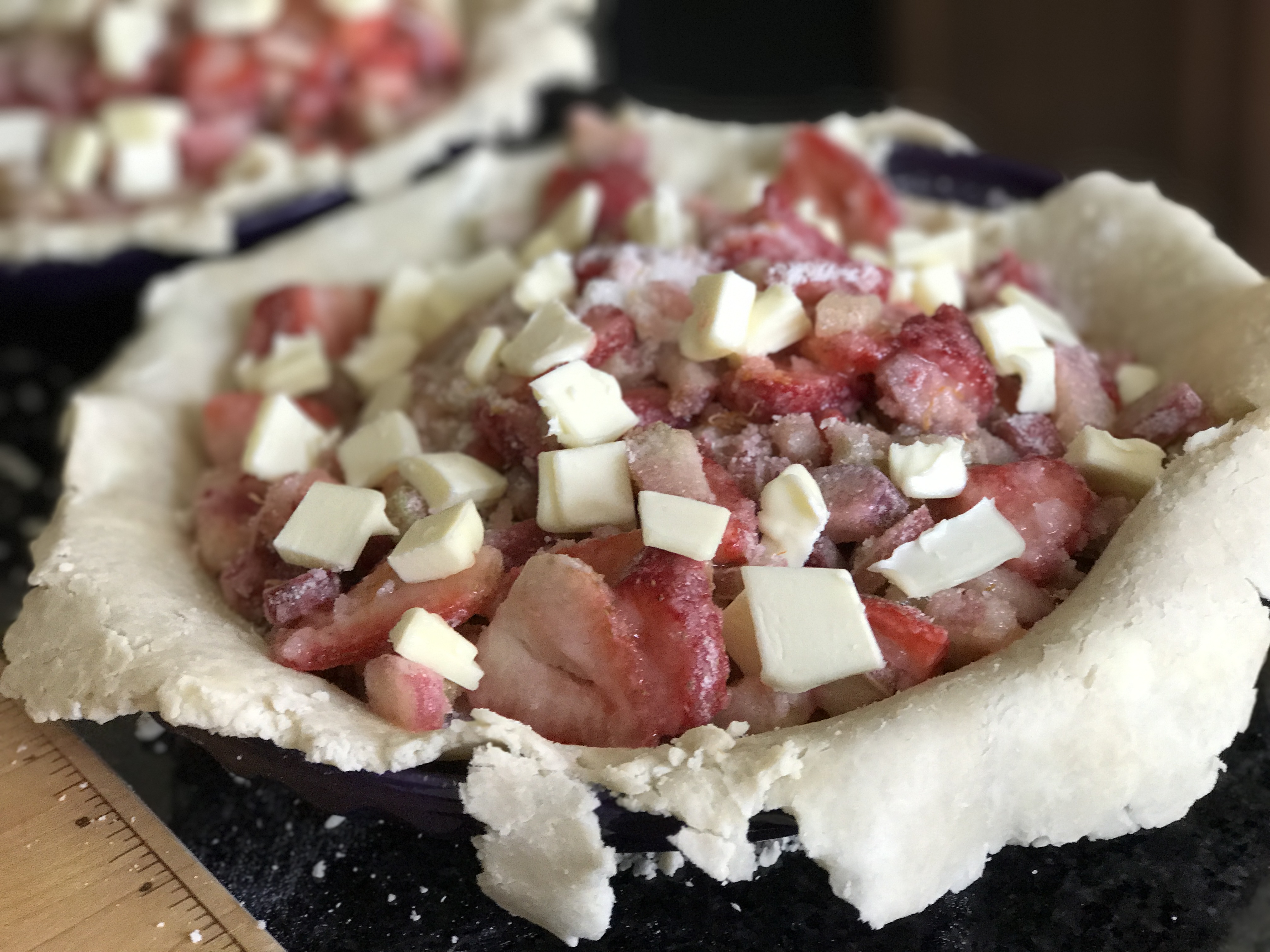 Place your filling into the pastry and top with tiny squares of butter. Roll your remaining pastry and place it over the filling. Gently seal the edges; crimp if desired. Cut a slit or two in the top of pie for steam to release. I like to sprinkle a bit of sugar on top just so it glitters and sparkles. When you bake the pie, the edges will brown before the top. I forgot to protect the edges, but you'll want to secure strips of foil over the edges only and remove the foil about 15 minutes before pies are finished. Or you can use a pie crust shield. Bake in a preheated oven for 50 minutes, or until the juices are bubbling through the top slits. I always line my oven rack with foil to catch the drippings, because it's difficult to scrub those from the oven.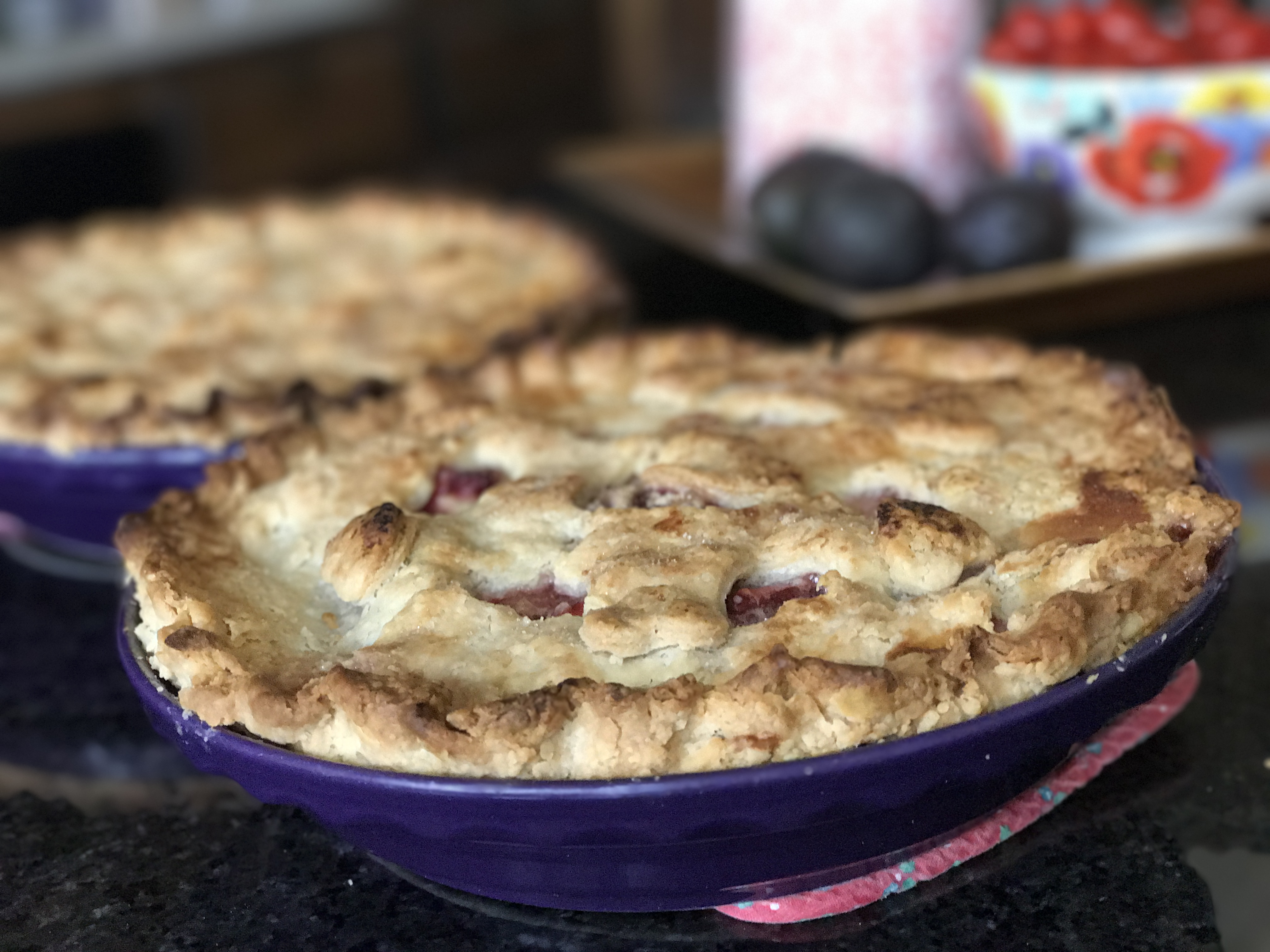 Serve your warm pie with vanilla ice cream or fresh whipped cream. Everyone will be happy.
I would love to hear about your favorite family meals! Share your recipes with us; share your memories!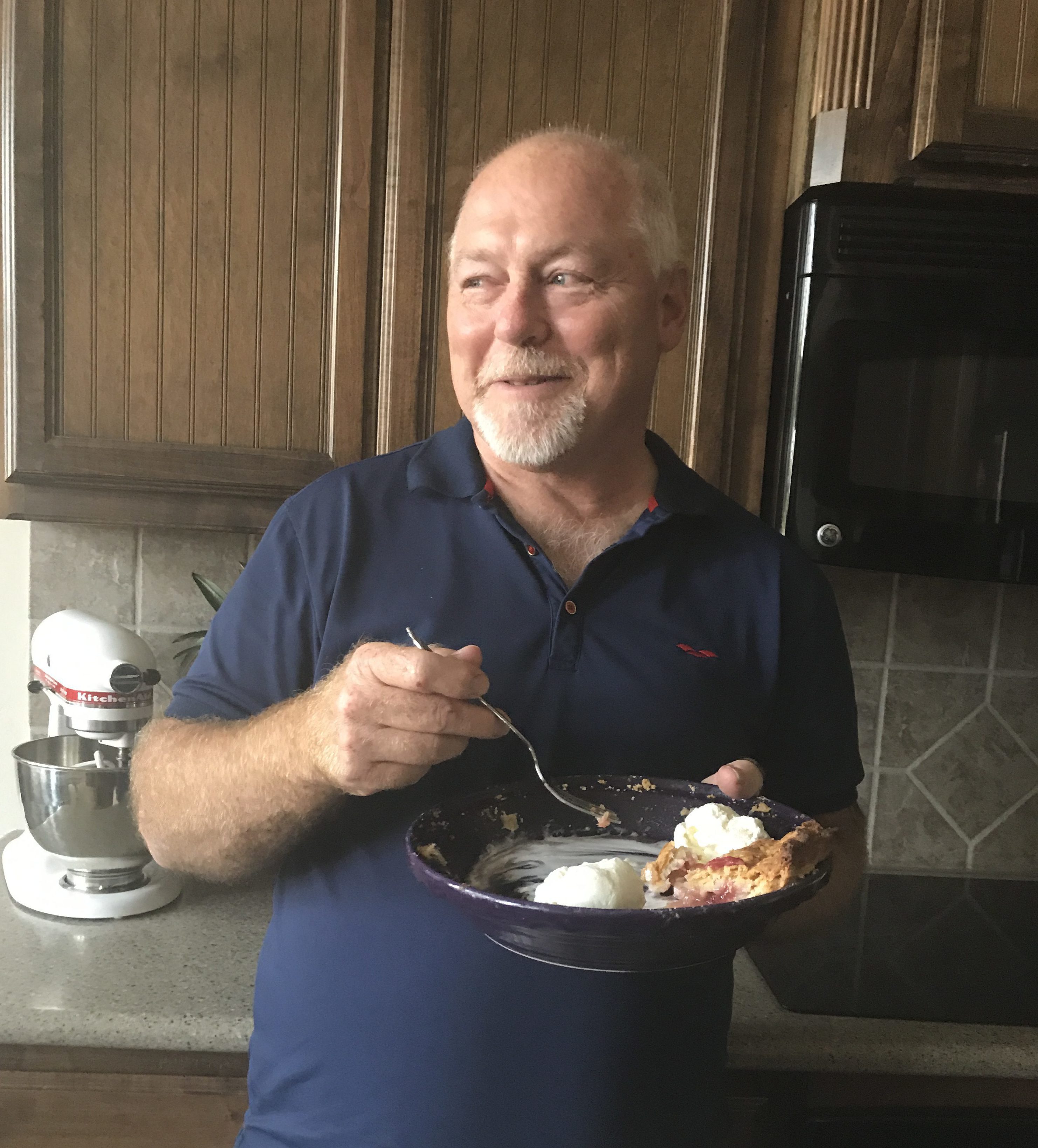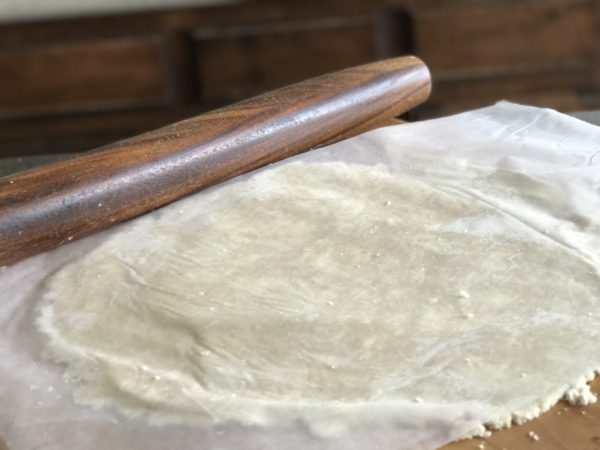 | | |
| --- | --- |
| Servings | double-crusted pie servings |
| | |
| --- | --- |
| Servings | double-crusted pie servings |
Measure flour and salt into bowl.

Using pastry cutter, two table knives, or your hands, cut in shortening and butter until the fats are incorporated and are the size of small peas.

Sprinkle in ice water 1 Tablespoon at a time, mixing with fork until flour is moistened and begins to hold together.

Gather pastry into ball, wrap in plastic wrap, and chill for at least half an hour.

Divide pastry into 2 balls of almost equal size. Roll larger ball between two sheets of waxed paper, rolling from center to edge. When pie crust is slightly larger than pie pan carefully peel wax paper from top, then bottom. Ease pastry into pie pan.

Once pie filling has been added, repeat with second ball of pastry. Place on pie top. Seal and crimp edges, cut one or more steam vents. Sprinkle with small amount of sugar. Bake as instructed.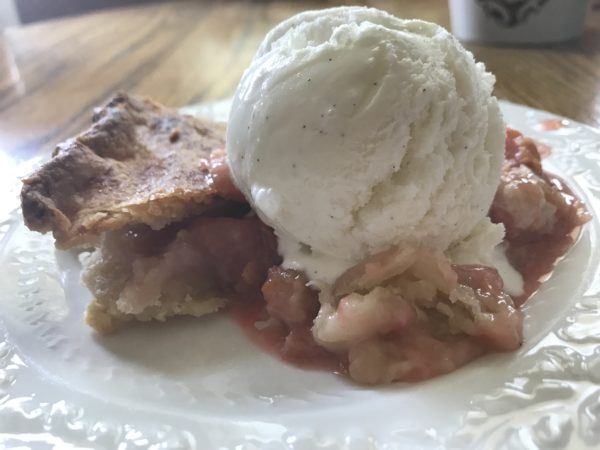 | | |
| --- | --- |
| | |
Prepare pastry. Line pie plate with bottom pie crust.

Mix prepared strawberries and rhubarb.

In a separate bowl, stir together flour and sugar. Add citrus zest and stir thoroughly.

Mix flour, sugar, citrus mixture into prepared strawberries and rhubarb. Combine well.

Pour filling mixture into prepared pie pan. Dot with butter pieces.

Add top pie pastry. Seal and crimp edges. Cut steam escape vents on pie top. Sprinkle with a bit of sugar for glitter and pizzazz. Cover edges of pie with strips of foil or a pie crust shield.

Bake in preheated 425 degree oven for 40-50 minutes or until juice begins to bubble through slits in crust.

Enjoy warm with vanilla ice cream!