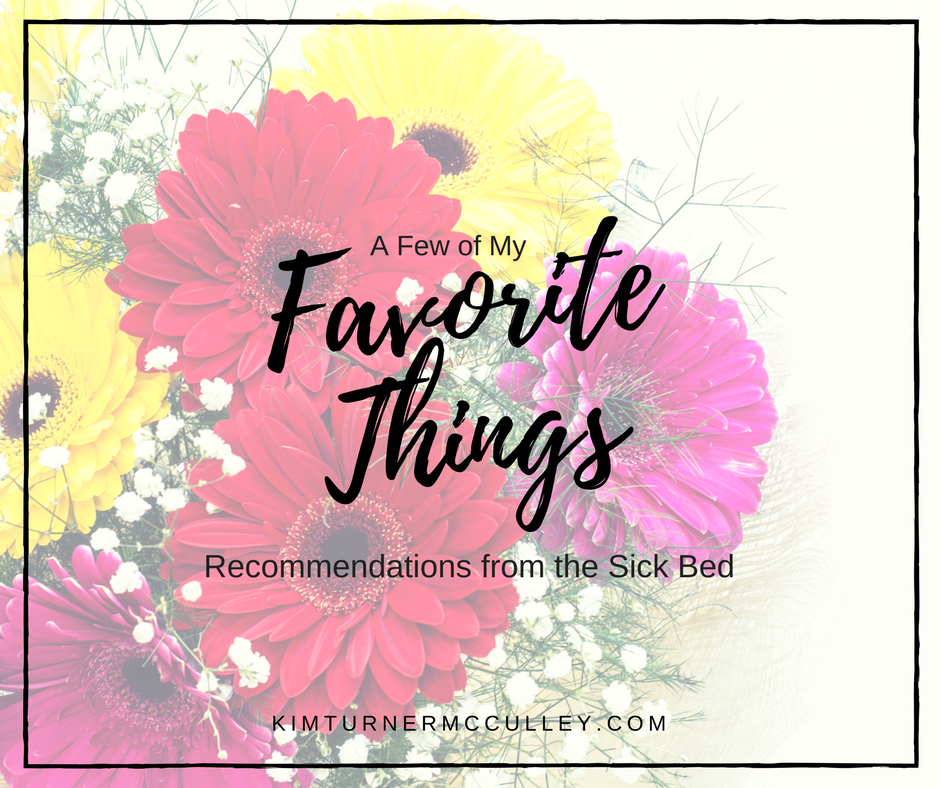 Welcome to My Favorite Things!
This is my first post in the Favorite Things series. Each month I'll be sharing any items, activities, foods, or drinks that are encouraging me, helping me grow, bringing beauty and joy to my life, enhancing my relationships, or making my life easier in some way. I hope some of these things will be a blessing to you.
I had plans about what I would share, but life has not gone according to plan thus far in 2018. The first week of the year found us traveling home from a delightful visit to see family. We arrived home on Wednesday, exhausted and jet-lagged, and I did a bit of catch up but didn't get started on any of my plans.
The next week, I was hit by a vicious stomach bug on Tuesday. I can't remember the last time I was so sick with a stomach virus. Miserable. I felt unwell for two days, and spend the remaining days of the week catching up and nursing a sore throat and coughing.
The following Monday I knew I was in trouble as soon as I woke up with horrible chills and a rapidly climbing fever. I immediately called the doctor for an appointment and asked my son to come home a bit early from work to give me a ride. The doctor confirmed my suspicions: flu. (I have no idea where I contracted this. I hadn't left my house in the preceding days except for church on Sunday. No one else in my family has contracted either the stomach virus or the flu. I'm the Chosen One.)
It has been a miserable week. For the first three days I curled up on the couch shivering in multiple layers of blankets and jackets, too exhausted and incoherent to read or follow a tv show plot or to sit up. I didn't even have the energy to brew a proper pot of tea. I'm telling you, I was sick.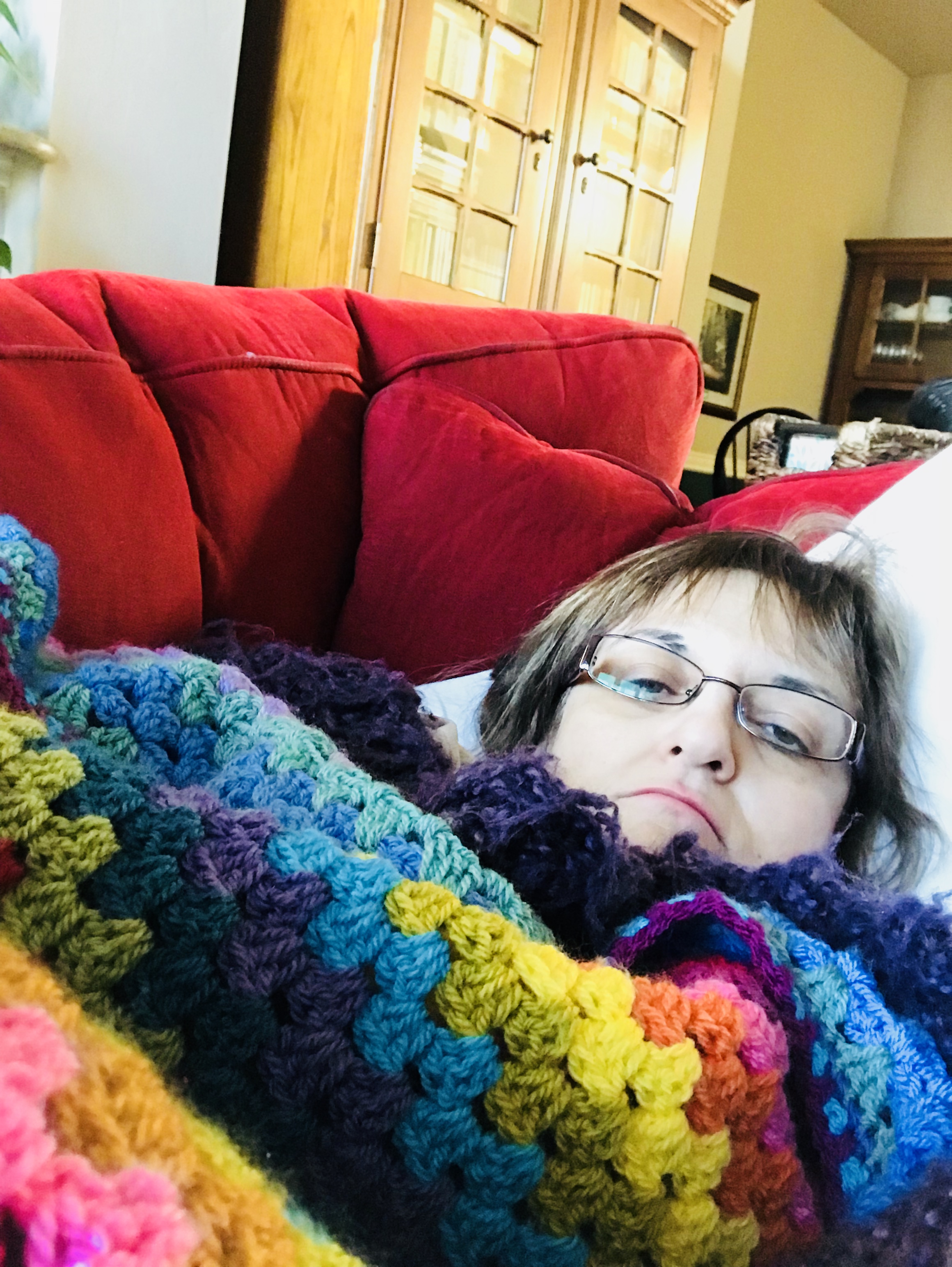 On Day 4 I began to improve, and am I ever thankful! My temperature is still bouncing around a bit, and I'm still running a low grade fever on the evening of Day 7. I also have a very nasty cough that remains, especially if I attempt to get up and move around at all. I'm keeping a close eye on the cough and have ramped up my pre-emptive emergency asthma protocol.
Since my life has been hijacked by illness, I've decided to devote my first Favorite Things post to all My Favorite Things that have helped me in illness. Maybe this list will give you a few suggestions if you or someone you love becomes ill.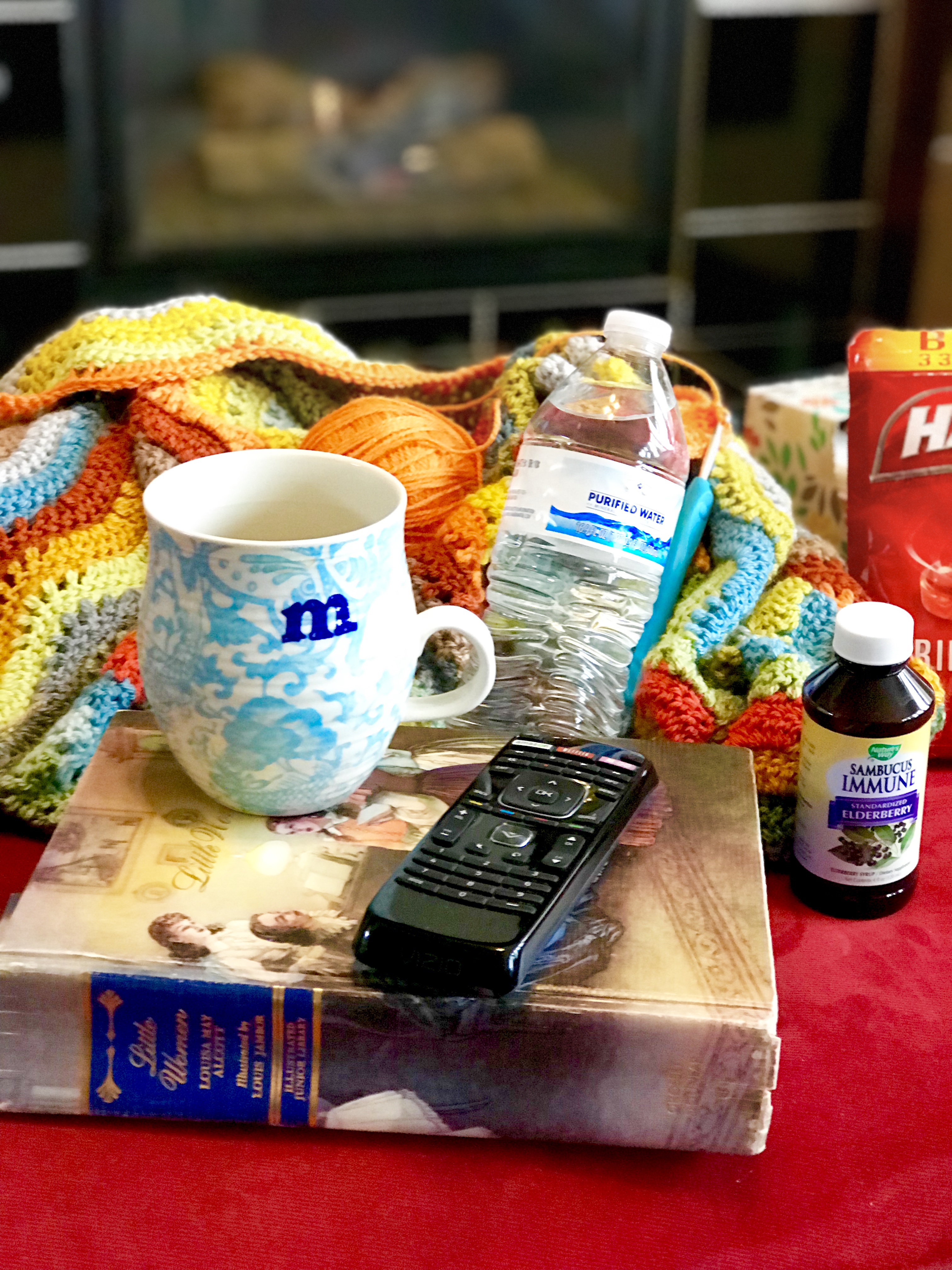 Post contains affiliate links. When you purchase items through my links, I receive a small percentage at no extra cost to you. Thank you for supporting my work.
Battling the Flu with Style and Panache
(Things That Make Sickness a Little Less Miserable)
Tamiflu.
 The moment you suspect you could have the flu, get to the doctor. You must take it within 48 hours. I'm very glad my doctor prescribed it, and thankful we have outstanding insurance that made it affordable ($10 copay). The medical insurance is my favorite military retiree benefit!
Water, water, water. And more water.
I struggled with this one, particularly the first three days. While I had a water bottle on the end table right by my head and I was continually thirsty, I was so exhausted and the muscle and joint pain was of such intensity that it was too much effort to make myself sit up and take a sip. In retrospect, I wish I had asked my husband to place four bottles of water beside me each morning and check to make sure I had drank them all when he came home from work; I'm motivated by accountability. If you are caring for an ill person, be a water pusher. Frequently insist they drink water. I generally don't drink my calories, but in the interest of nutrition I've drank a bit of orange or grape juice mixed with Pom pure pomegranate every day.
Chicken Soup
Either my husband or son heated a bowl of soup for me every evening and brought it to me on the couch. My mommy brought me a kettle of homemade noodle soup, and it was delicious! I also ate canned soup, and numerous pieces of fruit. All I've eaten this week is soup and fruit, with a few Hot Tamales thrown in for good measure. I've lost five pounds.
Sinus Rinse
By my allergy doctor's recommendations, I use NeilMed Sinus Rinse daily. When I'm sick, I bump that up to two or three times a day; it helps keeps sinuses clear. I pour distilled water to the bottle fill line, microwave for thirty seconds, then add saline solution packet and rinse. Believe me, it's a much more comfortable process if you remember to use only distilled water and to gently warm it. Learn from my experience. Highly recommended.
Kleenex with Lotion
I only purchase tissues with lotion in them. My friend Donna loves the Puffs Plus with lotion and Vicks.
Sambucus Immune
I read about the immune-boosting properties of elderberry, so I asked my parents to pick up some Elderberry syrup for me. They ended up searching all over town, due to it being sold out. They finally found this Sambucus Elderberry Extract. I have no idea if it actually is helping me get well, but I can tell you this: it is delicious! I'm researching the idea of planting a couple elderberry bushes and making my own syrup. I'll keep you posted if I decide to go ahead.
Heated Blanket
We recently purchased this Sunbeam Microplush Electric Blanket, and it made my shivering, chill-filled nights much more comfortable. We've had other heated blankets, but this one is soft and velvety, and I like it.
Soft Socks
Warm socks are a necessity when you just can't stop shivering. I like the aloe-infused socks.
Digital Thermometer
This thermometer was in constant use all week.
Balms and Lotions
My skin was exceptionally dry all week, I assume from the fever. I like Burts Bees Lip Balms and nice, thick hand creams without heavy scents, as those can be irritating.
Comforting Childhood Read
Once I got past the first three days, I finally had the energy to do a bit of reading and to actually follow the plot on my Netflix series. I chose a familiar, well-loved book Little Women. My copy is a lovely hardback illustrated one given me by my parents years ago. You can find a Kindle edition for free, or I discovered this lovely annotated copy that looks tempting.
Cheery Gift Basket
If you are well but have an ill loved one, how fun would it be to create a Get-Well Basket!  You could create one in any price range, depending on your budget. Cook up a lovely pot of soup, then add in items from the list above. Here are more suggestions for your basket: Vitamin C, Tylenol or Motrin, Celestial Seasonings blueberry tea, local raw honey, cough drops, Alka Seltzer Plus Severe Cold and Flu Medicine, a lovely soft throw, a favorite movie or book. The same idea (minus the homemade soup) could be adapted for a Care Package to send your ill college student or other faraway loved one. Even if they are not currently ill, it seems a good idea to send an "Open In Case of Illness" box.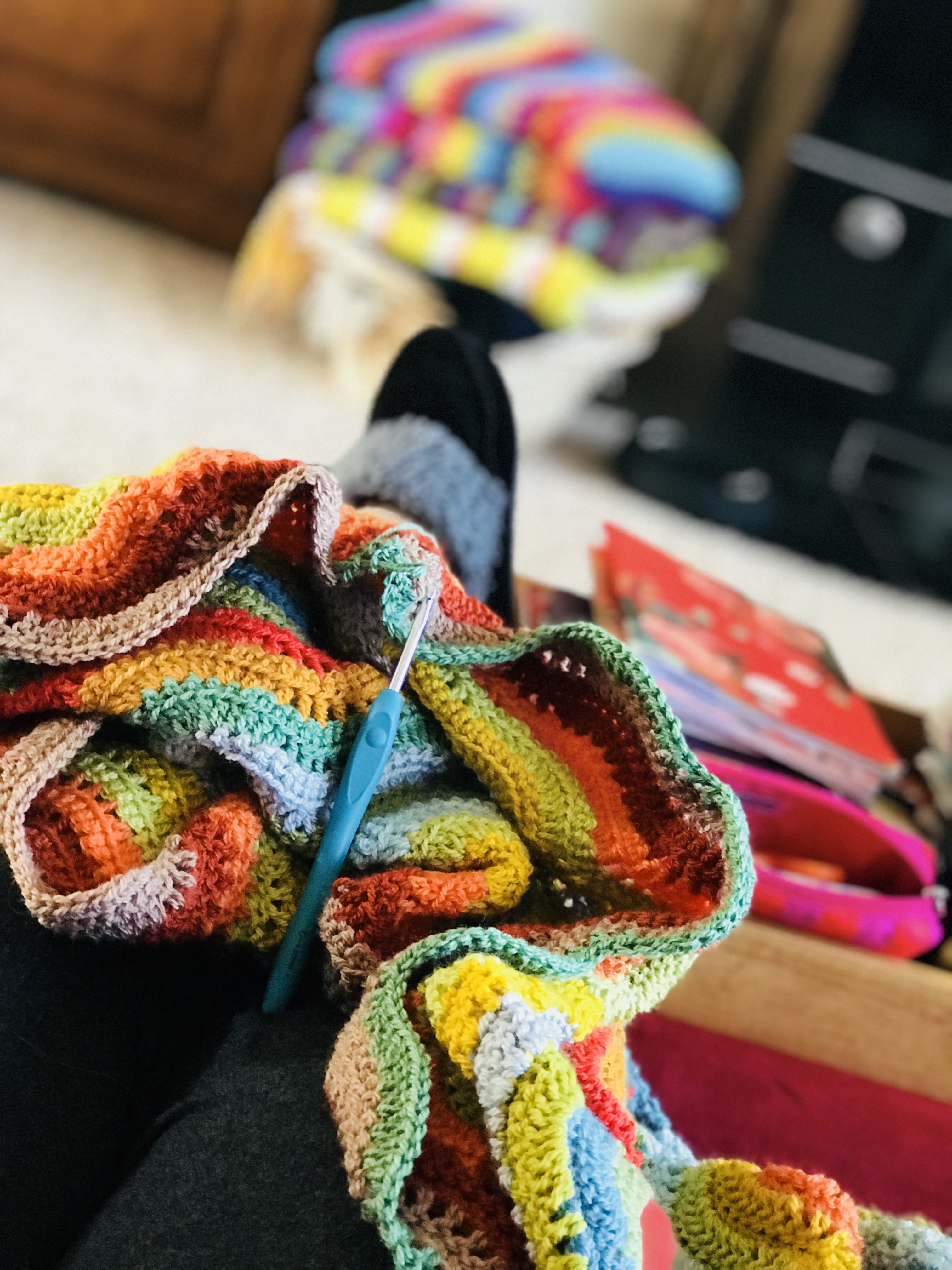 I'm thankful I've recuperated enough to enjoy working on my Woodland Blanket. I'm currently working on Stripes 37-54, making good progress and enjoying the journey.
My goals for the past week were: 1. Keep breathing. 2.Try not to get bronchitis/pneumonia. My goals for this week are a bit more ambitious; I plan to get back to a semblance of my normal schedule, with plenty of margin added in for rest. Look for more blog posts this week!
Do you have any ideas to add to the recommendations for those battling illness? I'd love to hear them! Please share in the comments or on my social media posts! Let's begin a conversation.