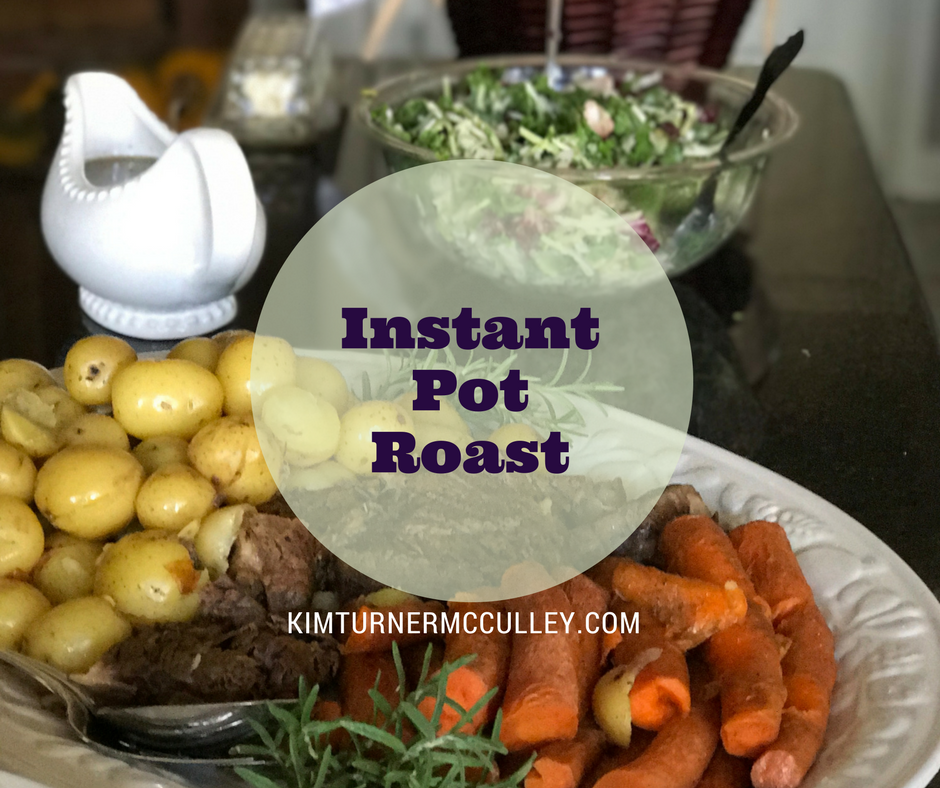 This post contains affiliate links. When you click through my link to shop, I receive a commission without increasing your cost. Thank you for your support.
Instant Pot Roast Recipe and Tutorial
Who's Intimidated by the Instant Pot?
True confession time: I asked for an Instant Pot for Christmas. My husband gave me one. Friends, I didn't even open the box!
I'm not a techie person. (If any of my kids are reading this right now: I see you laughing at me!) Right, so this is a slight understatement. You know those people who tell you to "just get in there and play with it" when you get new technology? I'm all like…obviously you don't even know me! Anyhow, I dislike learning to use new technology of any sort. New vacuum? Scary. Blender? I don't know about this. New computer? Don't even get me started!
So when I looked at the picture on the box of the Instant Pot? The Instant Pot with its approximate 300 buttons and knobs? I took that baby and parked it in my closet, hid it under some clothes, and tried to forget it was sitting there mocking me.
Last week my husband said, "Have you even used that cooker you wanted for Christmas?" Kitchen appliance shaming. Has it come to this?!? 
So, I gathered up all my bravery and decided to conquer the Instant Pot. Spoiler: all those people who said it would change your cooking life? They were right!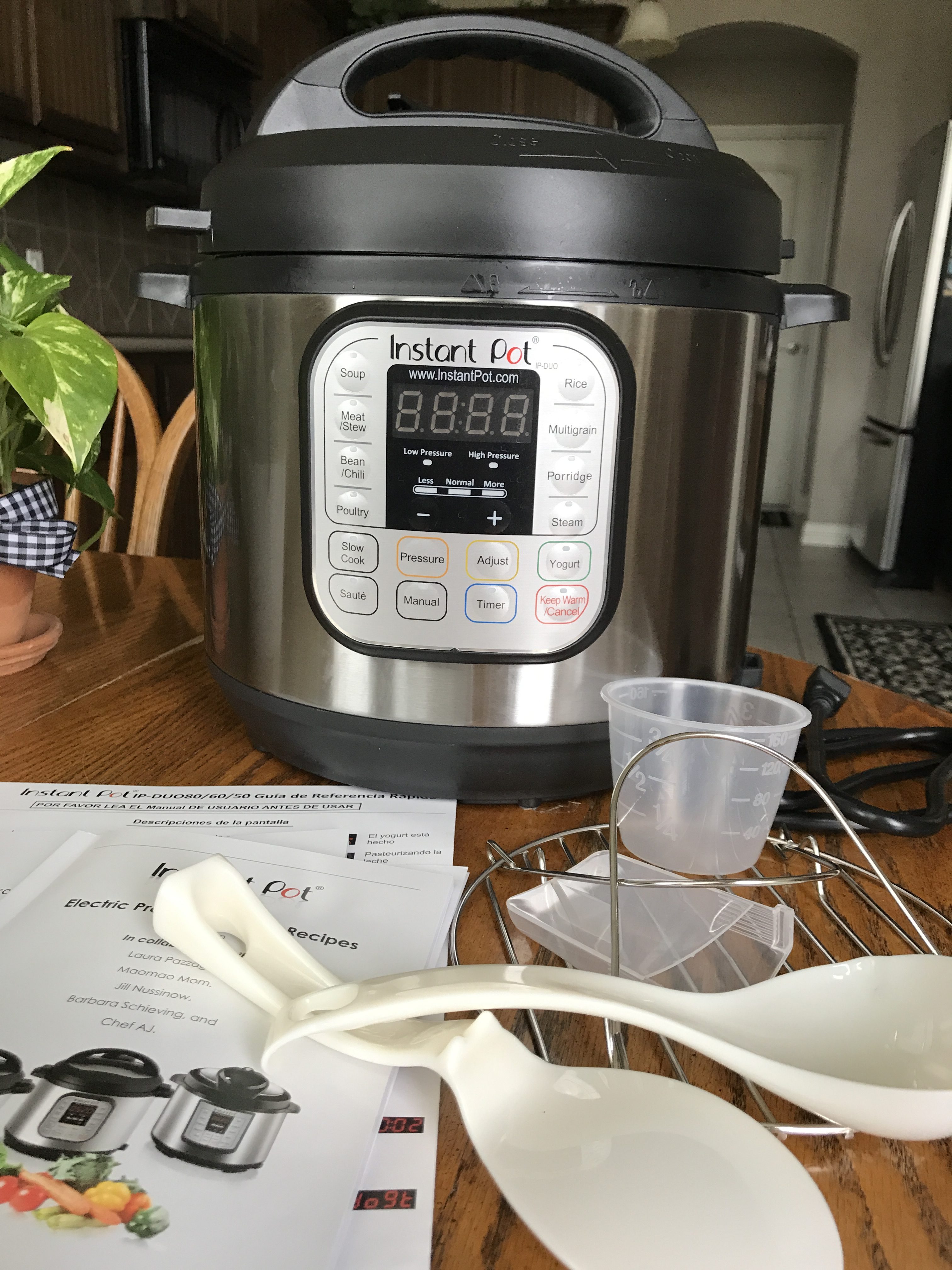 Staring Down the Monster…or Unboxing the Instant Pot
When you open your box, this is what you'll find. I haven't yet used all these pieces. The instruction manual is intimidatingly thick, but once I started reading it I realized it's in four different languages. The actual instructions aren't as complicated as I thought at first glance. I'm going to tell you step-by-step how I made this delicious dinner.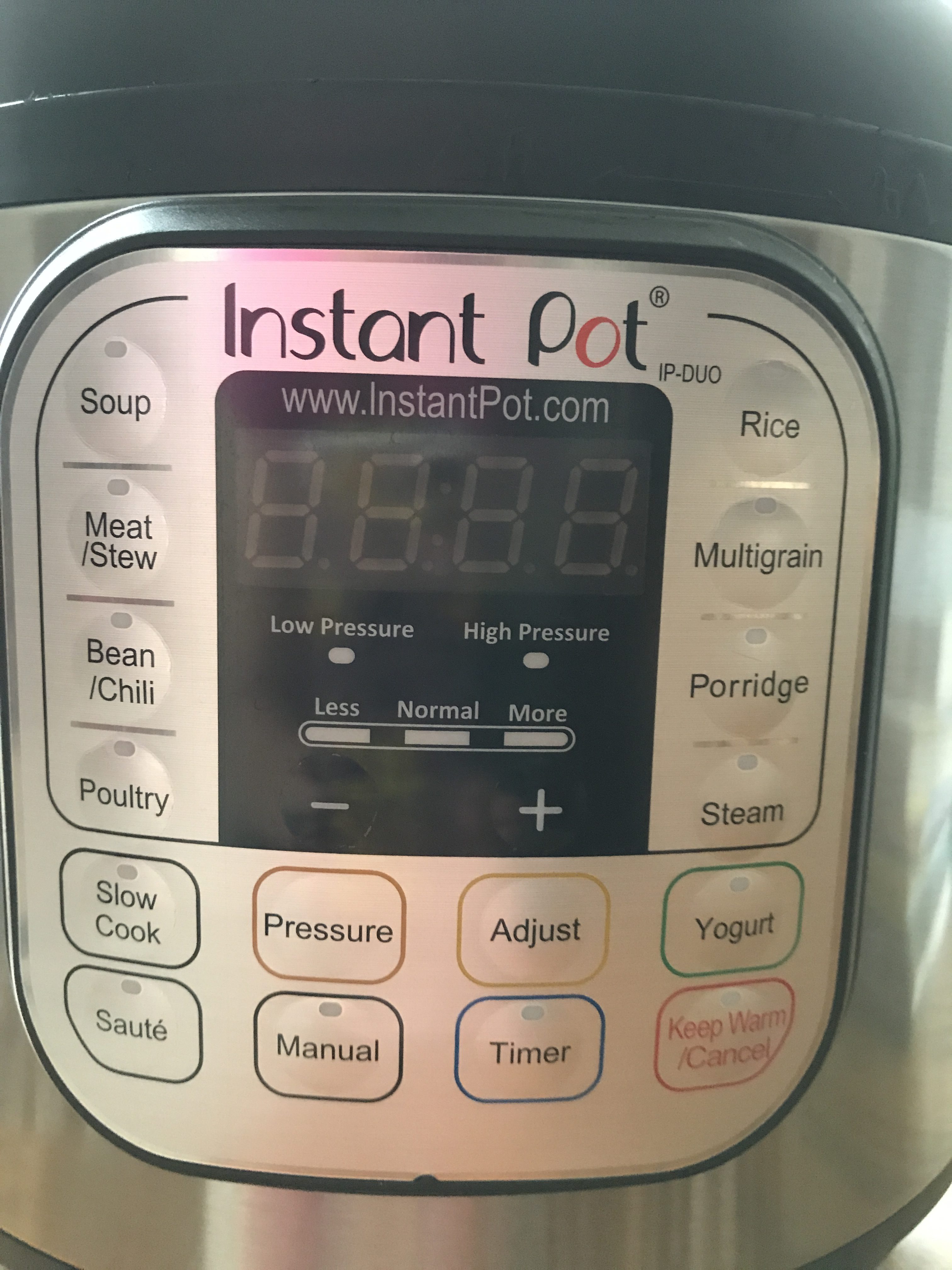 Instant Pot Control Panel Closeup
After I plugged it in, I pushed SAUTE. The Instant Pot preheated and signalled me when it was ready. I swirled in a bit of olive oil and browned my salted and peppered roast well on every side. Once it was browned, I deglazed the pot by adding 1 1/2 cups vegetable broth. (The recipe called for chicken broth. I only had veggie.) At that point, I hit the CANCEL button, then MANUAL. Lock lid into place. The number 30:00 popped up on the screen; I used the + button and pushed repeatedly until the screen said 50 minutes. I checked the vent knob on top.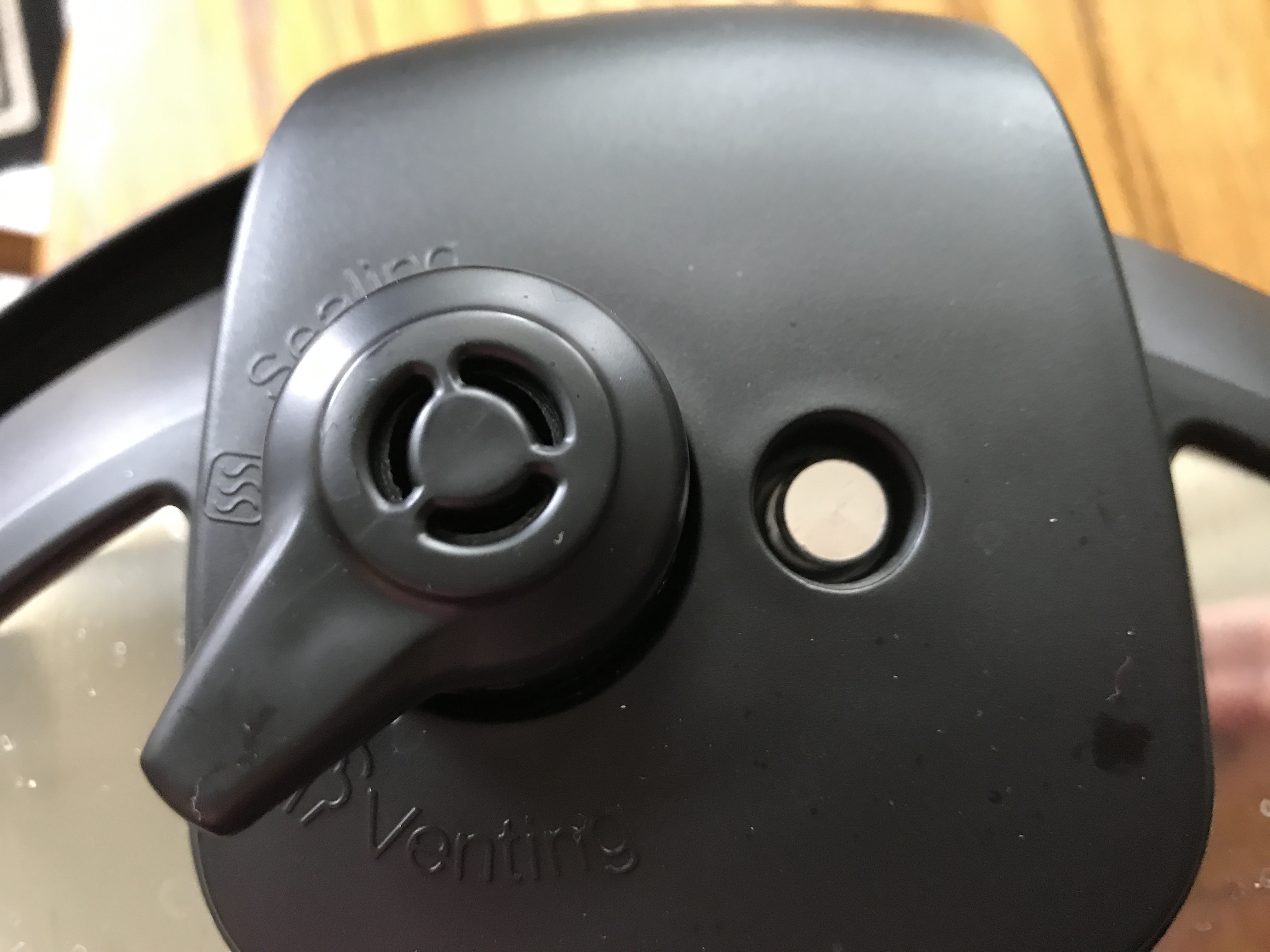 In this photo, the knob is turned to Venting. Point knob to SEALING for pressure cooking. 
Your Instant Pot will begin cooking after a few seconds. Go take a shower or read a book or something for a while.
When the 50 minutes is up, your Instant Pot will alert you by beeping. At this point, go hit CANCEL and move the knob back to VENTING. Much noise and commotion will commence as the steam releases, and you won't be able to open the lid until the pressure has completely dropped.
Once you can open the lid, add in your new potatoes and whole carrots as quickly as possible. Close the lid, move vent back to SEALING, and hit MANUAL button once again. Use your minus (-) button to set for 10 minutes. The Instant Pot will take a few minutes to build back enough steam pressure to begin cooking. The beeping will alert you when cooking is complete. Once again, you'll hit CANCEL and move the steam valve to VENTING.
Remove carrots, potatoes, and roast from pot. Push the SAUTE button. I added another cup of broth and some more salt and pepper, then simmered the juice until it reduced by half.
Serve the au jus with the roast and vegetables.
I don't eat meat, but the vegetables were delicious. The carrots were so moist and sweet it was hard to believe I hadn't added sugar. The meat eaters in the family all ooohed and aaahed over the roast. It was so tender it just fell apart; I didn't even set out table knives because they weren't necessary. I added a salad and homemade rolls, and this was a delicious meal! I can't wait to try out the Instant Pot again.
Here's a link for you to purchase an Instant Pot if you don't already have one. Take my word for it: YOU WANT ONE!
Using saute feature, brown roast on all sides in hot oil. Add 1 1/2 cups broth to deglaze pan.

Pressure cook roast for 50 minutes. Release steam.

Add vegetables. Pressure cook 10 additional minutes. Release steam.

Remove roast and vegetables from Instant Pot. Add remaining cup of broth to liquid in Instant Pot, salt and pepper. Using Saute button, simmer until liquid reduces by half. Serve roast and potatoes au jus.
I would love to hear about your favorite Instant Pot recipes! Please share in the comments. I also invite you to visit my Instant Pot board on Pinterest for great recipe ideas! Afraid you'll miss a post? Sign up here to be added to my list and receive every post in your email. Don't miss the party!