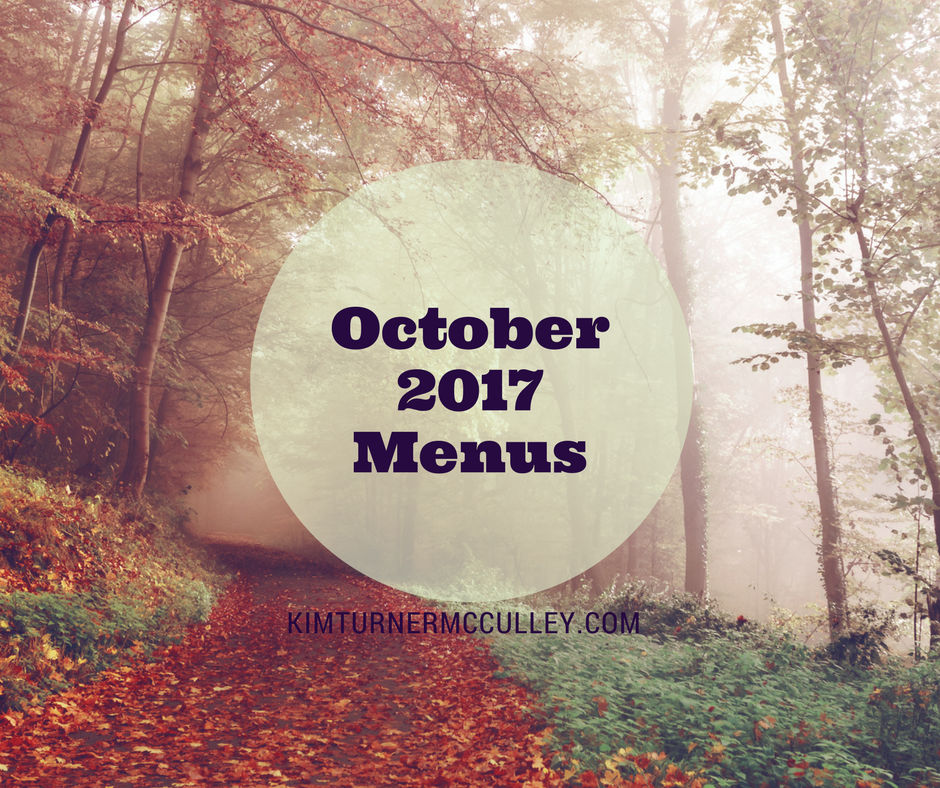 This post contains affiliate links.
October 2017 Menus
Ahhh, October! The air is beginning to turn crisp and fresh, and it's starting to feel much more tempting to wander into the kitchen and get to cooking in earnest. And baking, which I love, but don't do as often as I'd like. The population of our home is much smaller than it once was, and no one here needs to be tempted by home-baked goodies. Alas.
One and Done: Planning Ahead
I'm going to share my tried-and-true method of meal planning, which I like to think of as "One and Done". What I mean by this is that I plan out my entire month's menus at once, and then compile a huge shopping list for all the staples and do a big stock-up. After I've filled the pantry to bursting, I simply run in to the store every week for perishables. I absolutely do not always follow this menu plan exactly as written. As the month progresses and things pop up, I'll switch things around and sometimes substitute new things in. However, the basic plan is there and the house is stocked with the necessary ingredients. I find this greatly reduces unhealthy fast food pick ups, and gives me peace of mind since the thinking is already done.
Inventory
First, I go through the big freezer, the fridge and the pantry. What do we already have? Cuts of meat, fresh and frozen produce, canned goods; what needs to be used up? I usually have meal components in the freezer, since I'm a big believer in doubling and tripling recipes and freezing the extra. Why make one meatloaf when it's almost as easy to make three and freeze two for later use? During my inventory I take note of frozen spaghetti sauce, pizza sauce, homemade soups, chilis, or other meals already in the freezer. I also make sure we have ingredients on hand for breakfast, lunch, and quick "emergency" meals. I keep a list in the pantry door of quick ideas such as grilled cheese, quesadillas, pb&j, cheese and crackers, baked potatoes, breakfast for dinner.
Calendar
At this point, with inventory in hand, I sit down with a few cookbooks (Skinnytaste, Skinnytaste Fast and Slow), previous months' menu plans, and my calendar. I pencil in ideas by day of the week: all the Sundays, then the Mondays, etc. As I write in the menu, I list specific grocery items such as meats or speciality ingredients. I tend to stay well stocked up on staples, so I don't note every can of tomatoes or green beans; I just buy those things in bulk whenever I notice I'm running low. So, I write my grocery list as I take my inventory, then finish it off as I add to the monthly menu.
Without further ado, here are my menu plans for October.
October 2017 Menu
Oct 1 Instapot Roast
Oct 2 Beef and Barley Soup
Oct 3 Egg Roll Bowl
Oct 4 Pan Blackened Tilapia, quinoa, roasted vegetables
Oct 5 Burrito Bowl
No menu for Oct 6-8, since Joe and I have plans
Oct 9 Crockpot Minestrone Soup
Oct 11 Crabcakes (frozen from Sams), quinoa, salad
Oct 12 Breakfast for dinner!
Oct 13 Make-your-own sub buffet
Oct 14 Ground beef tacos
Oct 15 Quinoa chili
Oct 16 White Bean Soup
Oct 17 Quickest Marinara
Oct 18 Blackened tilapia tacos
Oct 19 Burrito Bowl
Oct 20 Homemade pizza
Oct 21 Tostadas (purchased shells, refried beans, shredded cheese and lettuce)
Oct 22 Fire pit! Roast hot dogs, S'mores
Oct 23 Hearty Minestrone (from the cookbook Healthy Meals for Less)
Oct 24 Chicken and Veggie Stir Fry
Oct 25 Salmon patties and roasted vegetables
Oct 26 Breakfast for dinner!
Oct 27 Sloppy Joes
Oct 28 Chicken Fajitas
Oct 29 Crockpot Pork Chops
Oct 30 Hursts 15 Bean Soup (I buy the bean mix at grocery store and follow package directions)
I'd love to hear your ideas to make menu planning and grocery shopping easier! If you find my menu plans helpful, please let me know and also share this post on social media.