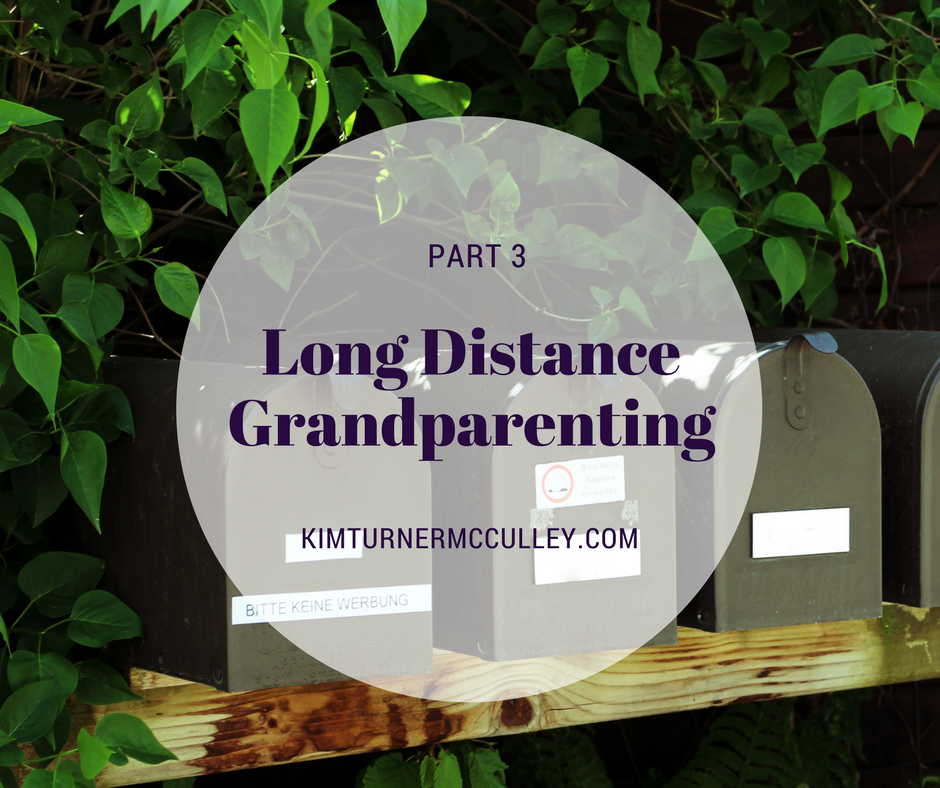 This is Part 3 of Long Distance Grandparenting. Here are Part 1 and Part 2.
Fun Ways to Connect with Grands
Are you still with me? Whew! Words! Words! So many words! We're talking about maintaining relationships with long distance grands. In my last post I shared several free or inexpensive ways to connect. This post has ideas that I enjoy greatly, but have the potential to get "spendy".
Photo books. I've made several photo books, which are fun to make and well-loved by kids. What child doesn't enjoy looking at photos of himself?! Our youngest grand has lived elsewhere for several years, and we've visited him every year so far. The first few times we visited he was still quite young and I was fearful he would forget us, so I took numerous photos of the visit and then compiled a Shutterfly book and had it sent to him. He loves these books, and often requests them at bedtime. When I visit, he piles up all the books and asks me to read them to him; he finds it hysterically funny that "Grammy is reading the Grammy Books!".  The older grands haven't been gone as long and we've yet to visit them. However, we did a school project with our kindergartener's "Paper Kindergartener", taking photos of him in all sorts of places with different family members. I made a book from those photos, and it was a hit!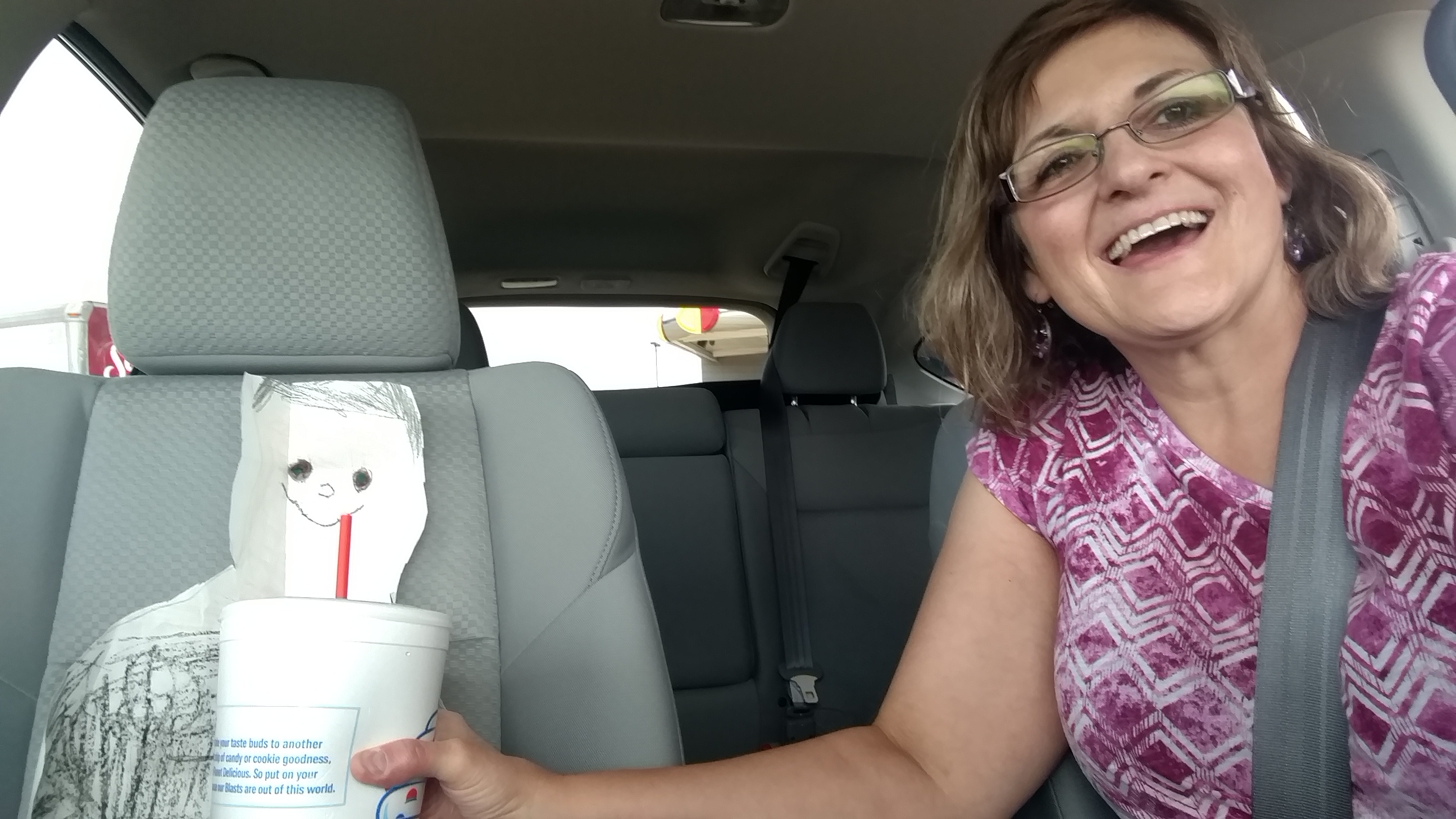 Grammy and Paper Kindergartener stop for a refreshing drink at Sonic
The Grammy Box. The Grammy Box is one of those things that started on a whim and took on a life of its own. Every month I get a medium sized Priority Mail box from the Post Office and fill it with random items. And I do mean random items. You never know what might come out of a Grammy Box. I've printed off coloring pages and worksheets from the internet. I've baked a tin of cookies. Old magazines, craft supplies, activity kits, finger puppets, small stuffed animals, old fashioned toys such as marbles and tiny spinning tops, pencils, erasers, rulers, plastic snakes, bugs, and Army men, Matchbox cars, chapstick…all these items and many more have debuted in a Grammy Box. I usually have a book for each child (because I'm the reading Grammy!), and there are always some edible treats. I check in occasionally to see if their favorite candy has changed. My daughter is an ultra-healthy eater, and her son has chosen to eat just like Mommy: sugar free. (I'm not even making this up! What kind of child volunteers to shun sugar?!) I still manage to find treats he gets excited about: Astronaut food (freeze-dried fruit), Lara bars, raisins and nuts. In fact, his most prized treat is one I invented: Grammy & (grandson) Special Nut Mix. I like pistachios; his favorite is walnuts. I mix the two in a plastic quart-size ziploc bag, and there you have it! Special treat.
Most of these surprises are inexpensive. I haunt the Dollar Tree and Target Dollar Aisle, and find many exciting items. I think the real key here is in knowing what each grandchild especially enjoys. I have a dog lover, a fox lover, a penguin lover, and a snake lover (I know, right? Snakes?!). I have a list with each child's favorite colors, treat, etc. I work hard at finding just the right things, but it's incredibly fun. If they'd never moved away, I would have missed the joy of the Grammy Box.
For the record: I occasionally throw in a treat for the grownups, too: a Starbucks gift card, chocolate, the puzzle pages from our Sunday paper, a magazine. I do love and miss my children, too. Just so you know.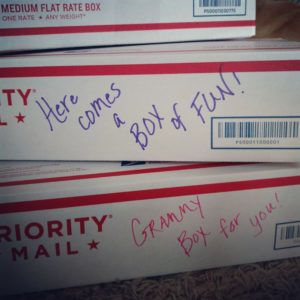 I hope you've enjoyed this Long-Distance Grandparenting series. I'd love to hear how you keep in contact with your grands!
You can follow along with my blog by subscribing to new posts by email, and by following me on Facebook, Instagram, Pinterest, or Twitter.