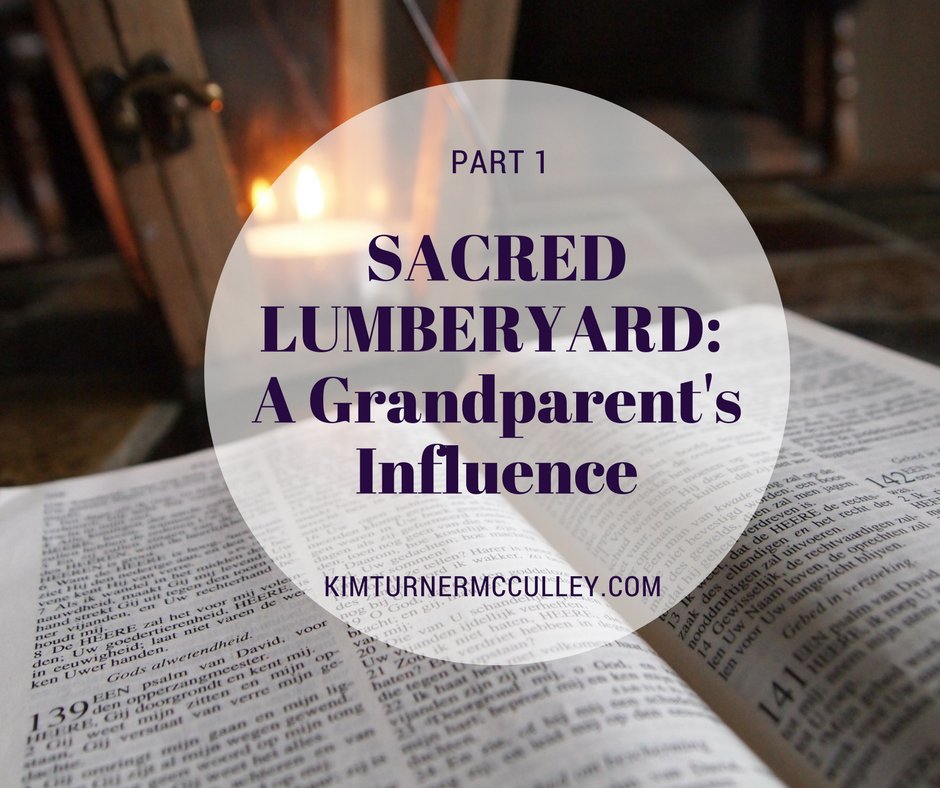 "Everyone then who hears these words of mine and does them will be like a wise man who built his house on the rock, and the rain fell, and the floods came, and the winds blew and beat on that house, but it did not fall, because it had been founded on the rock." Matthew 6:24-25
Sacred Lumberyard: A Grandparent's Influence 
Do you ever wonder what lasting impression you'll leave on your grands? Will they have warm loving memories of you? Will they still be comforted by the assurance of your love even after you're gone?
As loving grandparents, we want to leave a legacy for our grandchildren. We want to have a positive impact on their lives, to leave them with a lifetime of memories. We want them to walk through life knowing they are deeply loved. My grandparents have all passed on, but I think of them often. The older I get, the more I see how they shaped and influenced my life. I often ponder the legacies they left and wonder how I can leave such lasting impressions on my sweet grandchildren.
In this series, I will be reminiscing about each of my grandparents and their legacy.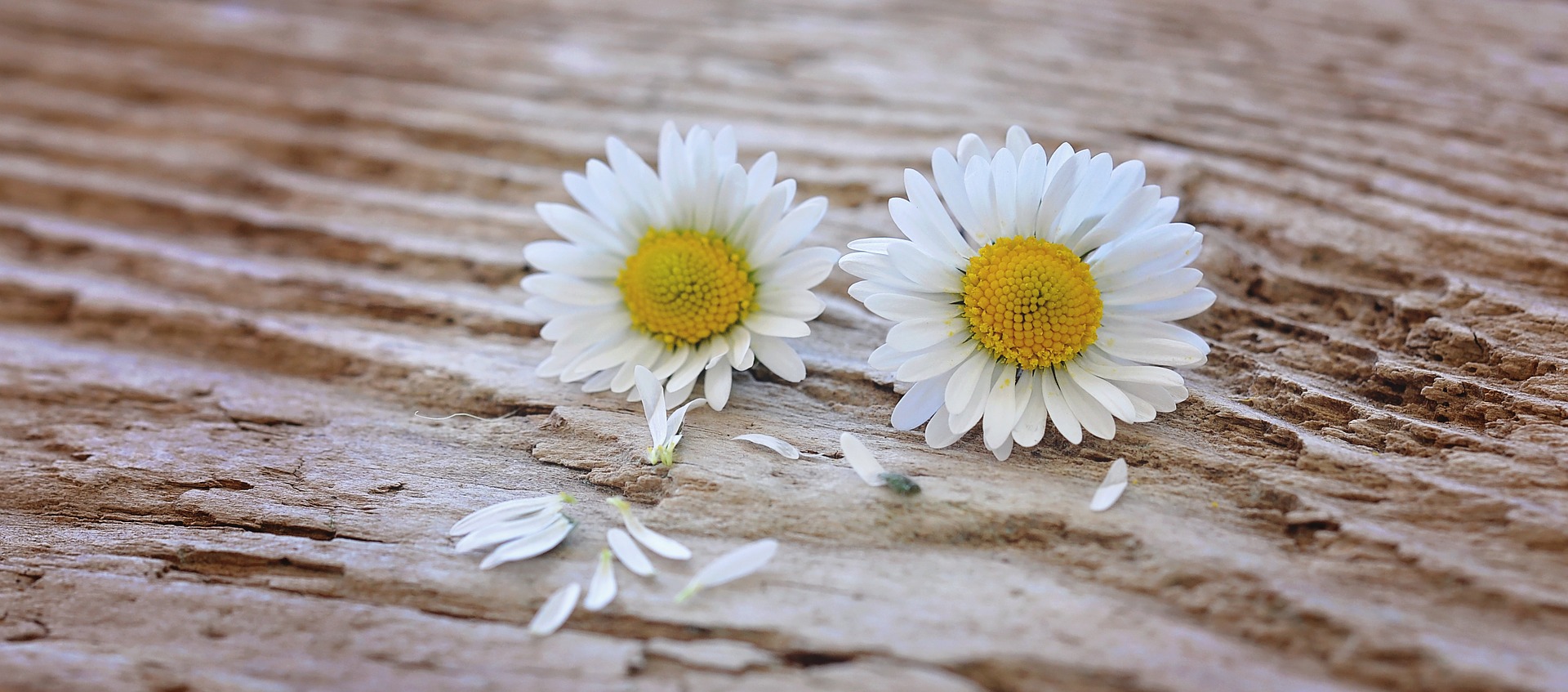 Sacred Lumber Yard
There aren't enough words in the English language for me to describe my Grandpa Turner. He was always larger than life to me.
He was a farm boy who believed in hard work, integrity, excellence, and treating others right. He grew up in western Oklahoma, but roamed around through different small towns in Oklahoma and Texas for several years as a young adult. He farmed, ran a gas station and grocery store, and built beautiful cabinets. He served in World War II in a map making unit. To the best of my understanding, they went in advance of the troops to see what was there and map it out. I don't know much about that, though; Grandpa was a master story-teller, but he didn't talk about the War. He never watched another war movie once he came home; he said he'd had enough of that. Eventually he turned all his efforts to building and opened his company, Turner Construction. He and Grandma, Daddy and the two girls followed a building boom and landed in Moab, Utah, the home of all my childhood memories.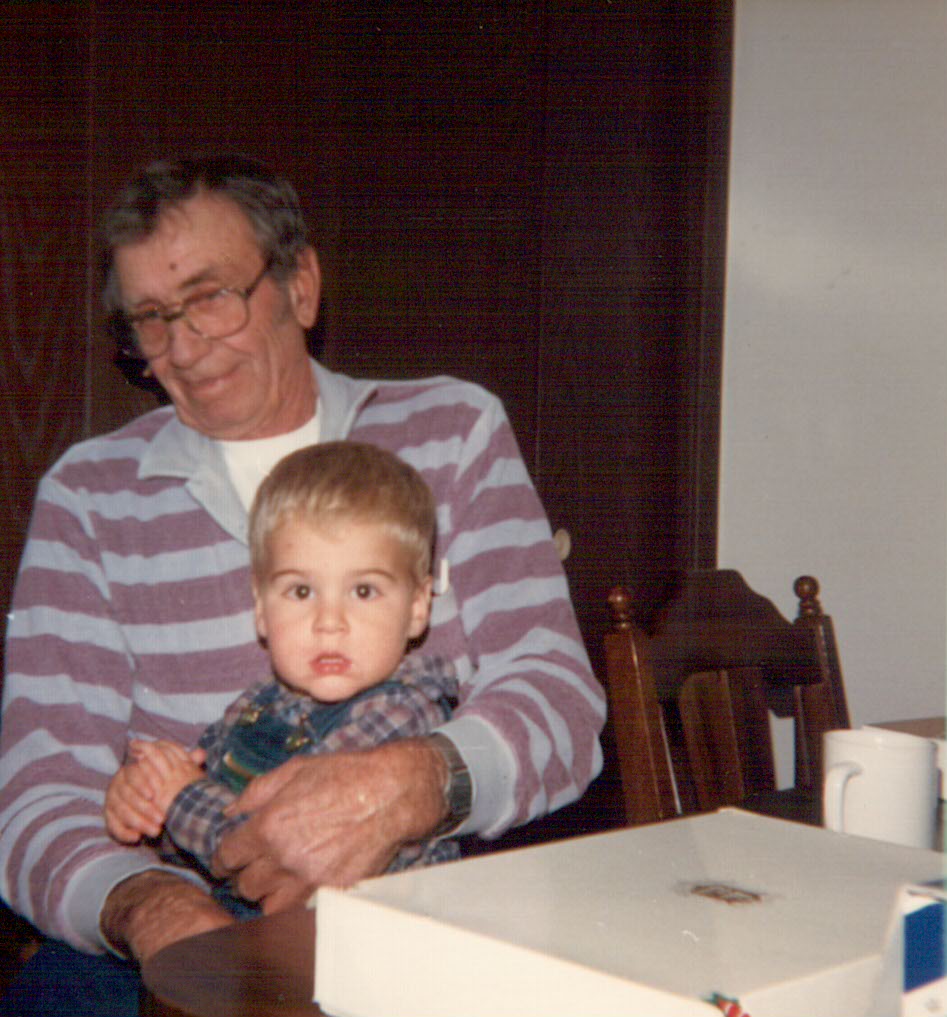 Grandpa Turner holding our second born son Turner 
It seems that so many of my memories are tied to Grandpa. Daddy worked for him for several years, and I remember trips to the lumber yard with them, occasional trips to a building site and riding in Grandpa's Ford pick up truck. My sister and I loved to play at the building sites: running the soft sawdust through our hands, drawing pictures in it, constructing little piles, and using lumber scraps as building blocks. We were fascinated by the flat red carpenter pencils Grandpa carried in his pocket, intrigued when he showed us how to chalk a plumb line. In many ways, his character has been my plumb line all my life: this is what an honorable man looks like. This is how he conducts himself.
He was known as a meticulous workman, a craftsman. If Grandpa built your home, it would stand the test of time. He stood behind his work and honored his word. He was one of those men whose handshake was better than any contract. If he bid on a job, he kept to the bid, sometimes to his own financial detriment.
Routinely as we were going on an errand around town with Daddy, he'd notice Grandpa's truck there at the Golden Stake Restaurant. "Look girls! Let's go have a coffee break with Grandpa." These times were some of the brightest highlights of our childhood. Grandpa generally sat at the counter having coffee with the regulars, so he almost always saw us the second we came in. I'll never forget how he beamed when he saw us! He always, ALWAYS, said to his fellow counter-mates, "These are my granddaughters! Have you met my granddaughters?" Then he proceeded to treat us to a cinnamon roll as big as our hand and a mug of hot chocolate piled high with extra whipped cream.  Food is the language of love, they say, but it was more than that. The look on his face when we walked through that door is forever etched in my being.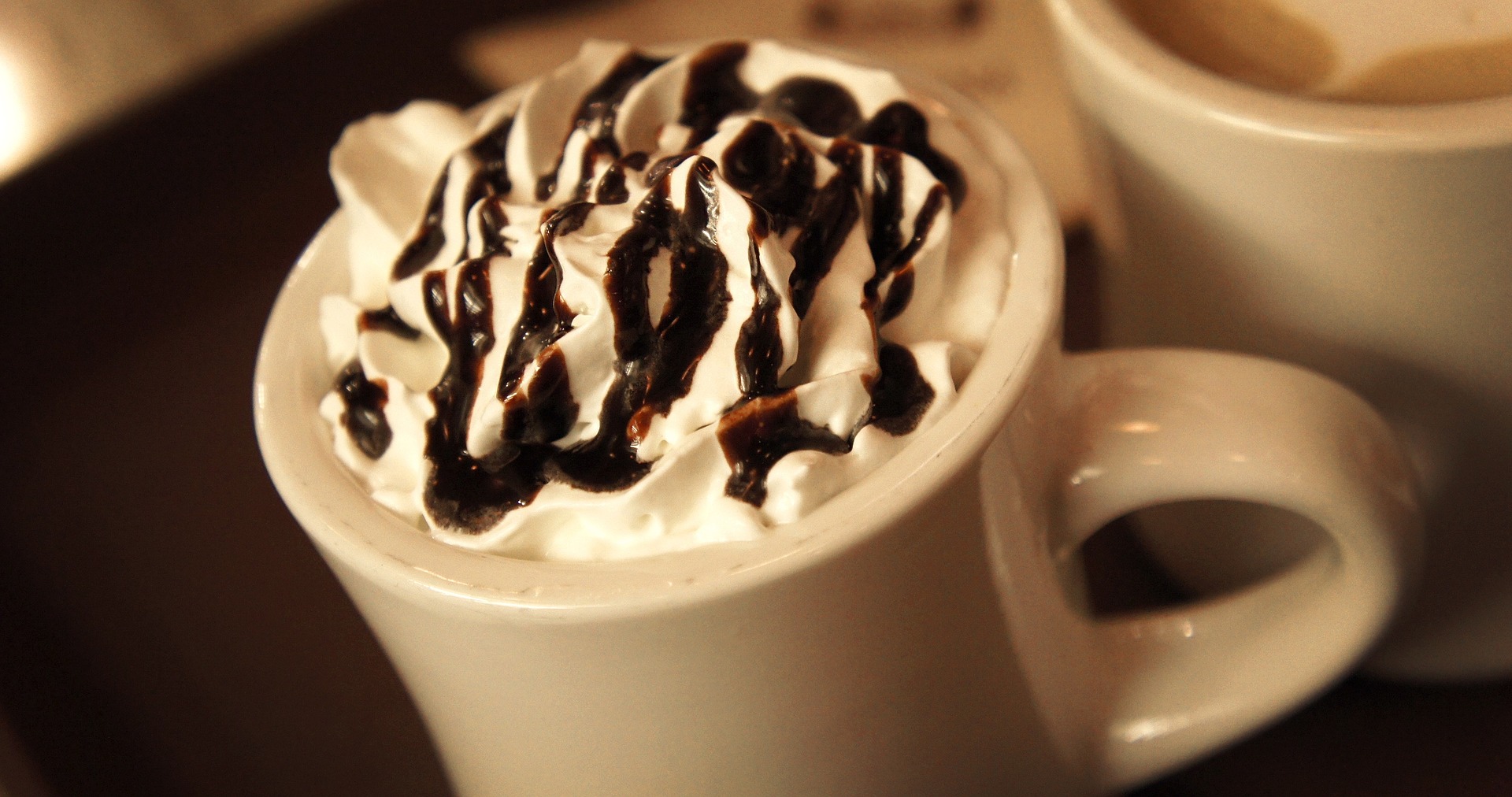 Once, after my sister sang a solo at church, Grandpa STOOD UP and bellowed, "THAT'S MY GRANDDAUGHTER!" Oh, how everyone laughed. No one ever doubted how he felt about us. He had a magical gift of making each grandchild feel she or he was the favorite.
Grandpa worked hard, long days. He smelled of hard work, pipe smoke, and sawdust. He was lean and lanky and burned mahogany brown from the desert sun, and he could never seem to get enough to eat. Grandma prepared big meals every night, but she no more than got the kitchen cleaned up and Grandpa would be rumbling about in the kitchen, looking for "a little snack". When my sister and I were there, we were delighted with the "little snacks" he would prepare and share with us. Crackers and cheese–always crackers and cheese–and ridiculously thick slices of ring bologna. Our favorite of all was when he made milk shakes for the three of us: milk, ice cream and Hershey's syrup poured into a tall glass and stirred with a long teaspoon. Ahhh.
He often "needed" to run to the gas station when we were at his house, and he always invited us along. Momma would take us aside with strict instructions not–under any circumstances–to ask for anything. Of course, we didn't need to ask; he never failed to offer! We always came home with candy and gum; he delighted in giving us treats. When we went to the yearly family reunion in Red River New Mexico, we always knew there would be an evening when we'd go into town and he'd treat us to rides on go karts, the waterslide, our choice of souveniers; whatever our hearts desired.
Grandpa seemed to gather friends effortlessly: from the community, from the little church he helped to build, extended family. Grandma and Grandpa often hosted gatherings, and Grandpa always seemed to be surrounded by a knot of men. They played cards and dominoes and he told stories. Strangely, I don't recollect many of the actual stories he told, but I remember the laughter! Oh, how he would laugh.
His one claim to fame was that he built several movie sets when different films were made in Moab. When working on the set of The Comancheros, he had breakfast with John Wayne one morning. That was one story he loved to tell, and we all enjoy a sense of second-hand fame from this encounter.
The last time I saw Grandpa was after I was married and Joe was stationed at Eglin AFB, Florida. We drove out to Oklahoma, where the family had all moved. We knew then that the cancer was going to win. The lifelong cigarette smoking stole many years from him–many years from us. After our visit, as we hugged and said goodbye, Grandpa pressed some folded bills into Joe's hand. "Gas money", he said, and he would not be denied. Once we got in the car, we realized he'd given us $100.00. How appropriate that my final memory of Grandpa is of him giving and taking care of me.
Grandpa wasn't famous. He never wrote a book or held public office. He didn't leave an estate or really much of anything. Daddy gave Grandpa's worn Bible to me, and that treasure is the extent of my physical inheritance.
But the lumber yard is sacred to me now. The sight of a flat, wide, red carpenter's pencil or the scent of fresh sawdust brings tears to my eyes. I've been known to find the raw lumber, close my eyes and inhale deeply. To me, it smells like love.
My Grandpa left us twenty-seven years ago. TWENTY-SEVEN years, and I still miss him every day.
That's what I call a legacy.
Please join my email list so you don't miss any posts in this series: Gracious Hospitality, Like Violets in Snow, Wasted Life. Please share in the comments how your grandparents influenced your life. I'd love to hear all about it. Click here for my related food post, Cheese Board.