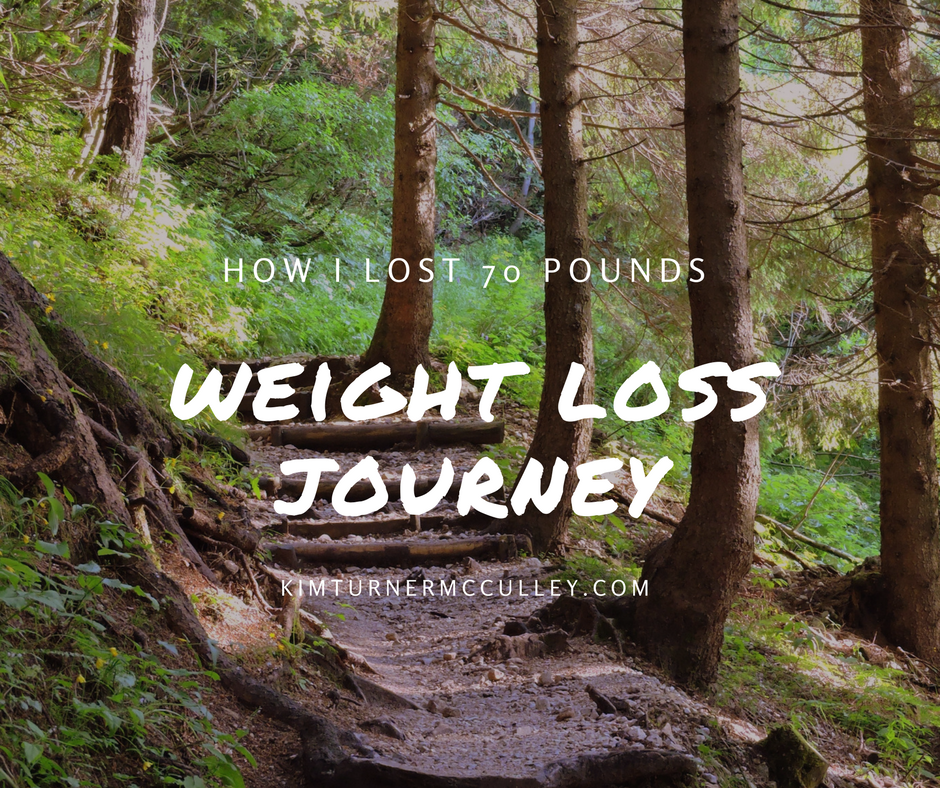 This post is Part 1 of a three-part series. To read part 2, click here. To read part 3, click here.
MY WEIGHT LOSS JOURNEY
HOW I LOST 70 POUNDS
Have you ever dreaded walking into a crowded room? Have you quickly scanned the room to see if you are the largest person in attendance? Have you ever felt so ashamed of your appearance that you wished you could shrink into yourself, draw less attention, be quieter and inconspicuous, just be less visible?
I've spent decades of my life feeling self-concious about my size. It's not a good feeling. Can any of you relate?
My Story
Starting as a pre-teen, I felt I weighed a little more than I should. I wasn't actually overweight in any medical sense of the word, but I always out-weighed my friends and wore a slightly larger size than they did. I gradually put on a little extra every year. By my senior year of high school, I was at the tippy-top of my healthy weight range. A friend once told me that she thought I would be "the prettiest girl in our grade, if you just lost some weight".
Ouch.
I was already firmly entrenched in my perfectionistic people-pleaser ways by my teen years, and this failure to be slim–to conform to the ideal of a beautiful body–caused me to be constantly self-concious, to wonder what others were thinking of my appearance, to agonize over how my clothing fit, to fall into discouragement and tears when I had to shop for clothing. I focused way too much on my body shortcomings; this was a constant source of mental anguish to me.
I've offered wondered how I escaped an eating disorder, since I consider myself to be a prime target for that. I think my saving grace there was my absolute abhorrence of vomiting. However, I did frequently resolve to lose weight and embarked on ridiculous diets (remember the egg diet? The Cabbage Soup Diet? Slim-Fast? Starvation diets?). I also committed to rigorous exercise regimes, all of which I abandoned after a few days or a week. These diets and exercise plans were just too hard and too consuming and not compatible with any sort of happy or balanced life.
So, on I continued–losing a few pounds, gaining it all back plus a little more–through high school and early marriage. Then I started having babies: seven pregnancies over fourteen years including five live births and two mid-term losses. Each pregnancy added a little extra.
Fortunately, my weight did not significantly impact my health for many years. I've been blessed by good genes and my blood pressure, sugar levels, and cholesterol levels all remained exceptionally good. However, I became less and less likely to play actively with my children. My knees and back started to hurt, and I became easily winded and had no stamina. I'll never forget the day I ran to catch something and our teenage daughter got an astonished expression on her face and said, "I've never seen Mom run before!"
Ouch again.
Sometime around late 2005, I went to a doctor's appointment and weighed in at 242 pounds. I was so ashamed. How could I have let this happen? What must people think of me? I joined a Curves gym and started working out three times a week, and counted calories carefully. After eighteen months, I had lost ninety pounds. I was feeling really good about myself and determined to never gain it back…
But I did.
Right about that time we entered into our Difficult Decade. In the midst of the stress, I reverted back to those old eating habits. My constant illness and exhaustion made it difficult to exercise faithfully. I tore my meniscus and ended up having knee surgery after months of constant pain; my knee continued to hurt for almost a year even after surgery.
One day I realized I had gained back over eighty of those hard fought ninety pounds. For a while I just gave up, thinking I was obviously doomed to be fat. I almost always dressed in black, although I love bright colors, because black makes you look thinner, right? I ate whatever I wanted, because what's the point of trying?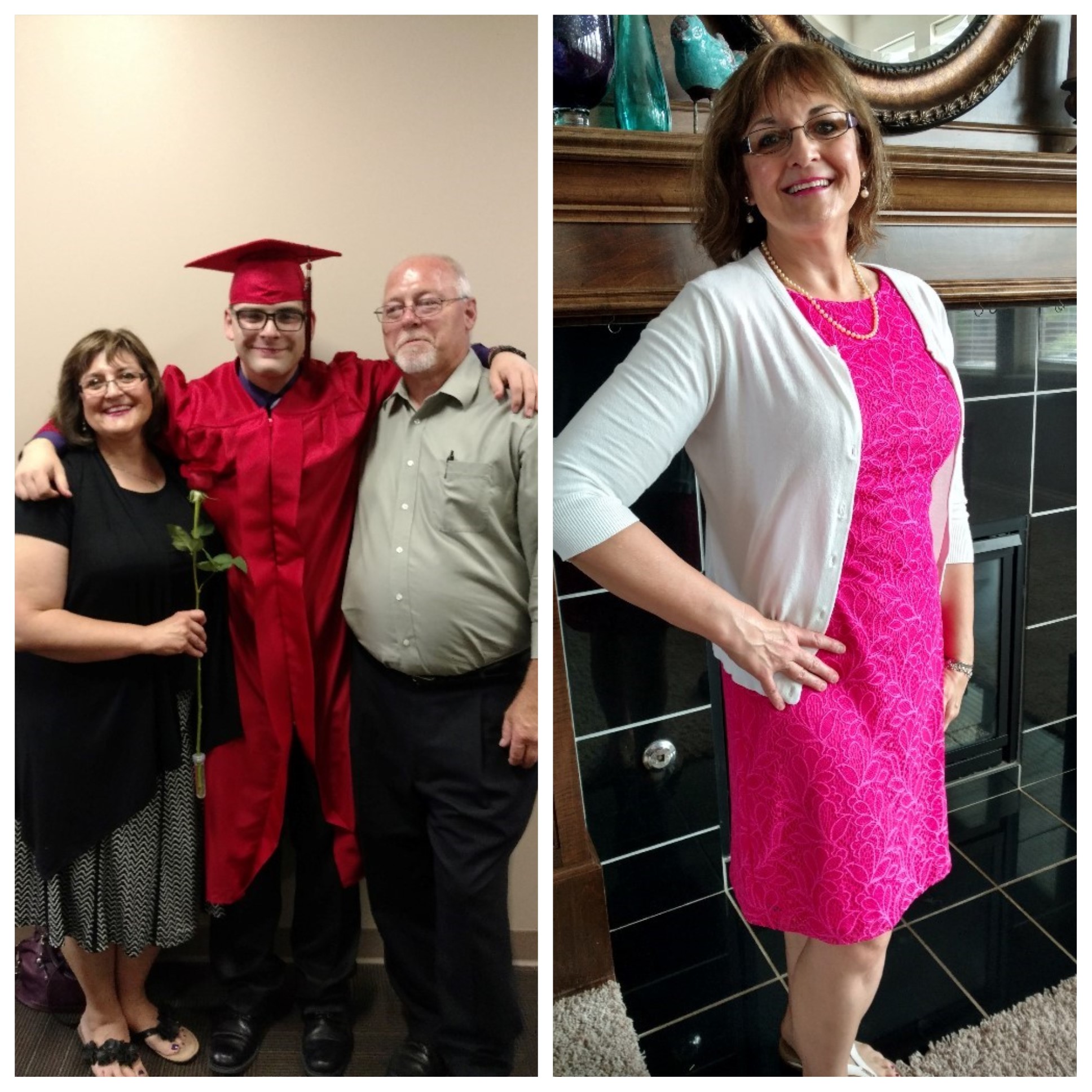 So…what happened? How did I get from there…to here?
Finding My "Why"
I finally just got fed up with being constantly sick, constantly in pain from my arthritic, damaged knees. I realized that no one else is going to take care of my health. That's my job! I'm the only one who can do it.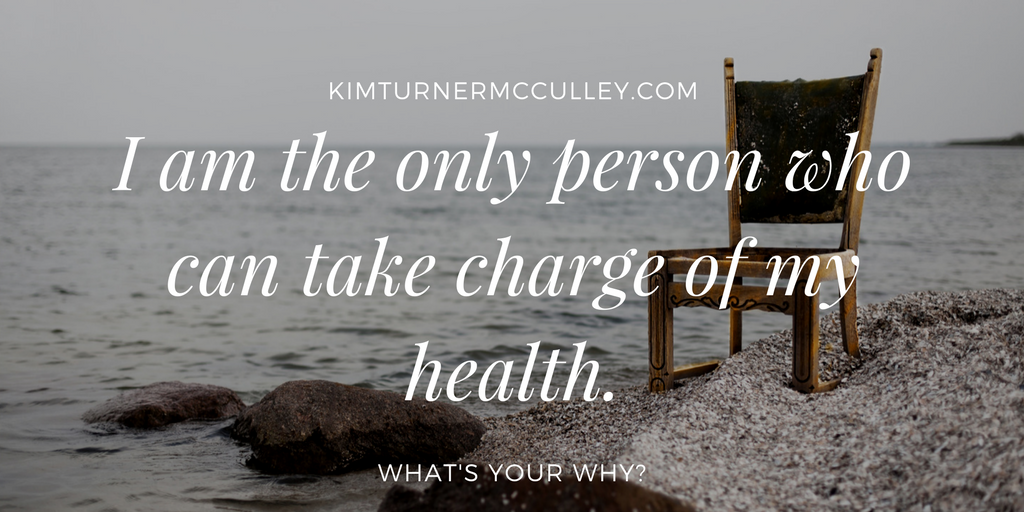 I am the only person who can take charge of my health.
To top it off, our son gently announced to me that he intended to move the family to Washington state by the end of the year so he could attend grad school, and that this would be a permanent move. Our youngest grandchild already lived far away, and this move would make me into a total long-distance Grammy with no grands anywhere nearby. As I absorbed this news, my wheels starting turning. What if I became too large to fit into an airplane seat? What if my health issues made it impossible to ride long distances in the car? What if my health prohibited me from spending time with my far-flung family? What if my health hindered me from having a meaningful relationship with my grandchildren?
I decided I was not going to stand for that.
Some of my health issues were beyond my control, but I knew that losing weight and changing my eating and exercising habits would drastically improve some of my issues and could improve others. I decided that I was going to do everything in my power to live a long, healthy life so I could be part of my grandchildren's lives.
I think "Finding Your Why" is the most important part of the decision to take care of yourself. All my life I wanted to lose weight so I looked better, so people would like me, so I would have more confidence. Obviously, those reasons weren't enough to motivate me. For one thing, I had found that even if I counted calories and exercised, I still didn't look like my ideal image. It was frustrating to realize that I could count every calorie and work out long hours, but I'd still never have a "perfect body".  When it became all about my health, rather than my looks, I was able to focus on making lifestyle changes rather than focusing on the weight loss. 
So, what changes did I make? My first and most important change was the mental realization that I want to live a healthy life, and only I can take charge of my health. This was a total paradigm shift for me.
I've decided to address my other major changes in two separate posts, so please come back for My Weight Loss Journey: Food and for My Weight Loss Journey: Exercise. In the meantime, think about your why. Are you expecting your health to magically improve? Are you waiting for some jolt of inspiration or motivation to descend upon you? Are you passive in living your best, healthiest life, or are you actively pursuing healthy living? Even if you don't need to lose weight: are you taking charge of your health?
I'd love to hear your comments! Please share below. If you would like to be part of a community of women who supports and encourages one another in their efforts to live full, joyful, healthy, and vibrant lives of faith and purpose, please join the discussion and sign up here to receive my posts in your inbox.