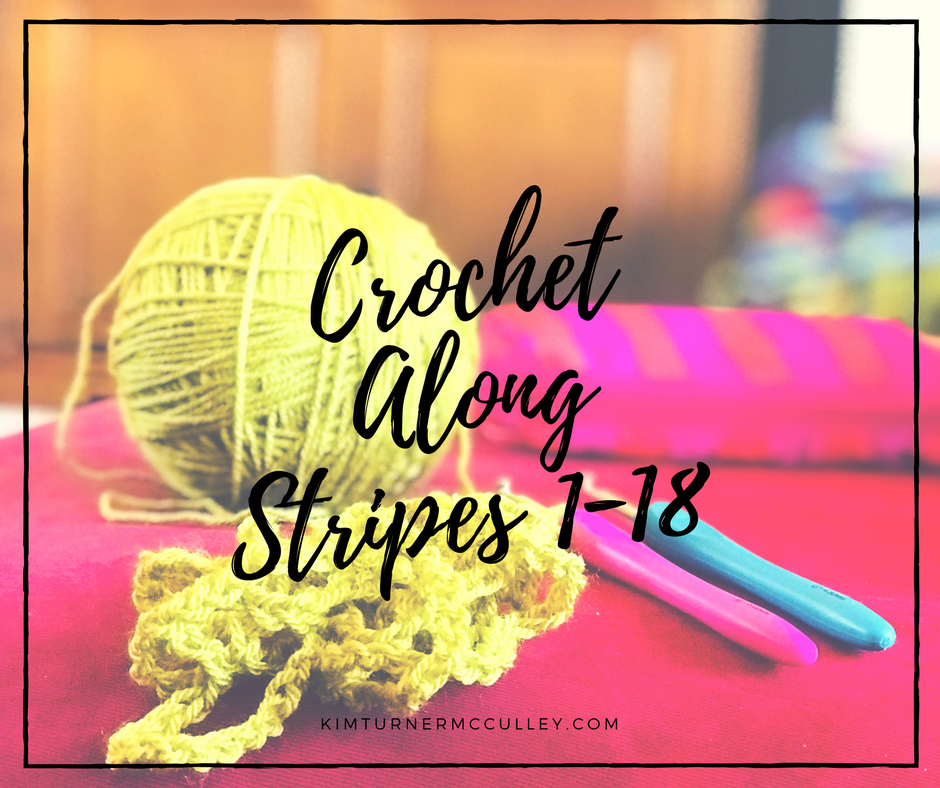 Crochet Along Check-In
How much progress did you make this week? Remember, it's supposed to be fun, so if you haven't "caught up", relax! I haven't felt well this week, so I had plenty of down time to crochet to my heart's content. And I did!
Crochet Hook Size
You'll notice in the above image that I used two different crochet hooks. The pattern calls for a size F, but I crochet tightly and struggle with hand pain if I use smaller sized hooks. Therefore, I chose hook size G to work the blanket. However, I've discovered it's easier to bump up another hook size in order to make the beginning chain, so I used an H to chain stitch, then switched to the G. I did not choose to work the test swatch, because I really don't mind about exact sizing on this project. I've worked several blankets using Lucy's patterns, and I've always had plenty of yarn leftover; running out is not a concern. So I just went with a hook size that I enjoy. I use these ergonomically correct crochet hooks, and they greatly reduce my hand pain.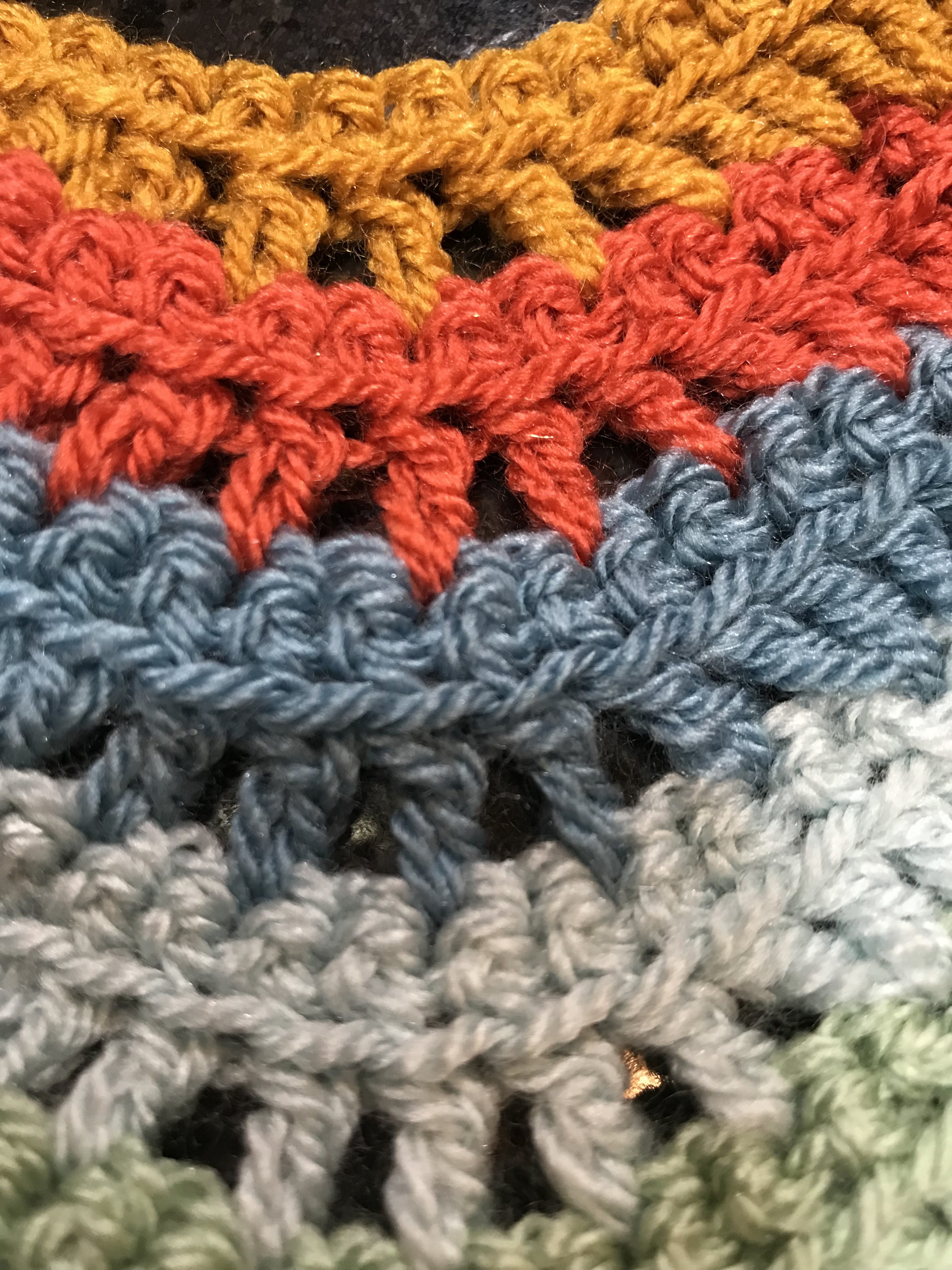 Lesson Learned
Perhaps you're like me and did not read the pattern thoroughly and benefit from all Lucy's excellent advice. Perhaps you're like me and had some difficulty with losing stitches and ending up short at the end of the row…hmm. I once again referred to the pattern in detail and saw the hint to make sure that the middle stitch of the "valley" (the "dc skip dc skip" section) lines up nicely with the middle stitch in the row below. Once I followed this advice and checked closely at the beginning of each row that I was in alignment, things went along much more smoothly. Live and learn! The first several rows were confusing and a bit stressy, but once I got in a rhythm and learned the pattern, it was oh so enjoyable. I love the gentle rhythm of creating stitches; it is so relaxing. I've read of several studies that show crochet and knitting to be excellent at reducing stress. I believe it!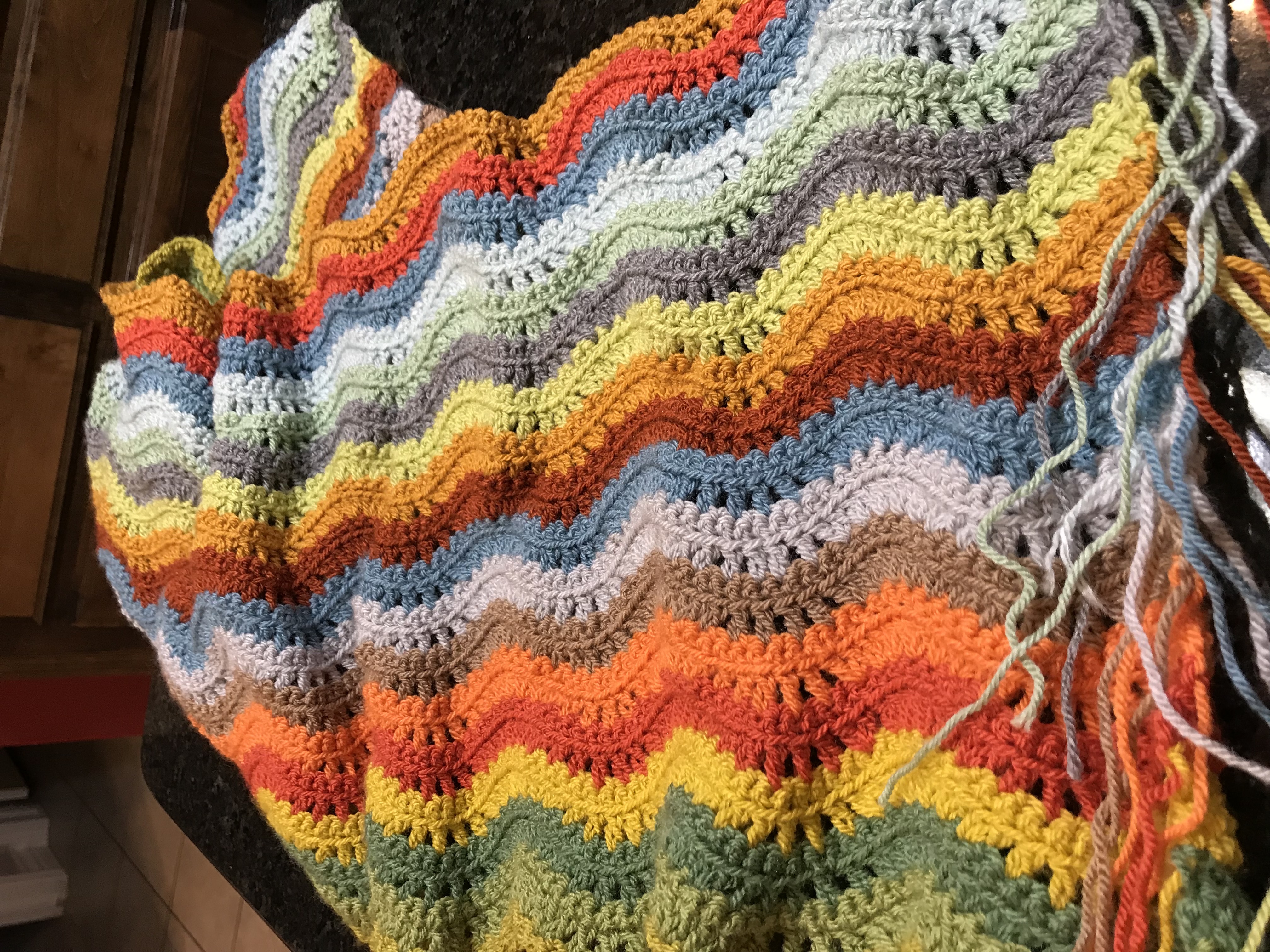 This is my project with stripes 1-18 completed. Isn't it lovely? I'm pleased with how it's working up so far, and looking forward to an enjoyable weekend working the next 18 stripes. I'd love to see photos of your work in progress!
Here's the link for Woodland pattern and swatch instructions.
Here's the link for Woodland Part 1: colors of stripes 1-18 (near end of post).
Here's the link for Woodland Stripe Part 2: colors for 19-36 (near end of post).
Here's the link to my Crochet Along Prep post.
Here's the link to my How to Crochet a Prayer Shawl post.
Here are a few items you may find useful for your yarn work. These are affiliate links, which means that when you use my links for your shopping I will receive a small commission at no extra cost to you. Thank you for supporting my work. I appreciate you!