This post contains affiliate links. 
Smoky Mountains Cabin Adventure
When I was a child, we had a family reunion in Red River, New Mexico every summer. All you have to do is mention Red River and I get misty-eyed. I know it's a temptation to view childhood through rose-colored glasses, but those vacations were idyllic, the stuff of legends. Each family unit rented a cabin, except for those who drove their RVs. I know I'll write more about Red River, but my point here is that cabin stays are surrounded in an aura of magic and bliss to me.
Our daughter, son-in-love, and youngest grandson wanted to make a trip to the Smoky Mountains to view the eclipse, and asked us if we would like to meet them. They were planning to tent camp, but I was suddenly seized by an overwhelming desire to rent a cabin, so that's what I did.
We stayed at this rustic, charming, fully-equipped cabin. The five adults and one kindergartener sprawled on the king sized bed, a hideaway couch, and the floor. Our grandson was astonished by Poppa's snoring (as anyone would be). The whole scene reminded me of a favorite picture book by Cynthia Rylant, The Relatives Came, which I brought along to read to our grandson. The cabin had cable television and a cabinet full of movies, but we spent our time reading picture books, playing board games, roasting marshmallows for our nightly S'mores, eating snacks and easy meals, relaxing in the Hot Tub, and playing our son-in-love's Nintendo Switch, to hysterical laughter.
We also spent a day at Dollywood and took two thrilling rides on the Alpine Slide at Goats on the Roof. I highly recommend both attractions if you're in the area. We had old timey gangster photos taken at Dollywood, and that was a hoot. However, if we hadn't wanted to spend the money, it still would have been a wonderful trip if we had simply stayed at the cabin for the entire three days.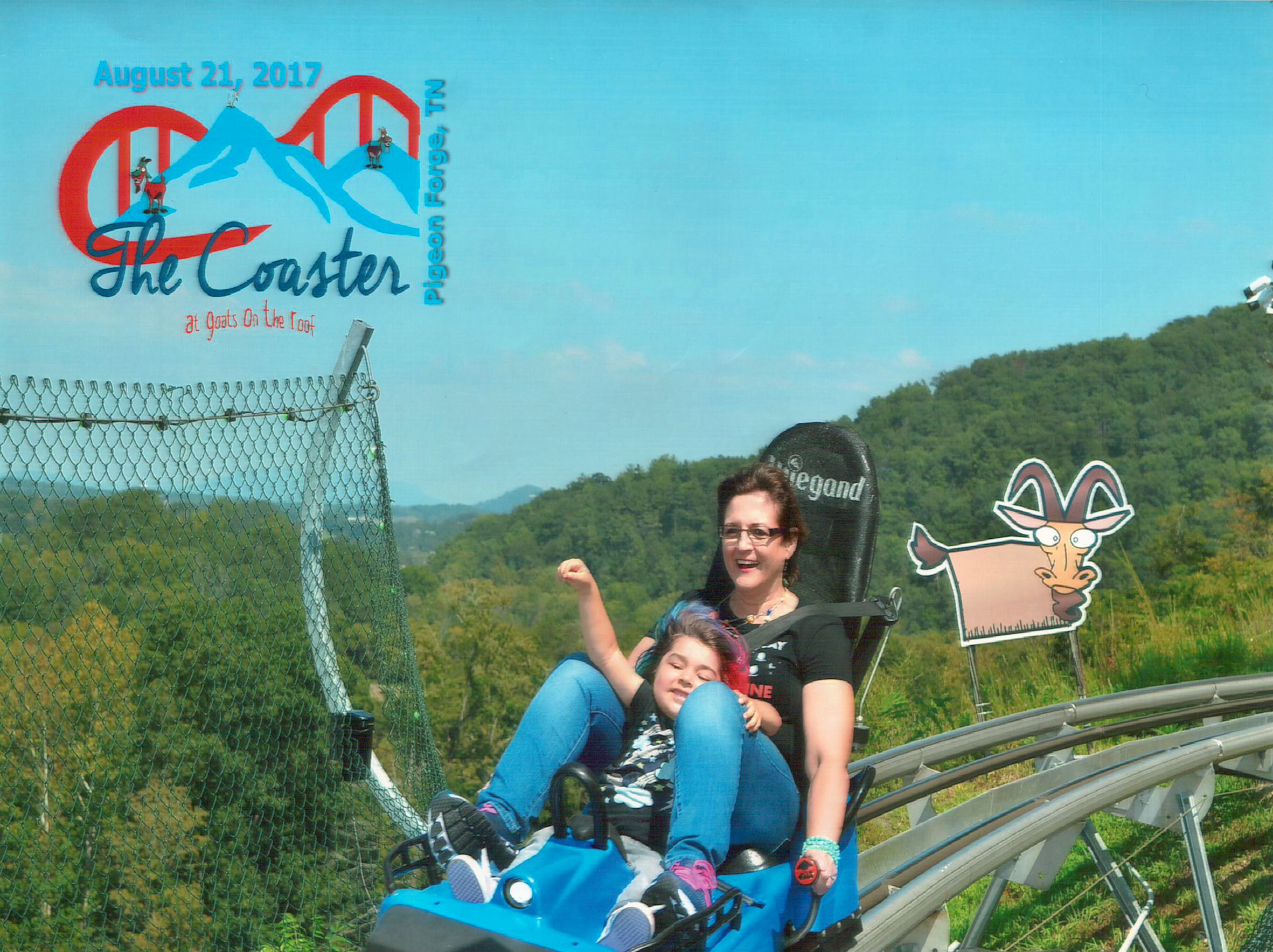 Riding the Alpine Slide at "Goats on the Roof" with my grandson Noble
Everyone agreed it was the best vacation ever. Our grandson immediately started a campaign to make Cabin Days a yearly event. I'm on board with that!
I've pondered and analyzed since our return: what made this vacation so perfect? Nostalgia aside, I think a big part of it was that I set aside all my perfectionist ways. I predetermined to have no agenda. I didn't care if the meals were beautiful, fancy, or timely or that we woke up or arrived at our attractions at any set time. I decided ahead of time that I had one goal: to make memories. 
I let things happen as they happened. We didn't even have a menu plan (gasp!). We stopped at Kroger every day and picked up what we needed for that day's meals. We stayed up late, slept late, made decisions on the fly about our activities. It's not often that your childhood memories are actually grounded in reality when revisited, but I made my way back to "Red River" figuratively, and it was everything I imagined. It doesn't get better than that.
If you ever have a chance to rent a cabin in the mountains and make memories with your loved ones, I hope you do it. Or maybe that's not your thing. I'd love to hear about your treasured vacation memories from childhood and with your own children and grandchildren. What have you done that's created wonderful memories? What challenges hinder you from truly enjoying your vacations? Do you think it could be better if you lowered your expectations or let go of control?

Our Favorite Family Vacation Book and Game