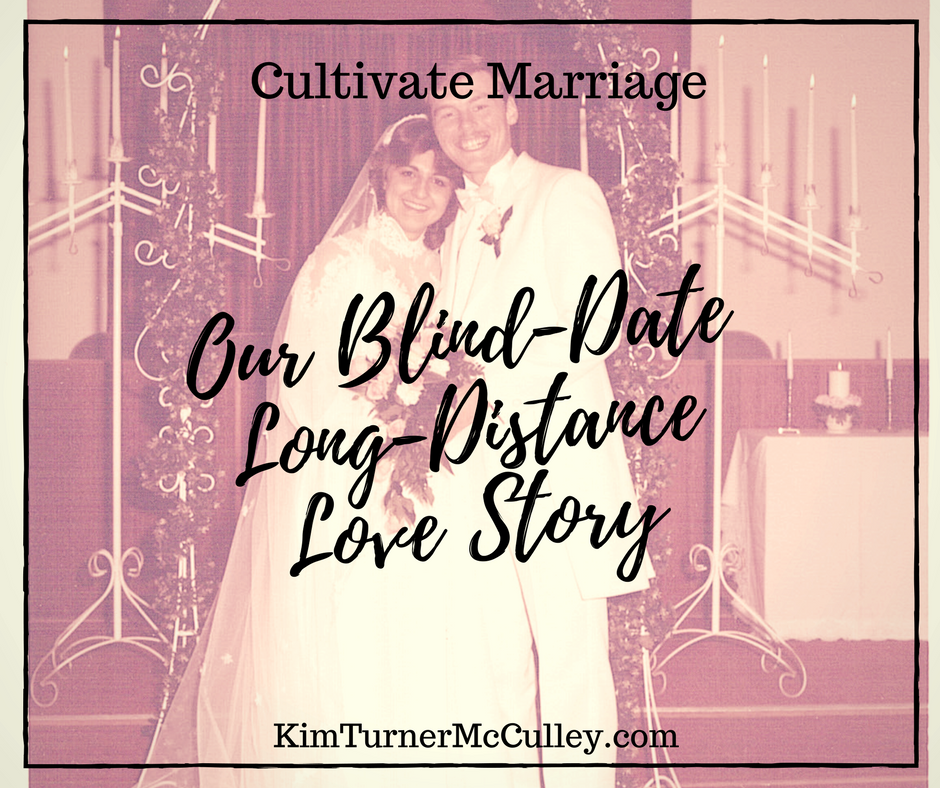 "He who finds a wife finds a good thing and obtains favor from the Lord." Proverbs 18:22
In mid-February of 1981, I received a letter from a total stranger. Reader, I married him.
💕 This Is Our Love Story 💕
A long time ago (37 years) in a galaxy far, far away (Moab, Utah) there was a young lady. She was a senior in high school who got good grades and was college bound. She wasn't really looking for a boyfriend, but had no objections to one finding her.
[Enter young airman, stage right]. Two hundred sixty-two miles away, a young man lived near Hill AFB, near Ogden, Utah. He was young–almost 20– but he had already been in the Air Force for about 18 months. He had a roommate, friends at church and at work, but he was lonely. He knew Genesis 2:18 declared, "It is not good that the man should be alone; I will make him a helper fit for him."
He started praying for a wife.
Of course, I'm the young lady, and my husband Joe is the young airman praying for a wife. Now we'll jump backwards in the timeline several years, where the backstory was being playing out.
The teens in my small church went to a church camp several hours away every summer and met teens from other churches. I've always enjoyed writing letters, and I added pen pals every year. Typically these pen pal friendships would fizzle out, since few people seem to love letter writing as I do. However, one girl–Kathy Curlee–continued to respond to my letters and we maintained our friendship.
So, one evening in early 1981 during a church business meeting, Kathy grew bored and began looking through the photos in her wallet. I had recently sent her a copy of my senior picture. She showed it to Joe. He expressed interest. And Kathy decided to play matchmaker.
I received a letter from Kathy warning me that I was about to receive another letter. From a stranger. Now, I had run home over my school lunch break and picked up my mail, which included a college acceptance letter. I tucked Kathy's letter into my notebook and pulled it out to read during my 5th Period Chemistry class. Imagine my surprise when a photo of a total stranger fell from the letter onto my desk! Imagine the teasing I received from my mischievous desk mate and lab partner…
Just a day or two letter I received my first correspondence from Joe. I was intrigued. The teen girls from our church were attending a statewide meeting in March that was hosted by Kathy and Joe's church, and Joe suggested that he come meet me at the church.
So…he came and had lunch with me and about 80 other teen girls in the Fellowship Hall. I guess it went well, although I remember being so nervous that I tore a paper straw wrapper into hundreds of tiny pieces as we talked. The following weekend I was scheduled to go to Logan, Utah during our Spring Break to visit my childhood best friend Valerie and tour Utah State University. She and her sister decided to host a Taffy Pull party during my visit, and we invited Joe to drive up for the party.
And the rest, as they say, is history.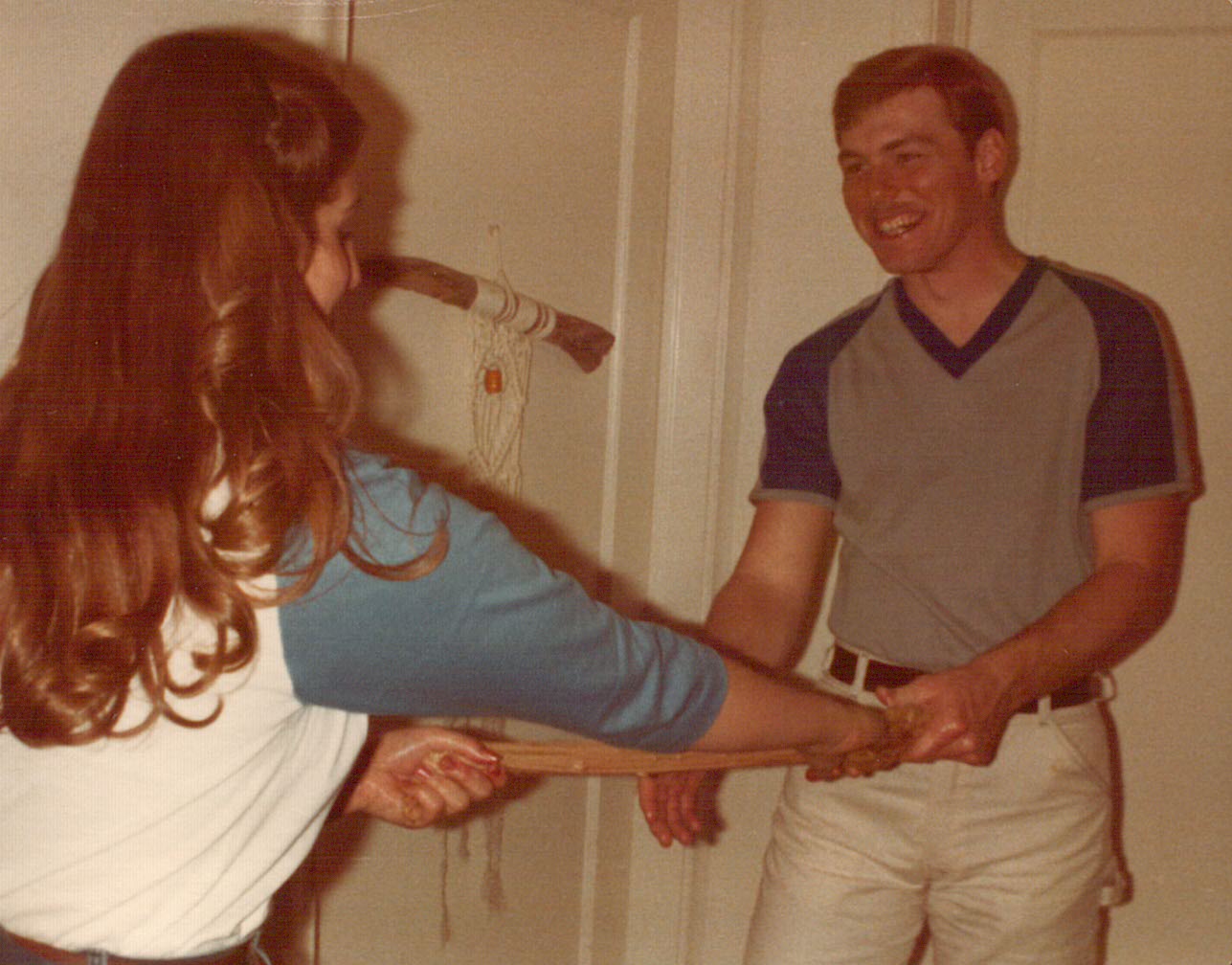 Here we are pulling taffy.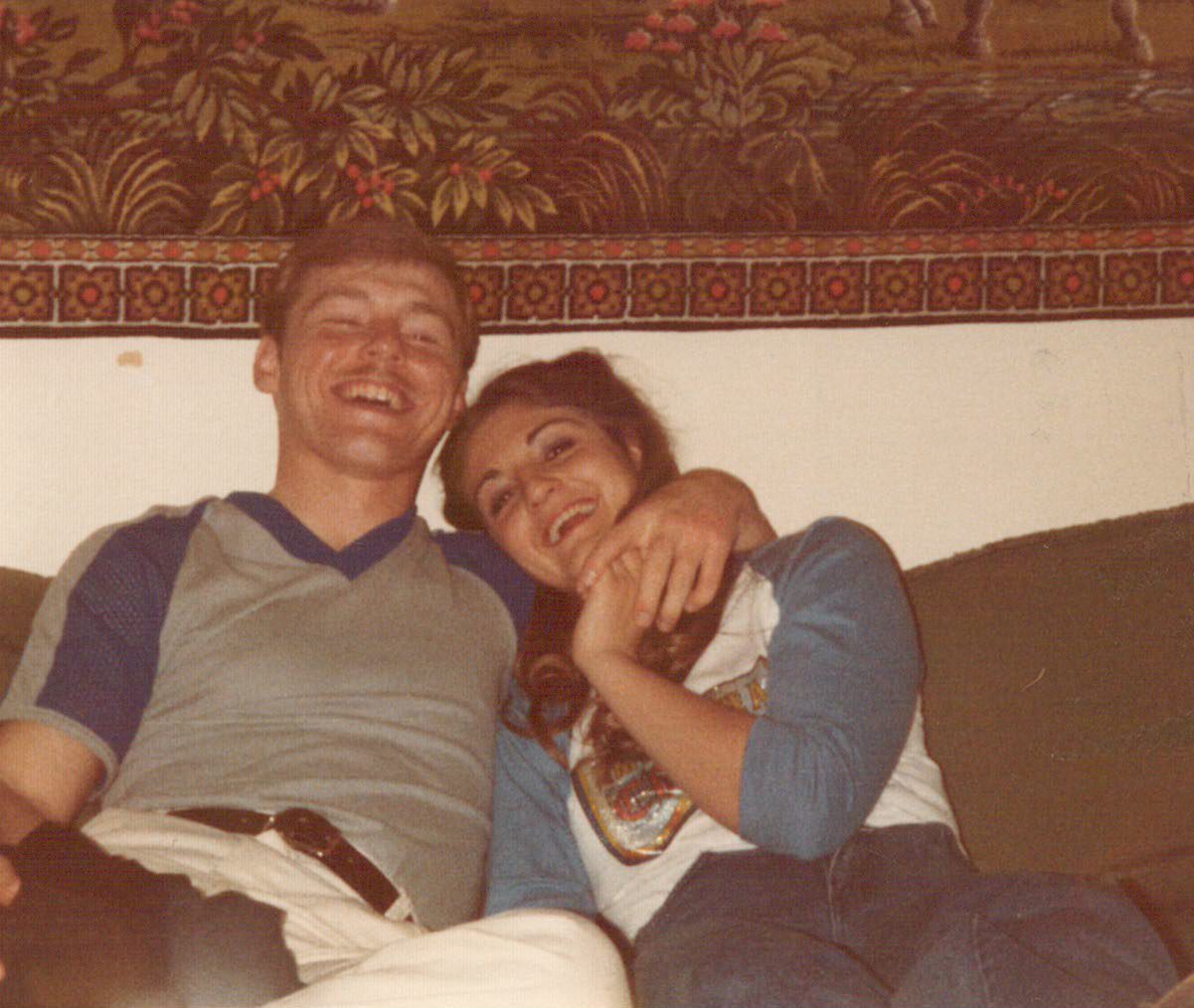 We were pretty much inseparable from this point. Well, except for the fact that we had 262 miles between us…there is that. The letter writing and long-distance phone calling definitely ramped up exponentially.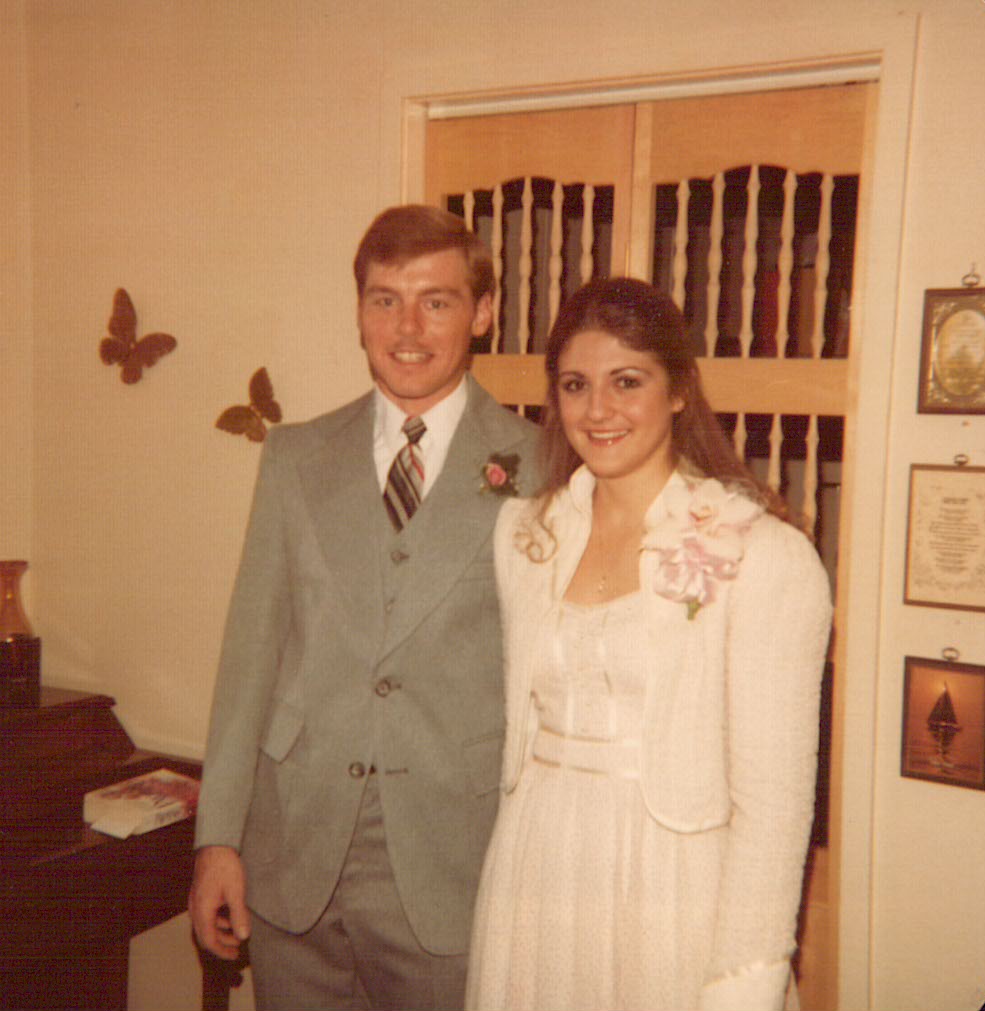 Joe drove down to take me to the Prom…and to meet my Daddy, who had been working in Kansas and Oklahoma for a couple months. It was apparent to Daddy that he needed to make a trip home to meet this guy!
So. We started writing letters in mid-February. We met in person on March 22 at his church, and became a confirmed couple a week later. We were engaged on May 27, the day I graduated from high school, and married on Valentines Day 1982.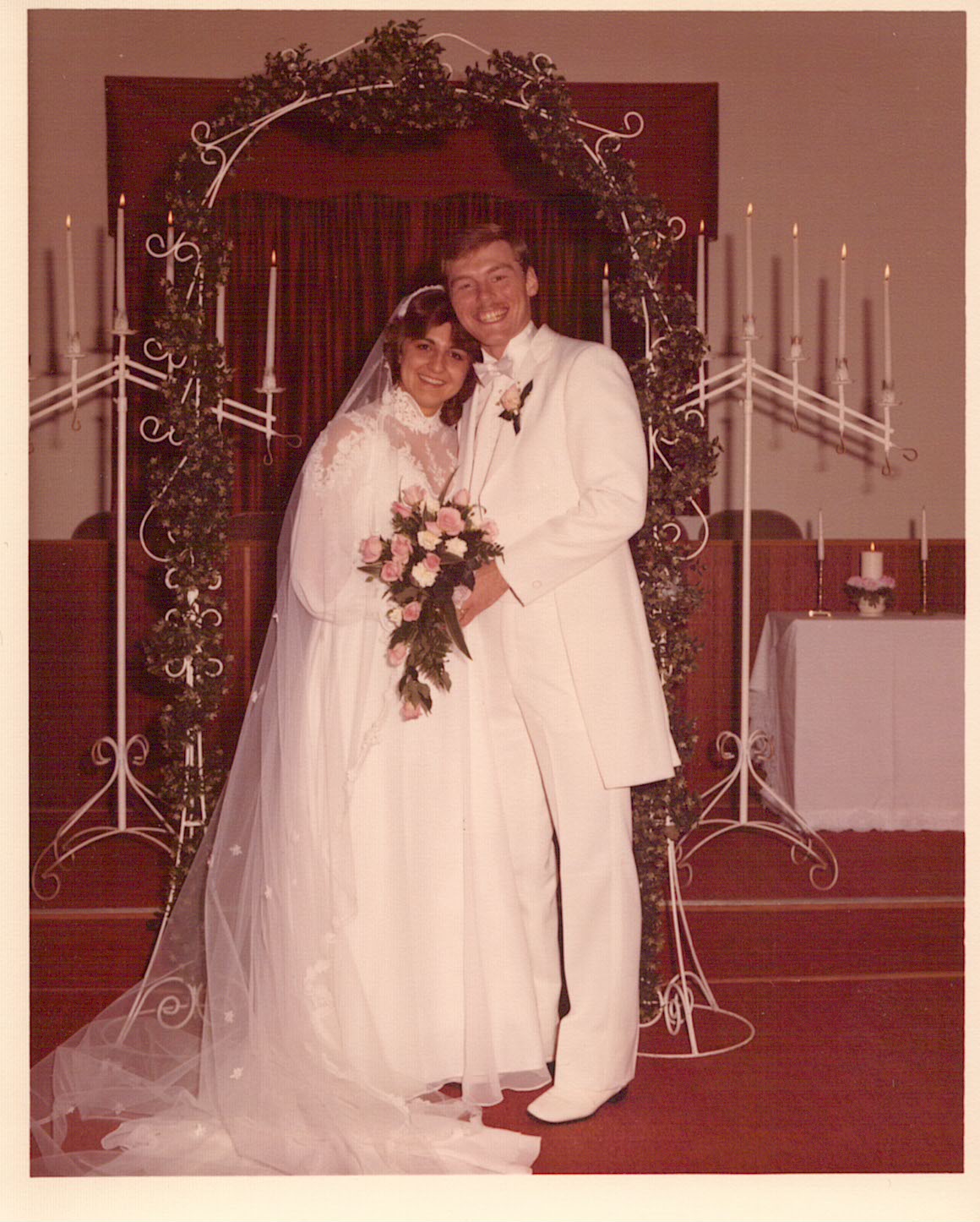 We had been married for three weeks when Joe came home with orders to Kunsan AB, South Korea. A remote assignment. What that means–for the benefit of you civilians–is that it was an unaccompanied tour. The Air Force wouldn't pay for me to come; the Air Force said I could not come. So, he left in October and I moved in with my parents, who had moved to Bartlesville, Oklahoma. We spent almost three miserable months separated. The phone bills were astronomical: we paid over $300 for two phone calls one month.
Joe discovered that several of the Airmen had brought their wives over to Korea anyhow and lived on the local economy. After discussing this terrifying possibility, I filled out the paperwork for a Passport and Visa and purchased an airline ticket to Seoul Korea. What an eye-opening experience!
Life with Joe has been an adventure. We've had nineteen different addresses in twelve separate cities and one foreign country. Joe earned his undergrad degree while in the Air Force, then retired and went to seminary and graduated with his MDiv. We served in a couple different ministries before ending up church planting in Alaska for nine years. He then worked at two very different jobs before beginning his own home inspection business.
We suffered two traumatic mid-pregnancy losses, and have raised five children with a fairly normal number of stitches, broken bones, and emotional crises.  We've seen one another through surgery and illness. We've learned to stretch a dollar. Do hard things, things that seem impossible. Trust God when life looks hopeless. Depend on one another. Find the romance in an evening spent at home folding laundry and eating pinto beans. Forgive. And work together as a team.
Working together as a team has been our strong suit most of the time. However, we've had some periods where we had to struggle to get through a challenge. If you asked for my advice, I would encourage you to hold on tight when the going gets rough. Don't get discouraged and give up. Pray for one another and for your marriage. Believe the best about your spouse's motives. Don't get caught in the trap of thinking you should push and demand that everything gets fixed right now. Sometimes we need to back off and be patient. Sometimes it takes time for God to work in our hearts and we realize we've been unreasonable and difficult.
I believe with all my heart that when we work through the challenges together, we become stronger. Those difficult times are part of the fabric of our marriage, and our shared history binds us. Not just the good, happy times, but the struggle through the pain of life. The reality of life is that sorrow and loss are part of the story.
Embracing all of the story–not just the fairy tale parts–is what makes marriage rich and deep.
"Two are better than one, because they have a good reward for their toil. For if they fall, one will lift up his fellow. But woe to him who is alone when he falls and has not another to life him up! Again, if two lie together, they keep warm, but how can one keep warm alone? And though a man might prevail against one who is alone, two will withstand him–a threefold cord is not easily broken." Ecclesiastes 4:9-12
Related Posts
Recommended Reading
These are affiliate links. If you make any purchase through my link, I will receive a small commission at no extra cost to you. These funds help defray blogging expenses. Thank you for supporting my work.