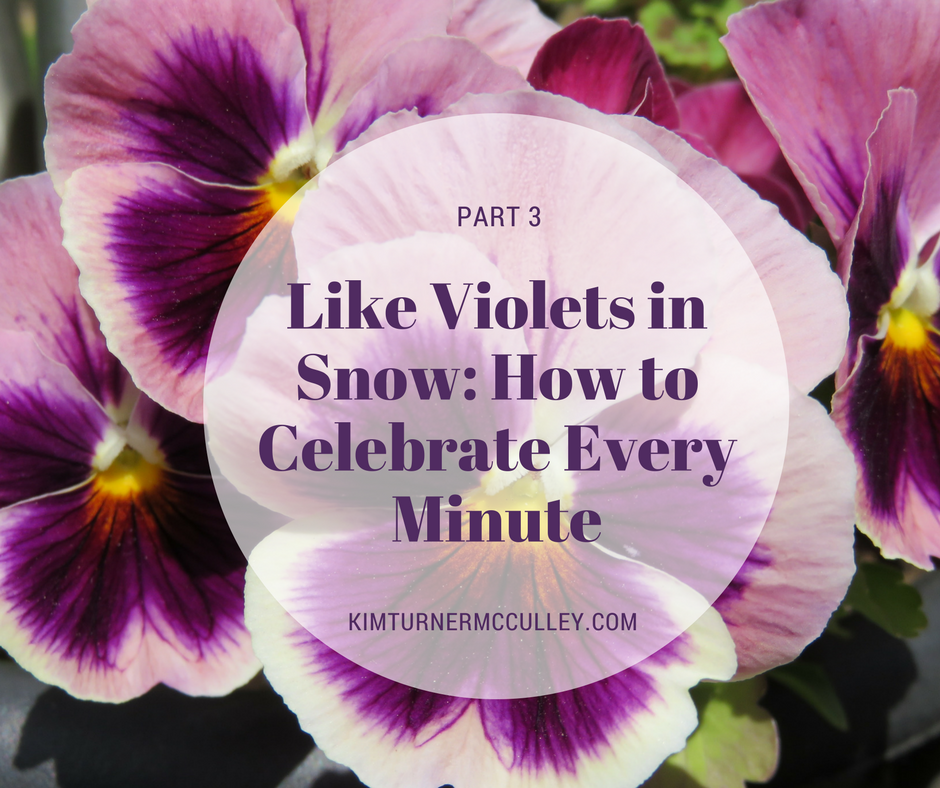 "But the fruit of the Spirit is love, joy, peace, patience, kindness, goodness, faithfulness, gentleness, self-control; against such things there is no law." Galatians 5:22-23
Like Violets in Snow: How to Celebrate Every Minute
This is part three of my four-part series A Grandparent's Influence. Click link to read SacredLumberyard,
Gracious Hospitality,  Wasted Life.
A Life Full of Joy
My Grandma Virginia Fossey was the most joyful person I've ever known.  She was always merry, kind, and generous. Before the days of "active listening training", she intuitively grasped this concept. Leaning forward, eyes wide, laughing or gasping or sighing or tsk-tsking at the appropriate moment, completely engrossed in every conversation; you knew Grandma heard everything you had to say; every person was important. I don't recall ever once hearing her say an unkind word about anyone; she was the Queen of finding the goodness in each person, always assuming their actions sprang from benevolent motives. It seemed she was never at a loss for words, always sharing a word of encouragement appropriate to the situation at hand, full of confidence that things would turn out for the best. Her strong faith in God and His goodness never seemed to waver.
It didn't occur to me as a child that this was particularly astonishing.
However, as I grew into adulthood and faced challenges of my own, I found that my own default mode in times of real difficulty was worry, anxiety, fear and depression. I gradually realized that Grandma was in a class of her own, especially considering the fact that her life challenges were significant by anyone's standards.
Grandma Fossey holding our oldest son in 1984.
A Life Full of Trials
Grandma's mother died in childbirth, and her distraught father kept her three-year-old sister, but delivered newborn Virginia to her maternal grandmother to be raised. There she grew on the farm,  seeing her father only on weekends. Even when he remarried and had additional children, he never brought young Virginia back home. Grandma was happy on her grandparents' farm, but the sting of her father's rejection remained throughout her life.
Later, Grandma married a man who was unhappy, angry and abusive. I often wonder what brought them together. Did he once have charm that was forever hidden from us? Was she filling a void left by the lack of a father? Whatever the reason, she found herself in an unhappy union with a selfish, cruel man. She worked hard to help provide for the family and to create an atmosphere of love, stability, and safety. When an accident rendered Grandpa Fossey unable to help provide for the family, Grandma rolled up her sleeves and worked even harder. She cleaned houses and businesses and washed laundry and did odd jobs to put food on the table for five children.
A Life Full of Abundant Generosity
They were poor–very poor–and lived in the tiniest little trailer. Those kids were raised on beans and grace and hand-me-downs. Poor they were, but Grandma still gave generously of what she had: peaches from the tree, flowers from the garden, homemade rolls. One year the church was gathering donations of food for baskets to give the needy at the holidays. Grandma insisted on contributing generously…only to discover they were collecting food for her own family!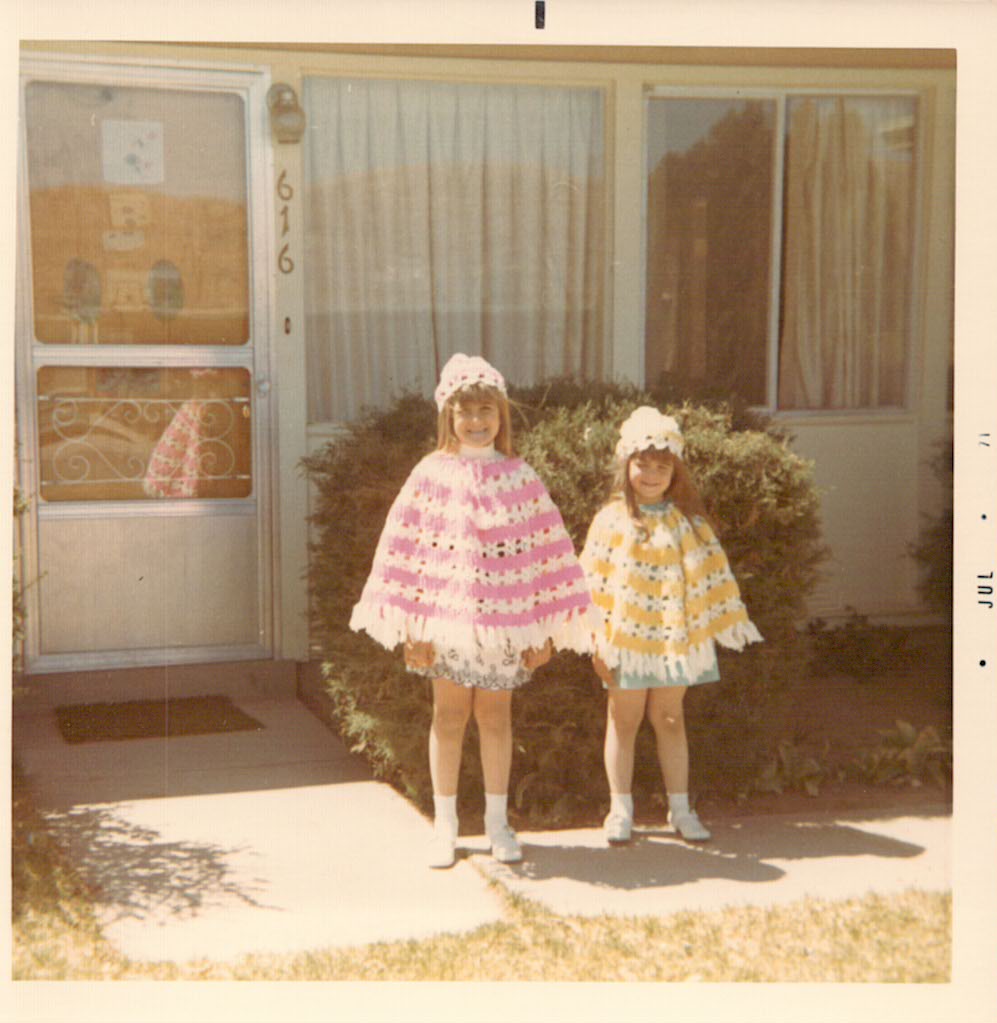 Grandma blessed many people with her beautiful crocheted gifts. My sister and I are modeling our poncho and hat sets outside our childhood home in Moab, prior to leaving for church in spring 1971.
A Life Full of Joyous, Vibrant Tenacity and Gratitude
Grandma found her calling when she was hired as receptionist at the Moab Museum. She loved this job so much that she simply refused to retire, even when she became legally blind during her last decade. My sister and I loved to visit her at the museum when we were growing up: looking through the collections, experimenting with the treadle sewing machine and the black lights on the rock display, playing in the tiny storage room at the back. We were proud of her museum position. Later in life she was honored to have one of the museum rooms named after her and to receive a commendation and plaque from the governor, thanking her for her years as a "Goodwill Ambassador" of the state of Utah to the many national and international visitors she greeted.  Although she was overwhelmed by this tribute, her favorite aspect of the job was leading tours when school children came to visit. Oh, she loved the children! Many of them dropped by to visit with her every day as they walked home from the Middle School just up the street. She continued working into her ninety-second year, until just a couple months before her death when she "took a leave of absence" due to failing health.
Grandma loved pink and purple, high-heeled shoes and FLOWERS! She always planted wherever they lived, in their trailer park yards. When I first started keeping house plants as a teen, I went to Grandma for guidance on how to care for my African Violets. Grandma loved flowers of all kinds, but I particularly remember purple irises, purple and pink petunias overflowing in baskets, roses, and violets: African violets, pansies, cheery tri-color violas. My sister and I each have some of her irises planted at our homes; surely it is no accident that we both love the colors purple and pink.
I always plant violets everywhere we go; their purple jauntiness makes me think of her.  Once, after a particularly hard winter in Alaska–where temperatures routinely hover at forty below zero and often plummet even lower– I came out my door and noticed a bunch of cheerful violas peeking through the snow. Immediately, I thought of Grandma. How like her! Cheerfully, tenaciously battling through the most bitter cold, pushing to the sun and blooming, encouraging me after a dark winter. 
Oh, how I long to be this person! She left me her teapot and teacup collection; we are both tea lovers and appreciaters of beauty. I treasure these objects, but I would even more desire to inherit her outlook on life: to always see the good, no matter how ugly things may appear.
To have stalwart faith when life seems so broken.
To push through the cold, the hard, the bitter and to bloom and encourage those who pass by. 
Like violets in the snow.
Like my Grandma Fossey.
If you want to make sure you don't miss out on anything–like Grandma's famous hot roll recipe—please sign up to receive every post in your email inbox.