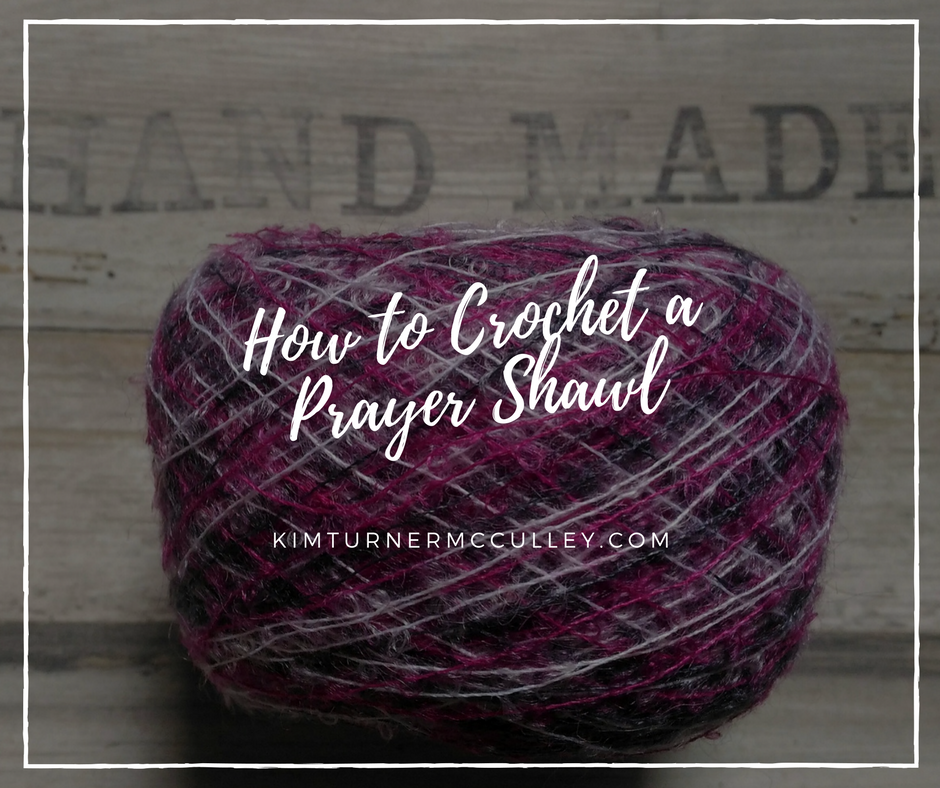 This post contains affiliate links.
How to Crochet a Prayer Shawl
How about you? Do you love to receive gifts? Do you love to give gifts?
I love to give gifts: Christmas gifts, birthday gifts, cheer-you-up gifts, you're-my-friend gifts, welcome-to-my-home gifts, no-reason-at-all gifts! I receive ridiculous amounts of enjoyment in thinking up little surprises, selecting just the right thing for that special person. Curating the monthly Grammy boxes makes me giddy with anticipation. I'm drawn to random assortments of small items, themed baskets, tiny luxury treats someone wouldn't purchase for themselves…and homemade gifts. I love to make gifts by hand.
When we were newlyweds, my husband was stationed in Kunsan, South Korea. This was an unaccompanied tour, which meant that military dependents were not authorized to go along. However, we didn't like being apart, so I got a passport and visa, bought a plane ticket and flew by myself to Korea. I wasn't allowed to live on base, so we rented a tiny apartment above the home of a local family. Believe me, there are numerous stories to be told about the Korean adventure, but today I'll focus on the fact that I spent a lot of time alone in a foreign country where I had no readily available transportation, no telephone, and didn't speak the language. A lot of time alone. Fortunately, before I left the States, I had the idea to purchase supplies and a Teach Yourself to Crochet book. In that little apartment I spent hour after hour alone reading, writing letters, and crocheting.
Did I mention that we also had no television?
or radio?
or hot running water?
or a lock on the front door?
An adventure! It was an adventure!
I digress.
The point is (I've got one, I promise!) that I spent numerous hours engaged in the happy occupation of learning to crochet. Of course, learning a new skill is much easier today. You can find numerous crochet blogs and YouTube videos. I'll add a link to some of my favorites at the end of this post. Even if you don't know someone who crochets, instruction is readily available at any hour of the day or night. (Insomniacs, get your crochet hooks ready!)

Prayer Shawl
I've crocheted many items: Christmas stockings and ornaments, potholders, headbands, flowers, hats and scarves, blankets large and small. I love to crochet newborn baby hats. I can easily make one in an evening, and ohhhhh they're so sweet and tiny! However, one of my favorite items to crochet is a prayer shawl.
If you're like me, you're imagining a garment that one wears to cover their head when they pray, but that's not what I'm talking about. A prayer shawl refers to a shawl or lap blanket that one creates as a gift. Usually the recipient is someone in need of encouragement: going through chemo, struggling with a loss or chronic illness, is homebound. The idea is that as you craft the prayer shawl, you're praying and thinking warm, loving thoughts of this person, and when they wear it they will feel wrapped in your love and prayers.
The photo above is a prayer shawl I'm preparing to ship off to someone next week. I've made fifteen or more of these over the past seven years and enjoyed every stitch. I'm not a good sitter: part of this is due to my perfectionism and perceived mandate for productivity, part of it is that I tend to eat, pick at my nails, or fall asleep when I'm sitting still. I drive my family batty by my continual leg jiggling and jumping up to tidy things or wash dishes while we're watching a movie together, so I often sit and crochet. That keeps me busy, still, enjoyably productive, and safe from exasperated sighs from my kids.
Numerous studies have shown that yarn arts have documented benefits for both physical and mental health. I receive a jolt of pleasure from simply looking at all the gorgeous yarns on the market. I've never met an art supply I didn't like!
I have made many shawls from this pattern book and this one. I used regular metal crochet hooks for many years, but I have some arthritis and I started fumbling the metal hooks when I was tired, so I purchased these ergonomically correct hooks and they made a huge difference for me. I can't determine if these are my exact brand, since mine don't have brand identification. However, these look like mine and have the longer handles. I purchased some other ergonomic hooks that had shorter handles and I hated them.
When the pattern calls for worsted weight yarn, I'm a fan of Red Heart Soft or Vanna's Choice. I also love Stylecraft Special, which comes in an astonishing array of gorgeous colors. These are all inexpensive yarns, what I would consider "entry level". You can most assuredly break the bank with gorgeous specialty yarns that will take your breath away, but in addition to being pricey, some of these can be tricky to work with. I suggest that beginners start with the suggested options. Make sure you are choosing Red Heart Soft and not the original Red Heart, which I find to be stiff and scratchy.
If your pattern calls for a chunky weight yarn, there are some lovely options available. I like my yarn to be soft and have a bit of give to it; you'll find it works up more easily. Lion Brand Wool Ease has a nice feel to it in the chunky yarn category.
As promised, here are some useful links!
Attic 24 Crochet Blog–I'm so excited every time Lucy posts something new! In addition to crochet, she talks about long walks in the English countryside and the gentle joys of simple living.
YouTube Crochet Tutorials:
Free Pattern Sites–I have found in general that it's safest to use free patterns distributed by the major yarn companies. Their patterns have been tested. Other free sites can be hit and miss: some offer confusing instructions. As a beginner, I would stick to the tried-and-true.
I hope I've encouraged you to try a new creative pursuit! I would love to hear all about your favorite creative activities! When we attend museums or study history, I've always been astonished to see that throughout the ages, people have spent considerable time and energy on creating beauty, even when their existence was precarious! Lovely pottery, weaving, beadwork, embroidery, painting, and drawing have been consistently found in archeological sites. I believe that our Creator fashioned us with a desire for beauty and art…look at the breathtaking world we live in! 
Leave comments and tell me all about it! Post pictures of your art on your Instagram feed and tag me @kimturnermcculley. Visit my Pinterest Boards, where you'll find my Crochet board and other fun things. And hop on over to my Facebook page, Kim Turner McCulley, Writer and share a photo of your latest creative project in this thread. I'll be looking forward to it!