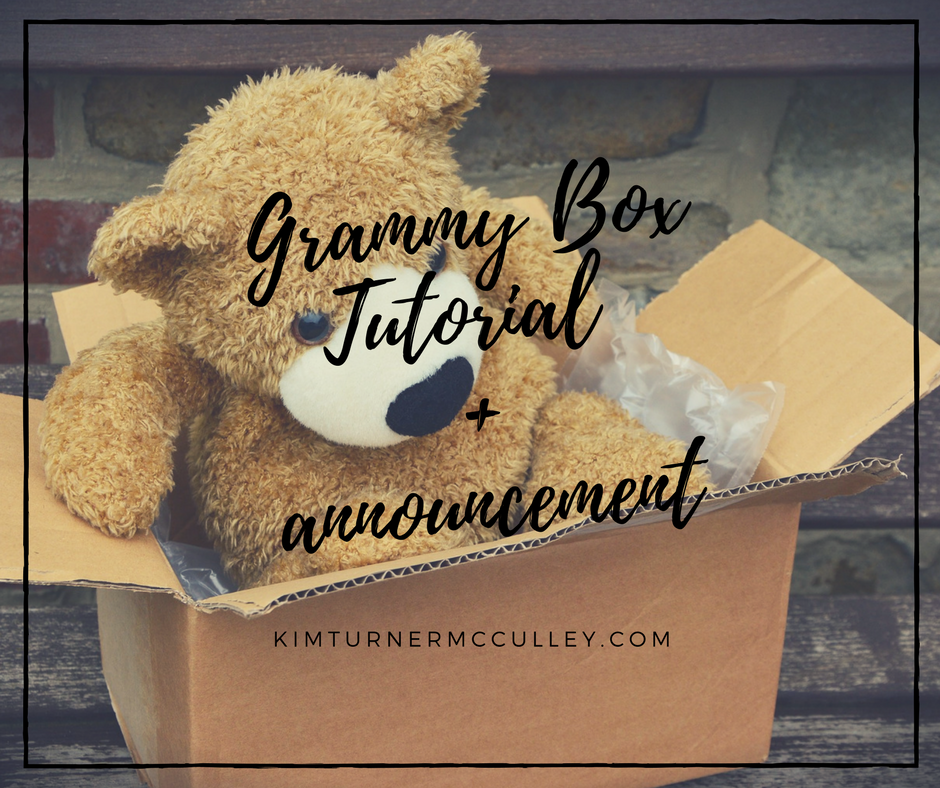 "Grandchildren are the crown of the elderly, and the pride of sons is their fathers." Proverbs 17:6
Grammy Box Tutorial + Announcement
Post contains affiliate links.
How can I maintain a relationship with long-distance grandchildren?
That's a burning question for many grandparents, myself included. Hmm. What child doesn't love mail? Even better: surprises in the mail! As a child, I adored receiving mail, so I decided my grandchildren will regularly have something in their mailboxes.
And that is how the Grammy Box was born.
When I wrote about Grammy Boxes in my Long Distance Grandparenting Series, I received a lot of interest. I thought it would be fun to take pictures of one of the Grammy Boxes just to get your creative juices flowing and start a dialogue on more great ideas.
Stay tuned, because I also have an exciting announcement in conjunction with the Grammy Boxes (aren't you curious?)
West Coast Grammy Box
Three of our grandchildren live on the West Coast, and here are the contents of their box. Many of these items were purchased at a Scholastic Warehouse Sale. If you can latch on to one of these sales, it's a good place for Grammy Box bargains.
We stumbled across the My First Crossword Books at the base Exchange, but they're also available on Amazon. They had a variety, and they are wonderful! The ones we found were for grades K-1 and grades 2-3.
I'm a lover of magazines, and I generally divide my copies between the Grammy boxes once I've finished with them. Once everyone looks through them, they're fun to cut up for collages and vision boards.
This box contains some Thanksgiving placemat/worksheets that I picked up at Dollar Tree–my favorite Grammy Box supply store! I found some of the exact placemats at Amazon for $32, but that's ridiculous. Perhaps your local Dollar Tree has something similar.
Do you see the white envelopes at the back with the words Freeze-Dried Fuji Apple? I purchased a case of these in assorted flavors, and every agrees they are delicious! I highly recommend these as a healthy treat for your grands.
I also sent some Patience Fruit & Co. Organic Dried Cranberries…oh my! These are sugar free and absolutely delicious. Honestly, they taste like the most delicious gummy fruit snack you've ever eaten in your life. I have to hide the case from myself between Grammy Boxes or I would eat them all.
I also threw in a few mini bags of Cheetos leftover from the treats we handed out at Halloween, and several packets of Land of Lakes specialty hot cocoa packets. The kids raved about those!
If you haven't tried Celestial Seasonings line of special holiday teas, you are missing out! Candy Cane Lane is a universal favorite around here, and Sugar Cookie is exceptional also. You can sometimes find these holiday teas in an endcap at the local grocery stores, but it's hit and miss. I have better luck finding them locally at Health Food Stores.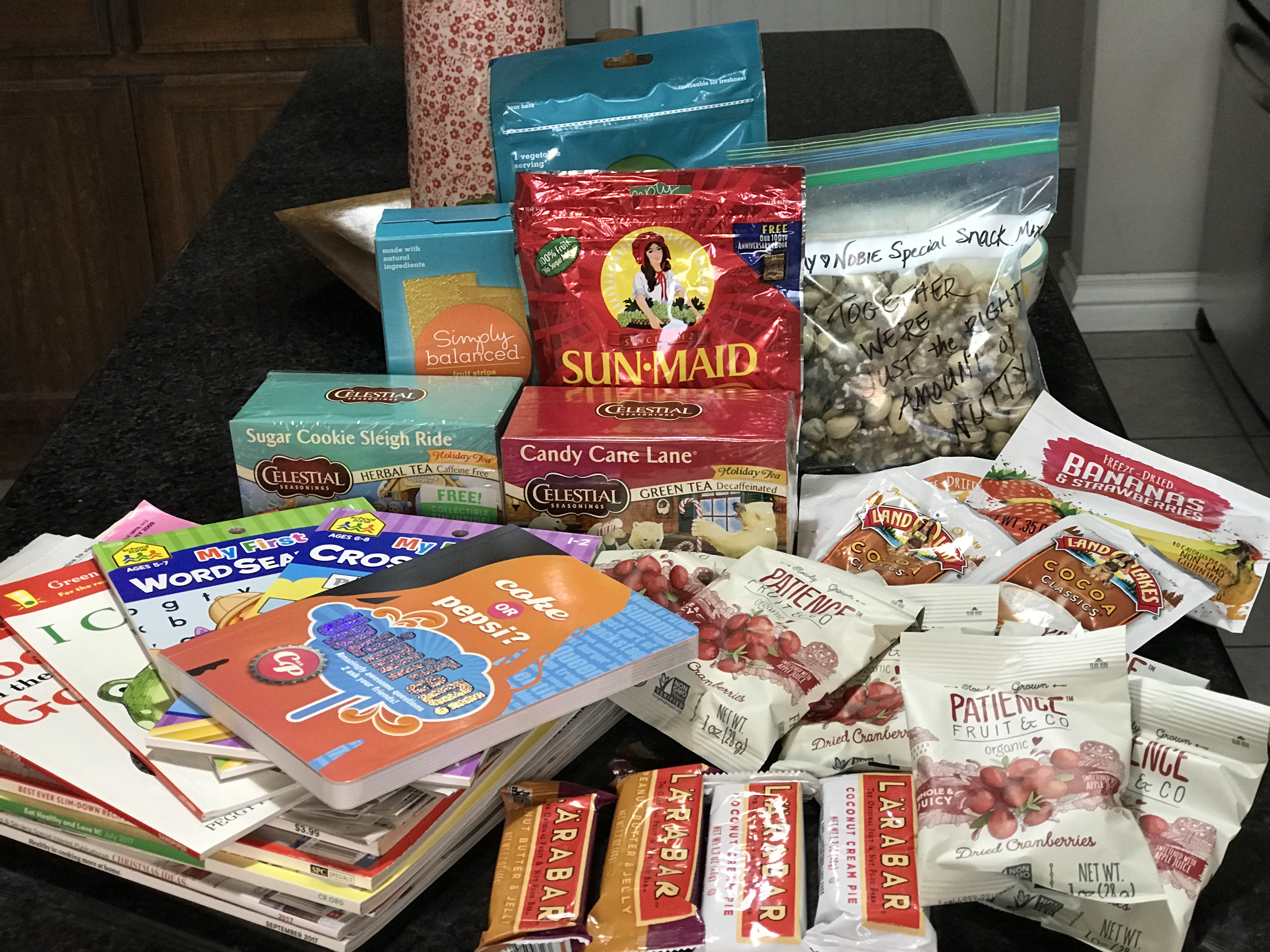 East Coast Grammy Box
Another grandchild lives on the other side of the country, more toward the East Coast. They are extremely healthy eaters in this household. My daughter is vegan and sugar-free and our grandson has voluntarily joined her in this way of life (I know, right?! He always turns down sugar, even though my daughter makes it very clear that he's free to eat it.) Obviously, they don't get candy or Cheetos or hot cocoa packets (except for a packet or two for my son-in-law!) This box contains duplicates of most everything in the West Coast Box, except his treats are Lara Bars, which he and my daughter both love. They come in full size and mini bars. We actually keep Lara Bars around the house. My husband owns a Home Inspection business and works long hours from his truck. He keeps a stock of Lara Bars in his vehicle. His favorite is Peanut Butter and Jelly.
My grandson and I also have a funny tradition that I usually follow. We are both nut lovers; my favorite is an unshelled pistachio, his favorite is a walnut. So, one time I mixed up those two nut varieties in a baggie and marked it as our special nut blend. He was so excited about this snack–choosing it almost every afternoon at snack time–that I almost always make up a bag for him.
So, that's it for the Grammy Boxes! Two boxes for two long-distance families…
Wait! What is this?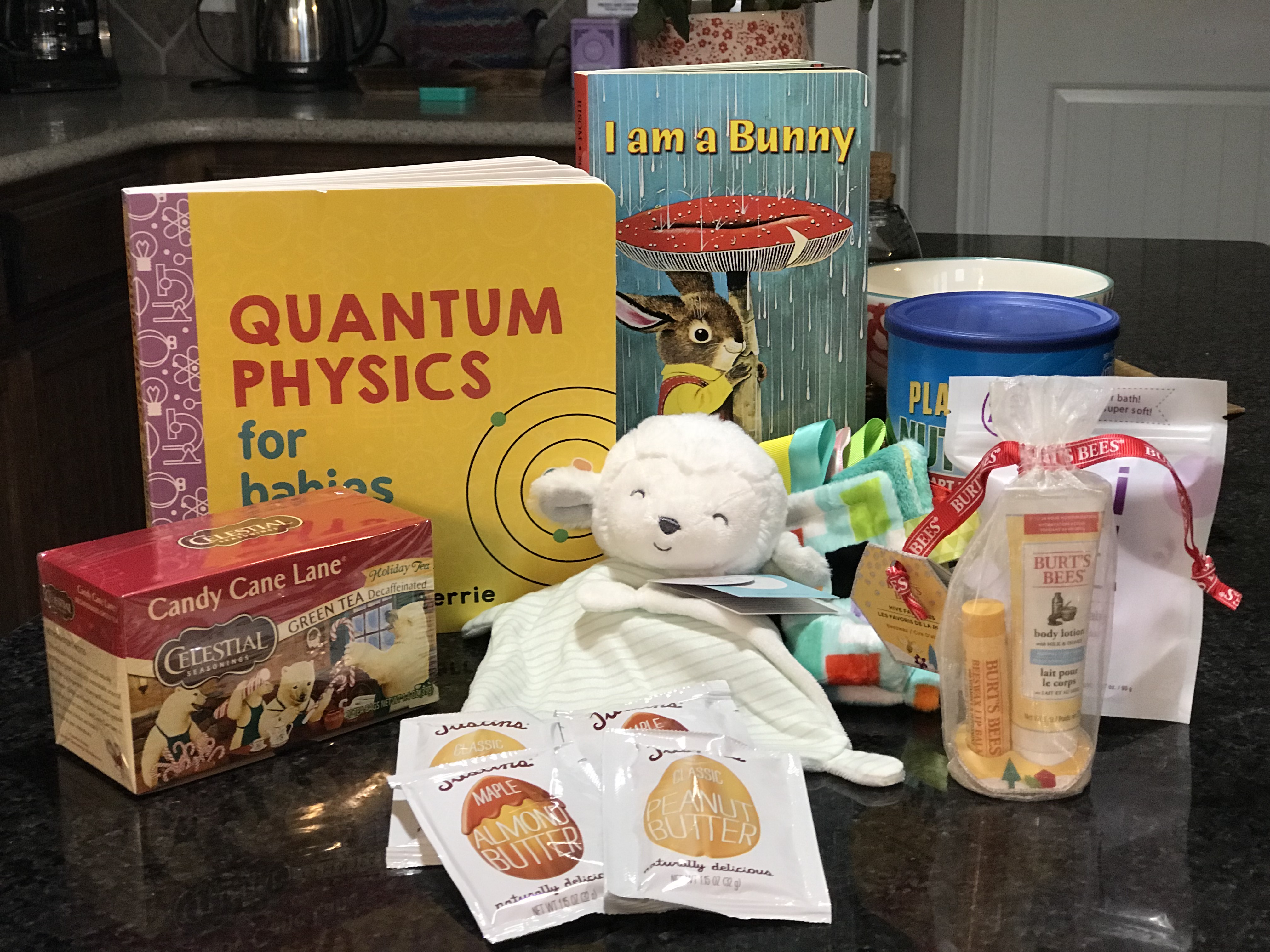 There's a New Grammy Box!!!
Yes, we are expecting our fifth grandchild! Grammy Box #3 will be mailed to the Midwest, where our son is finishing up his Residency for Internal Medicine. We're so thankful and excited.
Of course, it's early days and most of the treats are actually for Mommy and Daddy. However, I could not resist sending a few treats for baby. The I Am a Bunny board book tickled me because I read that story to all my children, so that was selected for nostalgia. (Besides…Richard Scarry! I adored his drawings as a child!)
My mom and I laughed out loud in the book section of Target at Quantum Physics for Babies. It is a delightful book, with illustrations that are perfect to engage the attention of newborns. I discovered this is actually an entire series of books that can be purchased as a boxed set. I'm quite sure more of these titles will be in future Grammy Boxes. No child related to me will ever lack books!
I also included a tiny Taggies Blanket similar to this one (the one I purchased has apparently been discontinued by the manufacturer). Last but not least, a Lamb Lovey similar to this. How fun and exciting to be packing boxes for a brand new grandchild. Is there anything sweeter?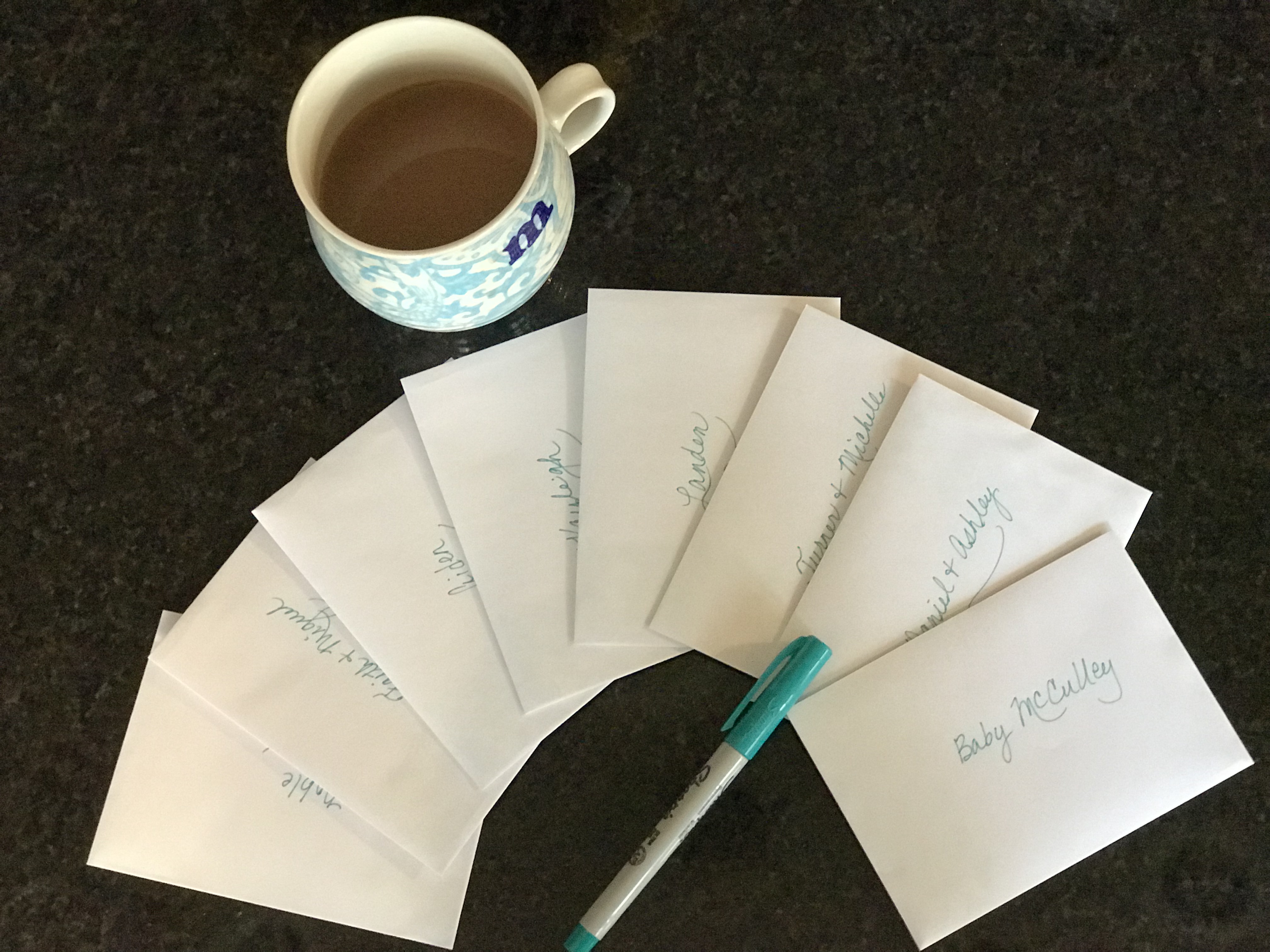 Grammy Box Letters
Last but not least: handwritten notes all around! I'm a woman of words; my Love Language (not surprisingly) is Words of Encouragement. Therefore, it's important to me to tell my loved ones in written words how much I love them. It does take time to handwrite all these letters, but I think it's well worth it.
Talk to me! Leave a comment and share your favorite treats to give your grandchildren. I would also love to hear what special things you do to connect with your loved ones. Let's all encourage one another to be the very best Grammys ever and leave a legacy of love that endures.
Long Distance Grandparenting Series: Part 1, Part 2, and Part 3.
A Grandparents' Influence Series: Sacred Lumberyard, Gracious Hospitality, Like Violets in Snow, Wasted Life.