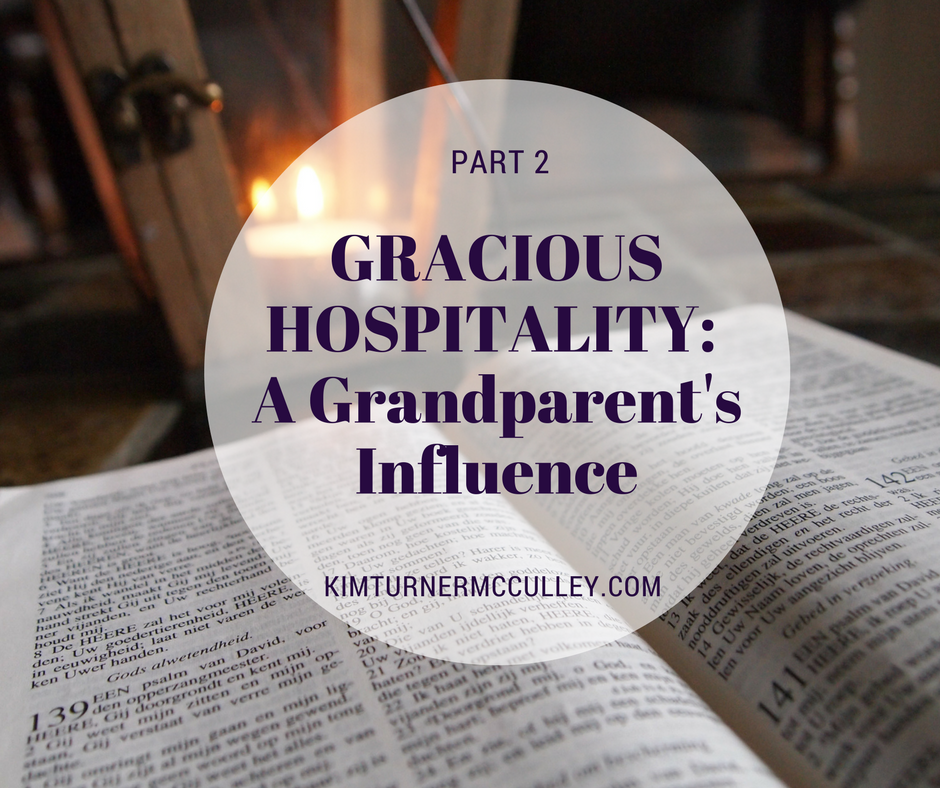 "Use hospitality one to another, without grudging." Hebrews 13:2
This post contains affiliate links. Thank you for your support.
GRACIOUS HOSPITALITY: A Grandparent's Influence
This is the second post in the series A Grandparent's Influence, which examines some of the ways my grandparents made an impact on my life. If you missed it, here are my posts about Grandpa Turner, Grandma Fossey, and Grandpa Fossey.
Grandma Turner serving coffee to guests.
I'm the world's biggest pie snob, and I lay the blame at my Grandma Turner's feet.
She made a chocolate meringue pie that is surely on Heaven's menu. Her pie crust was flaky perfection. Her filling was creamy and luscious and every bite was like winning the dessert lottery. The meringue was a lovely work of art. In other words, the most perfect pie on earth. The unfortunate side effect of this is that where others rave at restaurant pies, I turn up my nose. People ooh and ahh over the latest bakery, and I sniff in disdain. This is what happens when you're Euteva Turner's granddaughter.
Grandma was a perfectionist at everything she did. She was a college graduate back when few women furthered their education. She was a wife, mother, and grandmother who worked full time for a judge, had hobbies and a full social life, prepared delicious country meals every single day, sang in the church choir, was the church treasurer, and kept her house spotless–and I do mean spotless. The scent of Comet cleanser fills me with fond memories, since her house always smelled as though everything had just been scrubbed down with it. Comet, cooking meat, and chocolate pie: those are the scents of childhood at Grandma and Grandpa's.
Grandma was gracious. She was a lady. She was reserved, practical, private, and even-keeled. She didn't gush or talk about feelings or exhibit her emotions. I never once saw her lose her temper at anyone, seem anxious or disturbed.
She always had an artistic project going: needlework, prom dresses, formal gowns for my wedding party, costumes. Her needlework certainly met the standards of any professional seamstress. She helped me when I wanted to learn to sew, but I was always timid to show her my attempts. She examined every seam, checked for meticulous fit. Her work was so perfect, and mine…wasn't. She tried to be encouraging, but it was apparent to me that I wasn't destined to be seamstress extraordinaire.
Grandma wasn't a story teller like Grandpa. She was never the life of the party.
She wasn't the life of the party, and yet…their home was party central. When the relatives came, when the church committee needed a place to meet, when the new preacher came to town, when a granddaughter needed an emergency location for a 7th birthday party…Grandma always opened her door. She made hospitality look so easy. Everything was clean, everything was beautiful. The white lace tablecloth came out, the heavy white plates and serving dishes rested on the table, and the feast began. There was always food: snacks, or a full meal, or coffee and dessert. Grandma worked quietly in the background, serving everyone, taking care of everyone, making all feel welcome.
I knew from a very young age that I wanted to be just like Grandma. I'm not quiet, or reserved, or particularly even keeled. I can be pretty emotional (ask my husband and kids!). I'm not like Grandma, but I value what she valued. Family is important, home is important, faith is important, community is important. I want to make people feel welcome and valuable. I want to bring out the white tablecloth and the white plates and I want to open the doors. Her gift for hospitality was something beautiful.
I'm all grown up now, and I see the cost of hospitality. It is not as easy as she made it seem; in real life, it's an awful lot like hard work. There's so much that happens behind the scenes beforehand, during, and afterward. Making people feel welcome is a gift, a talent. It involves sacrifice. Creating a party doesn't just happen of its own accord.
It's true that Grandma was never the life of the party.
She was the heart.

I will be posting the recipe for Grandma's world famous Chocolate Meringue Pie. To be sure you don't miss that post or the other posts in this series, please sign up for my email list to receive every post in your inbox. If you would like to read some great books about offering hospitality, here are some favorites!