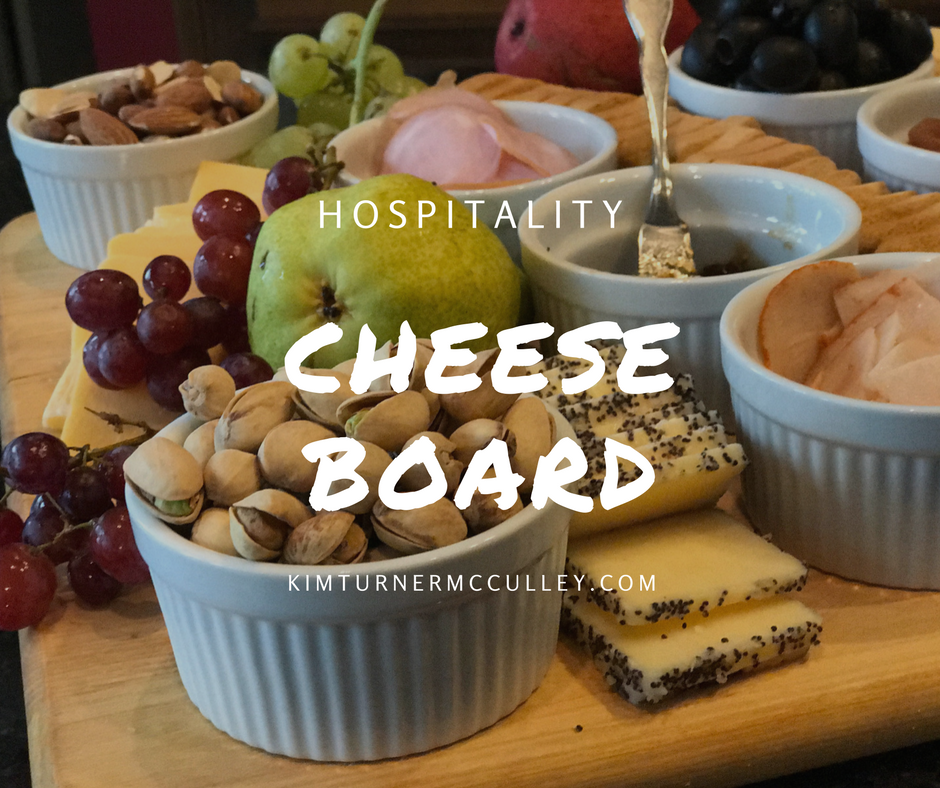 This post contains affiliate links. When you click through my link and shop, I receive a small percentage at no extra cost to you. Thank you for your support of my blog.
Cheese Board
If you've been here long, you know I love to feed people. I receive great satisfaction from gathering a group of family or friends and creating delectable food and making sweet memories. I used to fuss and barge through the house before expecting company, cleaning and polishing and seeking perfection, concocting beautiful, time-consuming feasts, and pretty much making my family miserable. With age comes wisdom, so I've given that up. Once I realized that it was all about creating memories, I (mostly) set aside my perfectionistic ways and focused on hosting a good time.
One of our favorite dinners is the Snack Dinner, and it doesn't get better than a Cheese Board. Of course, this is a homage to my Grandpa Turner and his cheese and cracker feasts. Of course. I'm overwhelmed with sweet memories every time I take a knife to cheese, and I do it often.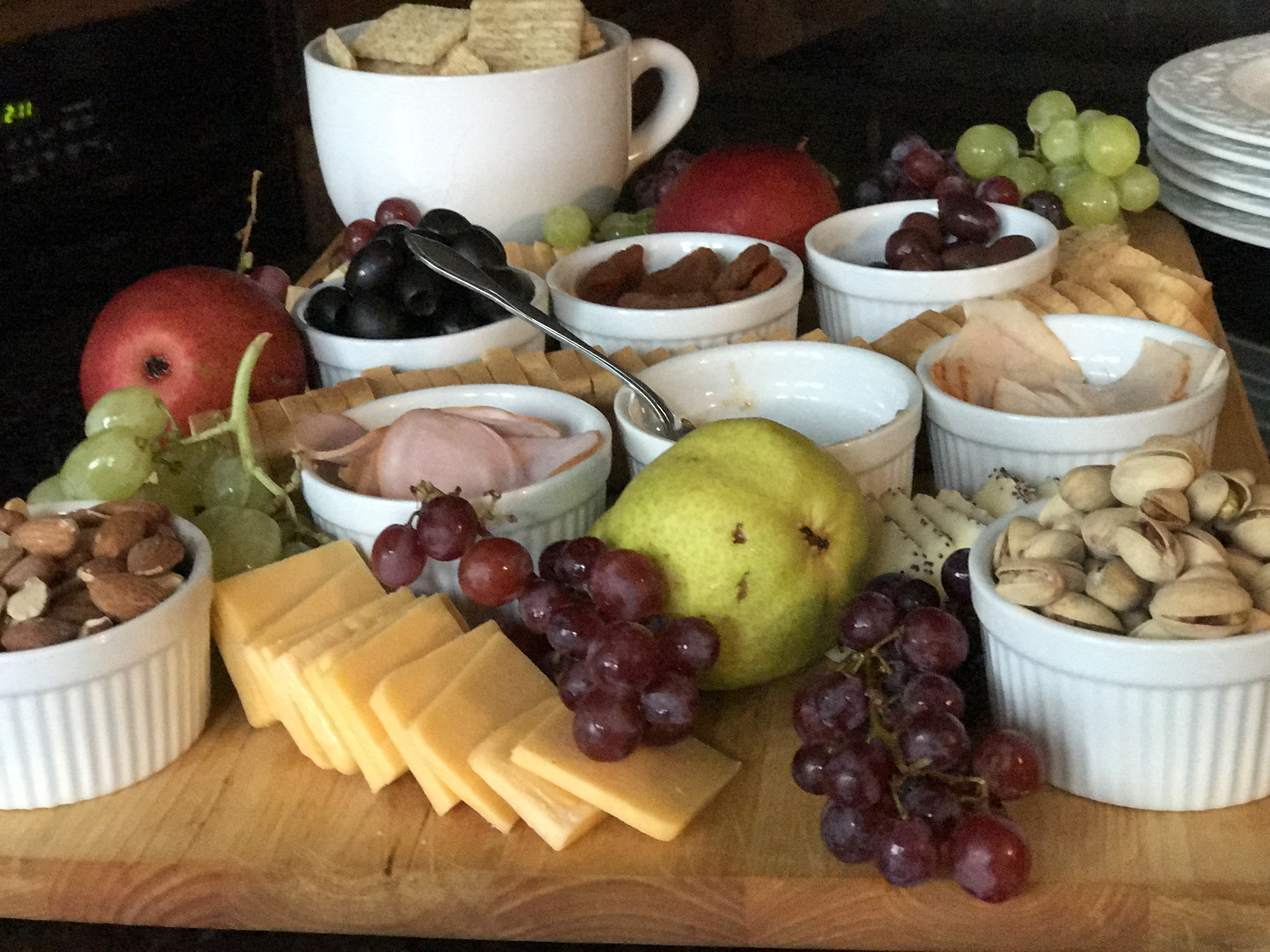 Quick and Easy
The best thing about a Cheese Board–besides the lovely memories–is that it's quick, easy, and versatile. I always–always–have ingredients on hand to put together a respectable cheese board. We are Cheese People.
First, you need a board. Anything will do, but I do like to keep it pretty. You can use a platter, but I prefer a cutting board of some sort, since there will be cheese slicing happening. I have a couple large wooden boards. If you need one, I like this one and this one. I also have my eye on a large slate board such as this. (Gift suggestion alert!). This marble board is also lovely.
Once you have your board or boards ready, it's time to go wild! Take stock of what's in your pantry and fridge.
We enjoy extra sharp cheese. Tillamook makes a lovely extra sharp. Cracker Barrel's White Vermont Cheddar is delicious, and should be readily available in your grocery store. We also enjoy Irish or English cheddar.
We're also fond of Apple Smoked Gruyere and a good feta. Our local grocery store has recently added a cheese counter, and I bring home a couple new varieties almost every time I shop. It's amazing how many kinds of cheese are available even at a local grocery store.
You're going to need crackers or bread. Just add whatever you have on hand: Triscuits, Wheat Thins, Breadsticks, French Bread…there's no way to mess this up!
Now it's time to get whimsical. Be creative!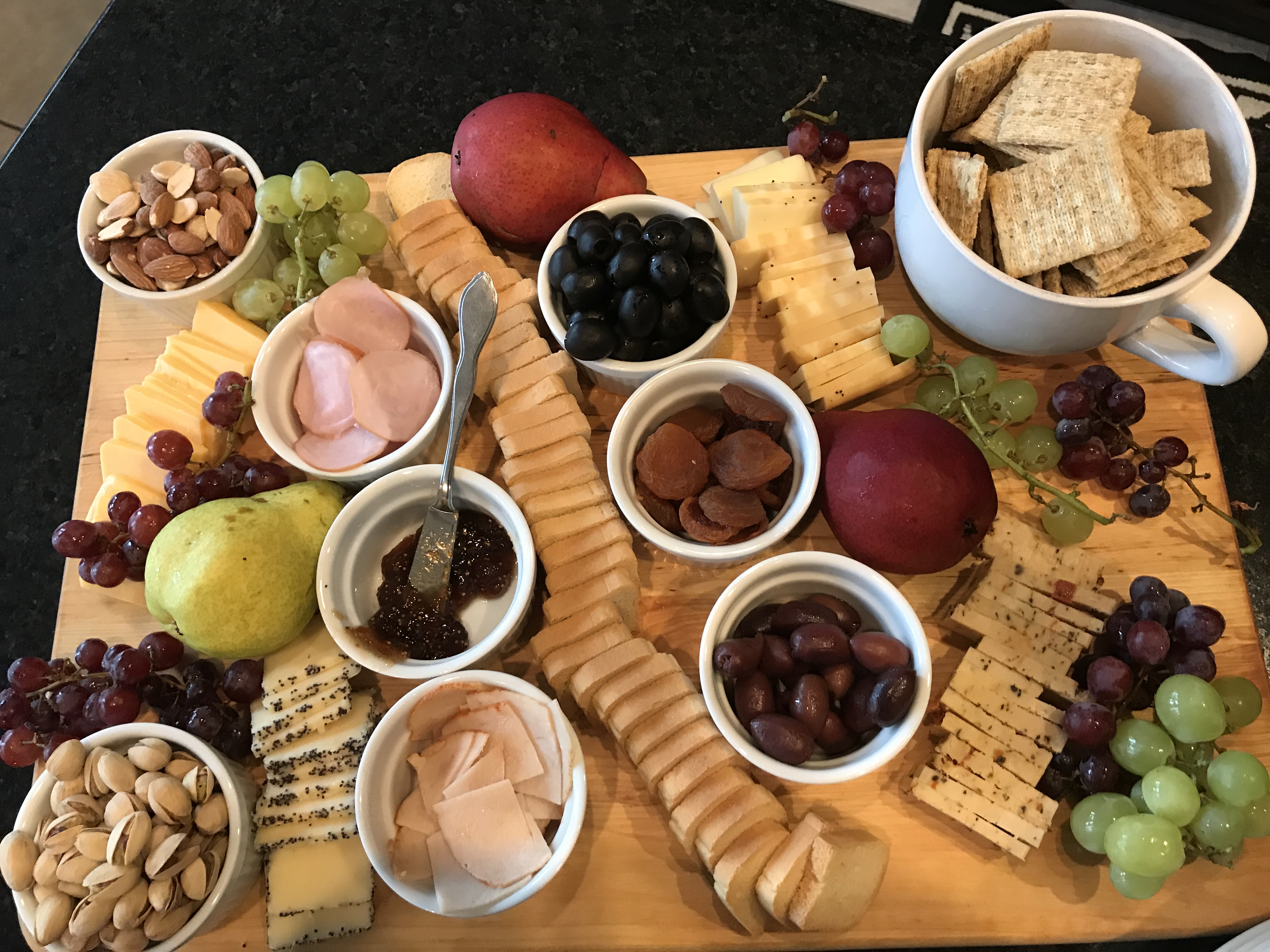 You can add lunch meats, pepperoni, prosciutto; olives, pickles, peppers; fig jam or other spread; assorted nuts; fresh and dried fruits, cooked or raw vegetables. For dessert you could bake or pick up some chocolates such as these which are quite tasty.
It's possible to put out a gorgeous and tasty spread with very little prep time and no cooking at all. Fun help-yourself dinners such as this are perfect for game nights. You relax and enjoy the food and fun with your guests.
I'd love to hear about your favorite meals and tips to make hospitality stress-free. Please share your ideas in the comments below. You may enjoy perusing my Pinterest Board: Cheese Boards and Snacky Meals. There you will find stunningly beautiful cheese boards, charcuterie platters, crudite plates, Mezze platters, appetizers, and antipasto spreads. Okay, now I'm starving and ready to host a get-together! If you host a Cheese Board Party, I'd love to hear all about it. Come back and tell me how it goes and post your photos on Instagram with the tag #Kimsblogeats