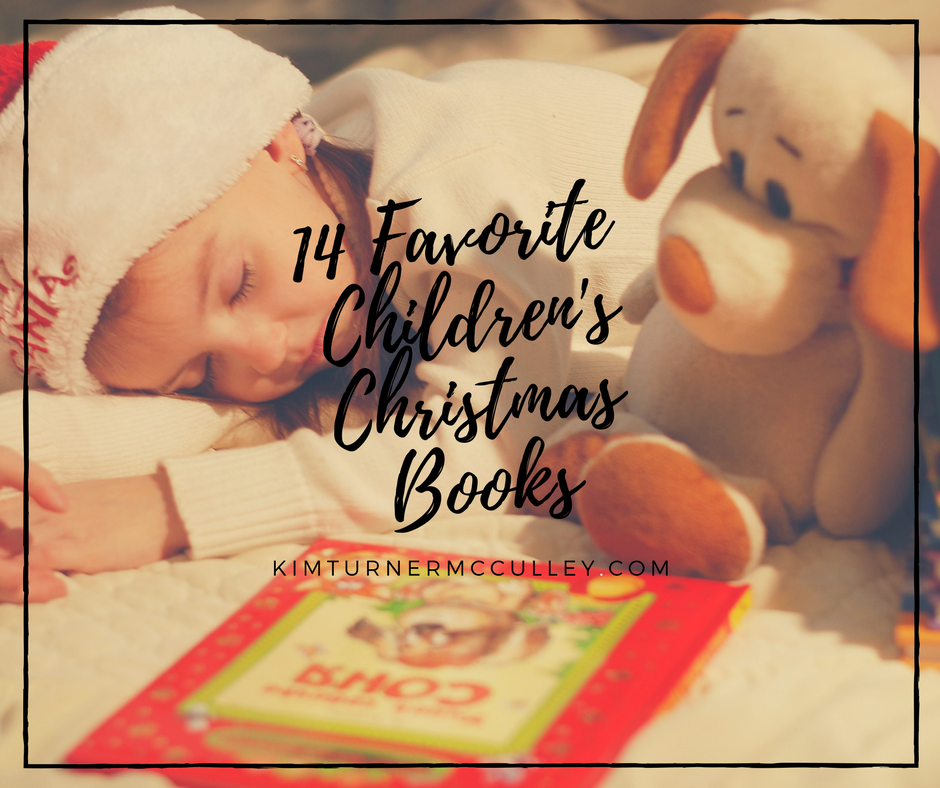 14 Favorite Children's Christmas Books
Christmas Reading and Gift Guide
Post contains affiliate links. When you purchase through my links, I earn a small percentage at no extra cost to you. Than you for your support for my work.
Snuggled up with freshly bathed and jammied children, enjoying a stack of beautiful picture books before bed. Sprawled together on the couch reading books after breakfast or before naptime. Laughing over the antics of the Poky Little Puppy, tongue-tangled at attempts to read Dr. Seuss, tearing up over the Velveteen Rabbit's desire to become real. Inspiring children's minds, expanding their vocabulary and constructing a strong foundation for lifelong literacy, building relationships one story at a time.
Who wouldn't want to be part of that?
Yes. Yes, please. These are among my most treasured memories as a parent and grandparent.
I have a lifelong love of children's books. I regularly spend time perusing the new offerings at Barnes and Noble. I hang out with children's book authors: what a group of encouraging, generous, and fun people! Weekly, I read to my grandchildren via Skype and enjoy books old and new. I may be 54 years old, but I still read children's literature for pleasure. The research for this post was an extremely enjoyable morning. Here are fourteen favorite Christmas books to share with your children and grandchildren. I have grouped them into specifically Christian Christmas Books, More Christmas Books, Christmas Books Featuring Grandparents, Timeless Classics, and then My Favorite Christmas Book at the very end.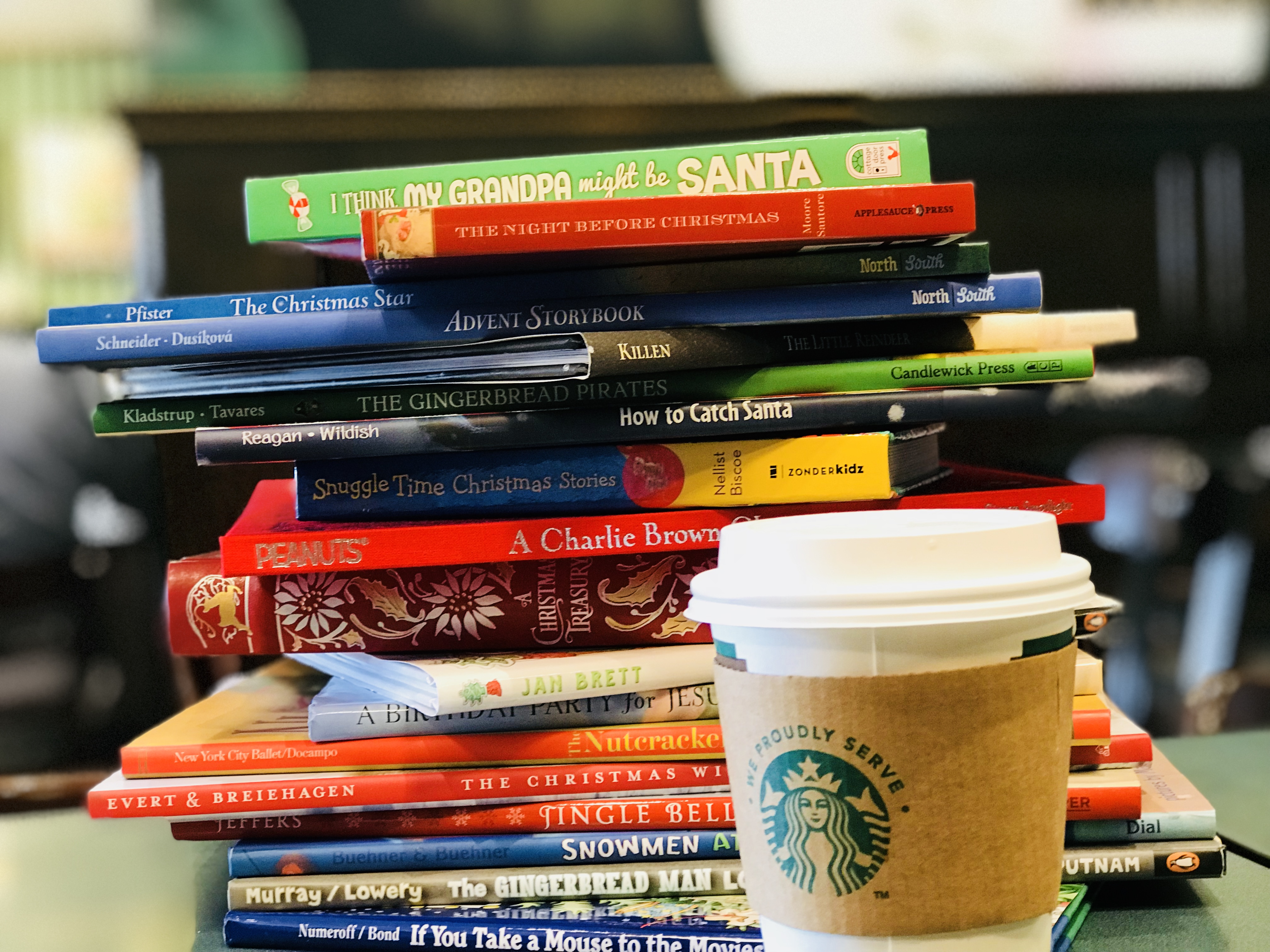 A morning at Barnes and Noble with a Chai Latte and a gorgeous stack of picture books!
Five Expressly Christian Christmas Books
 Jesus Storybook Bible, by Sally Lloyd-Jones, illustrated by Jago.  This is my favorite story Bible. Every story from Old Testament and New points to Jesus, and the Navity stories are beautiful.
 Advent Storybook, by Antonie Schnieder and Maja Dusilcova. This charming book contains 24 Christmas stories with a strong Christian emphasis: one story for each December day leading into Christmas. For more similar books, look here.
 Twas the Evening of Christmas, by Glenys Nellist and Elena Selivanova.  This is a specifically Christian retelling of the poem The Night Before Christmas.
 Snuggle Time Christmas Stories, by Glenys Nellist and illustrated by Cee Biscoe. This charming board book is a collection of verses and short stories. For more board books in this series, click here.
Snowmen at Christmas, by Caralyn Buehner and illustrated by Mark Buehner. Our cheerful Snowmen, women and children are back celebrating Christmas with a fun-filled community festival! I love the sense of joy and fellowship. I categorized this book as a Christian Christmas book due to the line "They sing songs about snow, And the birth of a King". This book is on my wish list; I would love to read it to the grands over Skype. For the board version click here. For more books about the Snowmen, click here.
 
Our youngest son reading to our youngest grandchild several years ago.
More Great Christmas Books
The Gingerbread Man Loose at Christmas, by Laura Murray and illustrated by Mike Lowery. I love the Gingerbread Man books, and this one is especially charming. The emphasis throughout the story is on giving gifts, words of kindness, and acts of appreciation. I love how excited the children and the Gingerbread Man are to give to others; there is no mention of wanting or receiving presents, only on giving. Lovely, lovely, lovely. For other books about the Gingerbread Man, click here.
Gingerbread Christmas, by Jan Brett. What a sweet story! It features an old fashioned town festival, complete with gingerbread musical instruments! The illustrations are charming. Jan Brett has given us numerous other lovely books, most notably The Mitten. To view her other books, click here.
  The Little Reindeer, by Nicola Killen. If you're looking for a tactile, hands-on book with cut-outs and engaging art? This is your book. I love the color palette: black, white, and grey with pops of red on each illustration. Nicely done.
Christmas Books Featuring Grandparents!
I Think My Grandpa Might Be Santa, by Holly Berry-Byrd, illustrated by Tim Budgen. What a sweet ode to Grandpa! Grandpa has so many wonderful qualities that surely he must be Santa.
 How to Catch Santa, by Jean Reagan and illustrated by Lee Wildish. Written by the author of How to Babysit a Grandpa, How to Babysit a Grandma, and many other family titles, it's no surprise that this story showcases family relationships. It gave me the warm fuzzies. To see more by Jean Reagan, click here.
Timeless Classic Christmas Stories
 The Night Before Christmas, by Clement C. Moore and illustrated by Charles Santore. In my mind, this is a must read on Christmas Eve. Tradition! It also comes in Board Book form.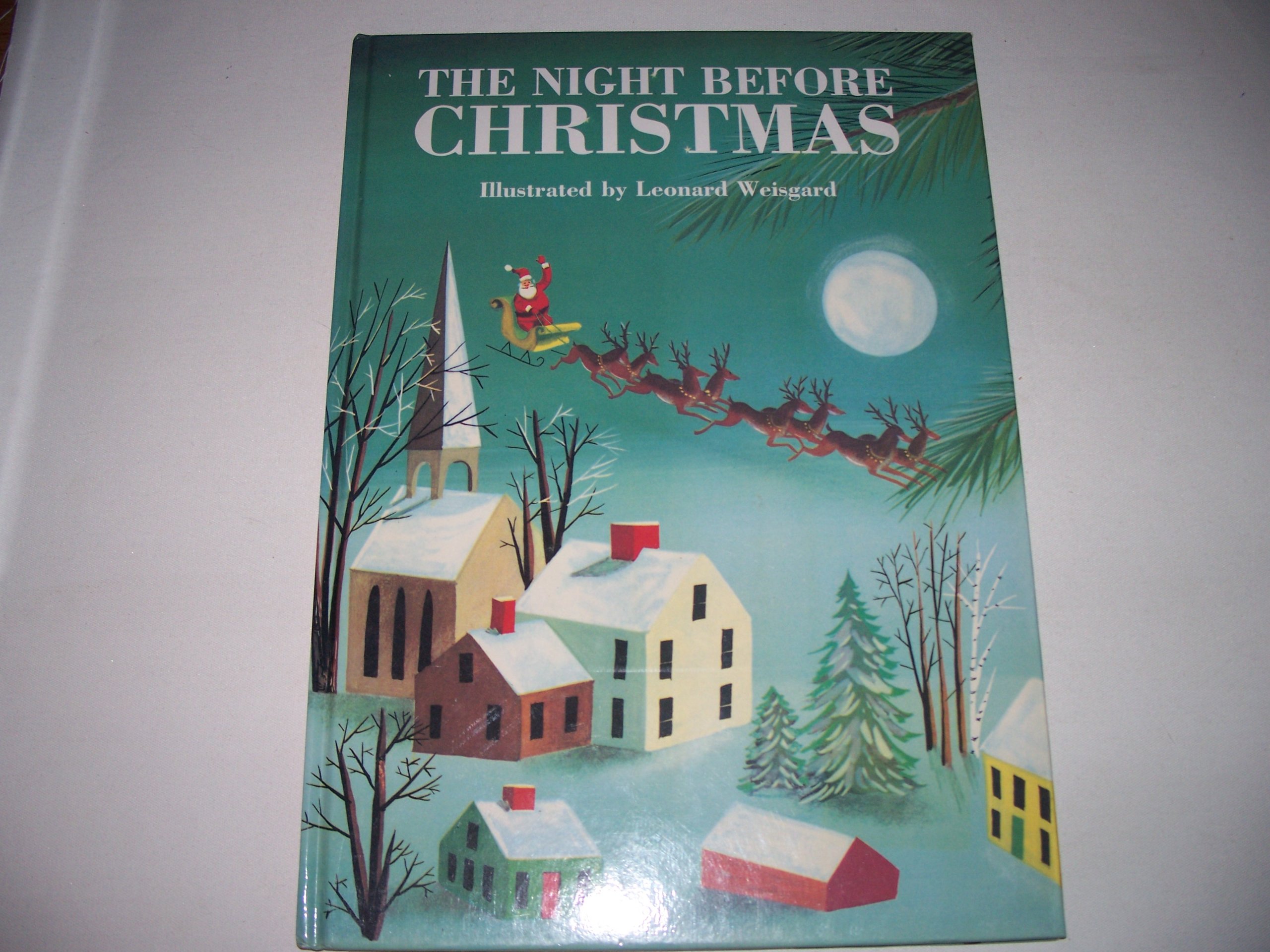 Here's the version my sister and I read each Christmas Eve. It's no longer in print.
 The Poky Little Puppy's First Christmas, by Justine Korman and illustrated by Jean Chandler. Who isn't in love with the Poky Little Puppy? It's so hard to be good! He always manages to get himself into scrapes, and yet he's tender-hearted and loving. I read this book to my own children, and still love it. For more Poky Little Puppy stories, click here.
 If You Take a Mouse to the Movies, by Laura Numeroff and illustrated by Felicia Bond. A zany, bright, colorful, and fun Christmas adventure with everyone's favorite Mouse. For more Mouse stories, please click here. My personal favorite is If You Give a Moose a Muffin, but then I lived in Alaska for a long time. I know moose up close and personal.
Now, for My Personal Favorite Christmas Book…
  How the Grinch Stole Christmas! by Dr. Seuss. I have loved this book and the cartoon movie since childhood. When I read it to my children, I couldn't get through it without my voice cracking. When the Whos woke up on Christmas and discovered they'd been robbed, but they still gathered to sing…
"Maybe Christmas," he thought, "doesn't come from a store. Maybe Christmas…perhaps…means a little bit more!"
This story embodies how I want to live my life: above the materialism, above the things. Finding joy in fellowship, in the true meaning of Christmas. I own a brand-new, shiny copy, but I'll never get rid of my tattered, falling apart copy inscribed "Christmas 1980 Our Love, 'Santa'". I was a senior in High School, still reading picture books and unashamed.
I love this book.
Thank you for taking the time to ramble through my Christmas Book Guide. Whether you choose from my 14 suggested books or not, I encourage you to read to your children and grandchildren. If you can't do it in person, schedule a Skype date. Borrow books from the library if you don't have your own stash of children's books. Start your own collection of picture books. Perhaps you could purchase a book, read it to a grandchild on a Skype date, and then mail the book to them. Be the Reading Grammy. Be the Book Grammy!
Now, go snuggle up with a good picture book and something hot to drink. Sip. Relax. Enjoy.
Links to my Gift Guides
How to Give Gifts with Heart & Purpose (publishing on Monday!)
Cuppa Comprehensive | Exquisite Gift Guide for the Tea Lover
More gift guides coming soon