This post contains affiliate links.
10 BOOKS I LOVED THIS WEEK
I've loved books all my life. I loved being read to as a pre-reader; I loved it when the teacher read chapter books to us during rest time after lunch in elementary school, and I devoured books as soon as I could read. The library was a favorite location throughout my growing up years, and remains an oft-visited place. Bookstores with coffee shops are "my" place. I can't remember a time when I didn't light up at the sight of a book, and I started writing my own books as soon as I could hold a pencil.
Reading to my children was one of the great joys of motherhood; I eagerly looked forward to the pre-nap and pre-bed storytime. I enjoy sharing my love for books with others, especially children, so I'll be regularly sharing some of my favorite reads in all age groups. I hope to encourage you all to pick up a good book…or three or four!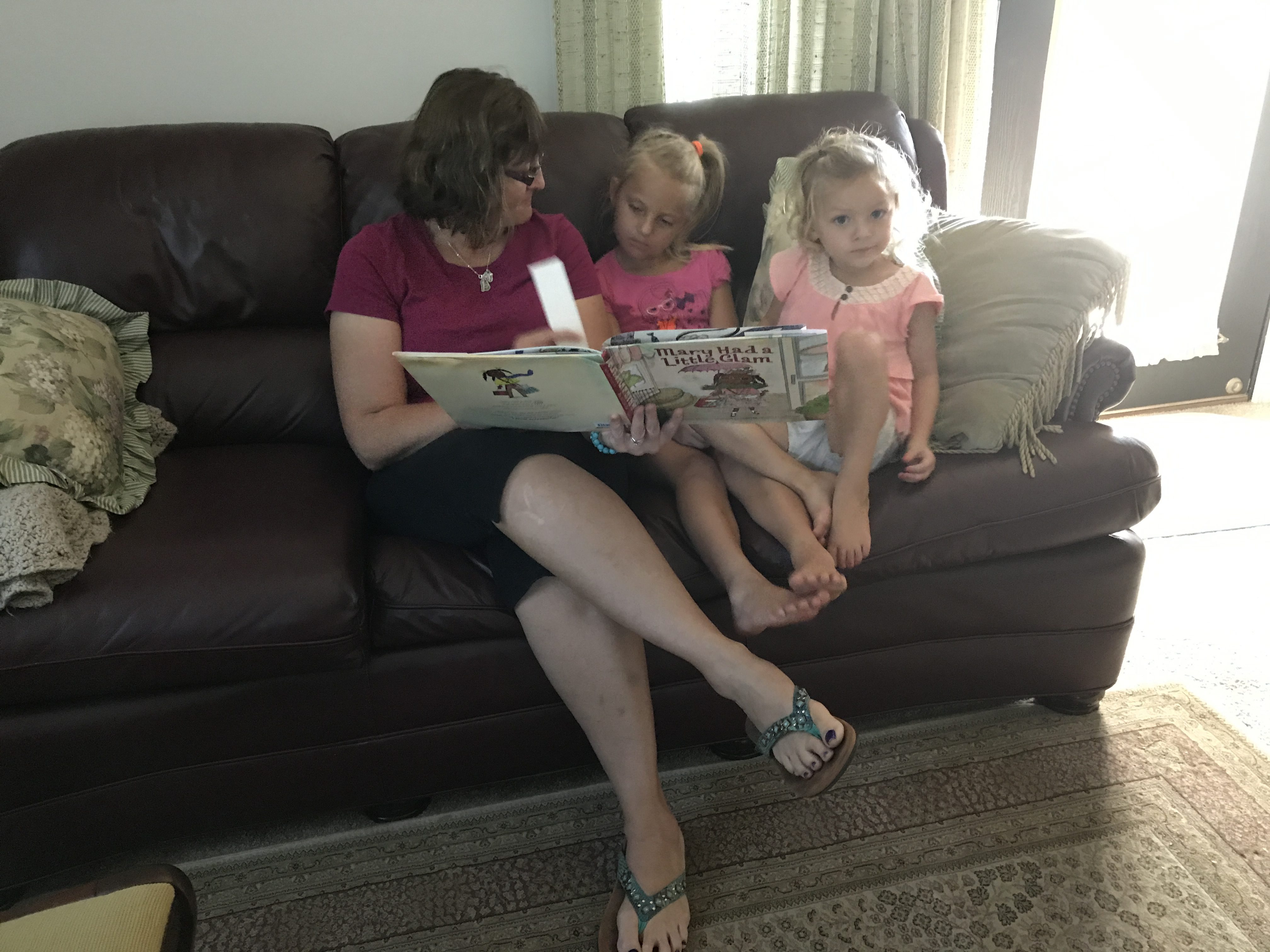 Reading Mary Had a Little Glam by Tammi Sauer to my glam girl neices.
PICTURE BOOKS
These picture books were enjoyed by my little loved ones this week. Click image for link.
Wally Wants to Hug by Barbara Joose. My snake lover got a kick out of this adorable book!
 7 ATE 9 by Tara Lazar. Full of math puns, this one adds up to pure fun.
 Moo! by David LaRochelle. This book absolutely delights me with it's extreme minimalistic vocabulary. You haven't lived until you've listened to a beginning-reader five-year-old read it to you with perfect inflection, emotion, and enthusiasm. This one's a must in every picture book library.
 It Came in the Mail by Ben Clanton. I especially like this for long distance loved ones, since it features gifts arriving in the mail. Full of excitement and unexpected arrivals, this book also gently teaches a lesson in thankfulness and sharing.
 Warning: Do Not Open This Book by Adam Lehrhaupt. I love the humor and surprise in this book, which particularly appeals to a child's curiosity.
 Escargot by Dashka Slater. Meet Escargot, the most charming little snail. What a fun and funny interactive book.
 Mary Had a Little Glam by Tammi Sauer. Do you know any budding fashionistas who sometimes glam it up at inopportune moments? This is your book. A charming tale told in rhyme.
Middle Grade Books
For the independent reader, grades 3-6
 Thimble Summer by Elizabeth Enright. This classic Newberry Medal winner is full of spunk, independence and charm. It's a reminder that "Free Range Parenting" wasn't invented by the current generation of parents, as Garnet has a rather startling amount of freedom including hitchhiking alone to a nearby town without parental permission. Wow! Still, I love Garnet's zest for life and optimism and would absolutely give this book to any of my grandchildren (along with a reminder concerning stranger-danger!).
ADULT BOOKS
* I am not endorsing all the contents of each book. I often disagree with theological points and various perspectives of authors. I find that I can enjoy, relate to, and learn from books even when I don't see completely eye-to-eye with the writer. As my husband was told in his seminary years, "Eat the wheat; throw away the chaff." Good life advice.
 Rare Bird: A Memoir of Loss and Love by Anna Whiston-Donaldson. You would expect a story written by a parent about the tragic accidental death of a 12 year old son to be heart-wrenching. You would be correct in this instance. This is a brutal and grace-filled look at a family's journey through darkness, pain, and despair. I gained perspective into how to be a true friend to someone walking through unbearable grief, as well as encouragement and hope that even tragic loss doesn't erase the hope of finding joy in life.
 Of Mess and Moxie by Jen Hatmaker. This laugh-out-loud heartwarming book is a love letter to the sisterhood of friendship, an encouragement to find your tribe and hold on tight. I read this in the car on our vacation, and my husband was subjected to frequent sessions of reading aloud when I just couldn't contain my delight at a particular section. I was challenged to work at building and maintaining my friendships. I fully realize that Jen Hatmaker has become a controversial figure in conservative Christian circles, but I loved this book and will definitely be re-reading it.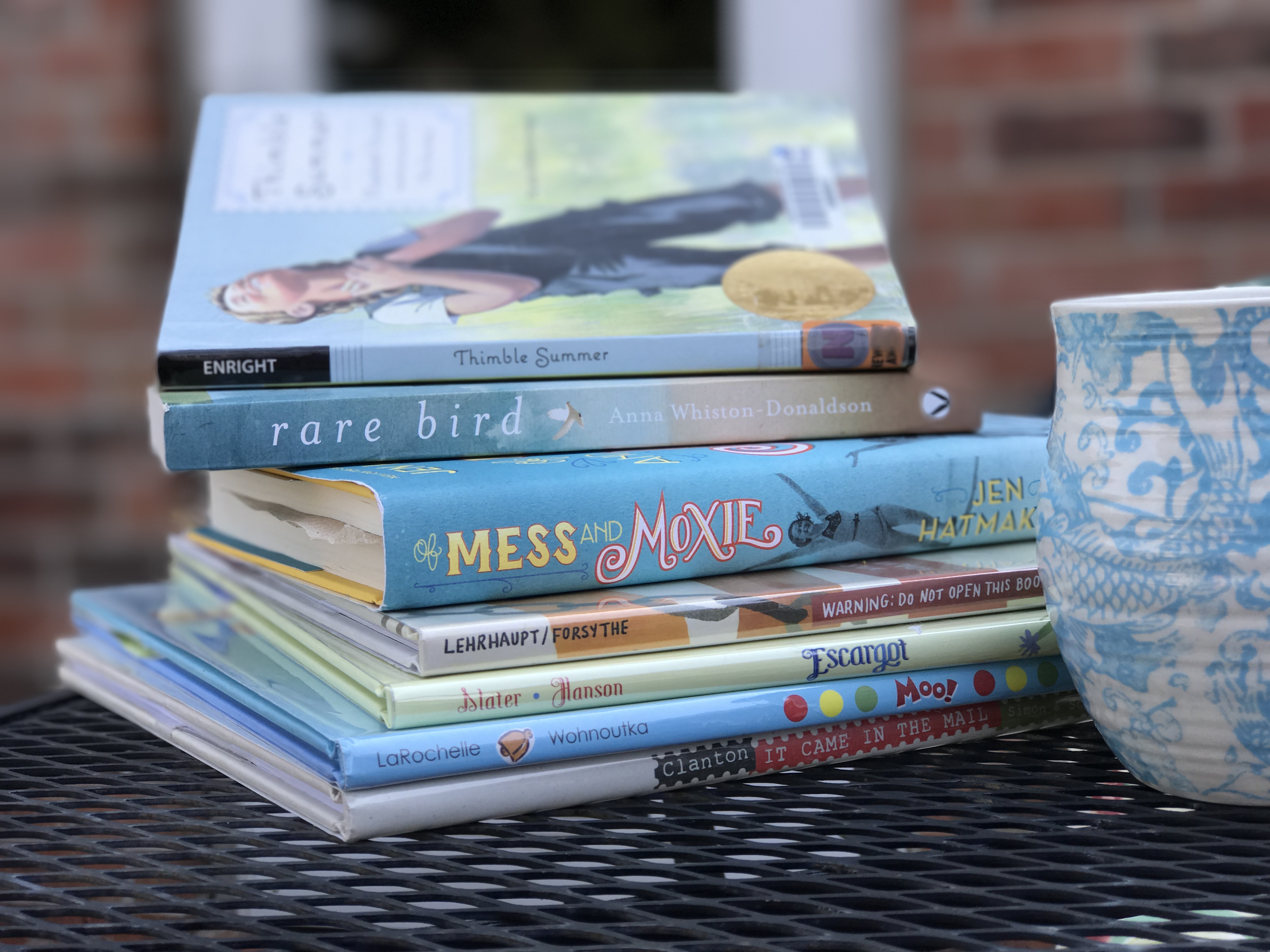 I hope you enjoyed my first installment of book recommendations. Please let me know if you read any of these books because I would love to discuss your thoughts. Talking about books is almost as fun as reading them. Now, go get a book, your beverage of choice, a cozy blanket and find a hidey-hole where you can read! If you enjoy my book recommendations and would like more, please sign up HERE for my posts to be delivered into your inbox. I'd love for you to follow me on Facebook, Instagram, Pinterest, and Twitter.